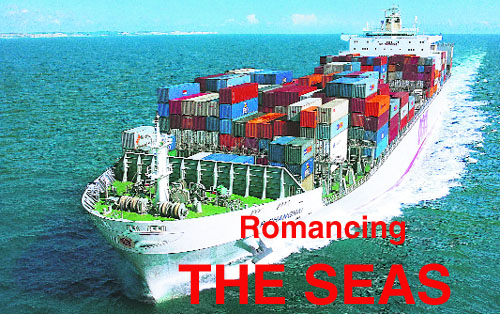 Life at sea is not for the faint hearted. Merchant Navy offers multiple entry points for those with a passion for adventure and a penchant for challenges
They that go down to the sea in ships
and occupy their business in great waters;
These men see the works of the Lord and his wonders in the deep…
merchant navy
For those who have an unquenchable thirst for travel and have a sea-faring instinct, these oft-quoted immortal verses by John Masefield sum up the glamour and the adventure of the Merchant Navy. It is a non-combatant commercial fleet, which deals with transporting men and materials by sea. Its fleet comprises passenger vessels, cargo liners, tankers, carriers, as well as other special types of vehicles.
Varied pathways
Deck Department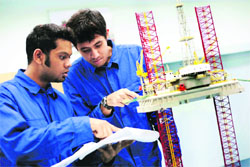 The Captain or the Master of the ship is in charge of the ship. He is not only responsible for the safe navigation of the vessel but also for the discipline on the ship and safety of passengers, crew and the cargo. He must ensure the observance of national and international codes of conduct guiding sea transportation. The Captain is further assisted by first, second and third mates. The First Mate or Chief Officer is the right-hand man of the Captain; the second in-command. He overseers the cargo planning, assists during navigation, allocates duties and works for the maintenance and upkeep of the ship to the deck cadets and crew, ensures that discipline and order are maintained.
Career Hotline
Can I take up gift wrapping as a career?
Q. I have a natural talent for gift-wrapping. Using odds and ends lying around the house, I can transform an ordinary gift into a piece of art. Can I possibly take this up as a profession? — Jahnvi Verma
A. Why not! Have you ever seen the look of sheer delight and curiosity on a child's face as she excitedly tries to 'judge her gift by its cover'?
OPPORTUNITIES
German odyssey awaits young environmentalists
Entries are being invited for the Bayer Young Environmental Envoy Programme (BYEEP) 2012. This programme is in partnership with the United Nations Environment Programme (UNEP) and provides young environmentalists an opportunity to win an all-expenses paid week-long field trip to Germany. The week-long study trip, will give students the unique opportunity to gain a firsthand experience of best environmental protection practices by the company, people and government in industrialized countries.
CareerCature
SANDEEP jOSHI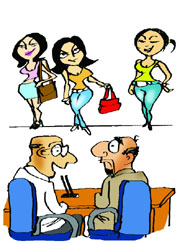 Ok so you want the office to have a young and fresh look but is this the only way?
Scholarship Roundup
Eligible students can apply for the Ministry of Minority Affairs, Government of India funded Post-Matric Scholarship for meritorious students belonging to the minority communities. 30% of scholarship are earmarked for girl students.
Perfect plan
Why is it that we see certain kinds of ads in newspapers and magazines, others like shampoo and soap ads jump out at us just at a critical point of a saas-bahu serial, and still others like mobile ads follow us just about everywhere. When you see the new mobile apps on TV, hear a housewife rave about the ICICI insurance scheme on the radio, or are allowed to test drive the new Chevrolet, you are experiencing planned forms of brand contact. Advertising is nothing if it is not seen, heard and experienced by the right kind of people. Media planners are the people who decide how a media campaign will unfold and the kind of exposure to, and interaction with a product or service that is required for maximum marketing benefit.
course cruising
BBA with corporate edge
The Millennium Academy of Professional Studies (MAPS) , promoted by Educomp Raffles Higher Education Limited is offering Corporate BBA programme at its Chandigarh campus. On the successful completion of the course, the students would be provided BBA degree by UGC recognised, NAAC A grade university and a graduate diploma certificate by Educomp Raffles. The key highlights of the programme are that the students will also get an opportunity to learn one of the 2 languages- French and Chinese to expand their horizon of career opportunities in other countries apart from India. An education trip to abroad will also be planned for the students.
Fast-track MBA
An established code in the job market is that one can't go wrong with an MBA degree. There is an increased preference for management graduates when it comes to hiring by companies across the board. Even the recent Corporate Recruiters Survey conducted by the Graduate Management Admission Council (GMAC) also revealed that 79 per cent of the companies planned to hire recent MBA graduates this year.
smart strategy: tips for managers
Getting dividends from human capital
Research indicates that in spite of advanced management tools, several top level managers fail to get the best out of their subordinates basically because they use the tool of fear and intimidation rather than understanding and compassion with their employees. While the dictatorial attitude generally leads to disobedience and revolt using fear and spreading insecurity leads to eroding of confidence among the employees and create a work atmosphere where even the most diligent worker is not able to give his best. Such faulty management techniques are very detrimental for the overall health of an organisation. Understanding of the emotional needs of employees and an empathetic and compassionate approach always leads to enhanced productivity and loyalty. Here are some tips that managers should keep in mind while interacting with the human capital in their charge:
Poor compensation
Indian workers earn much less than counterparts in rich nations. A vast majority of workers in India get just about 10 per cent of what their counterparts in the developed countries make by doing the same work under identical working conditions and technology, says a study.
news board
Placement bonanza for nursing, pharma students
All 200 students of nursing and pharma course pass outs of 2012 of the Swift Group of Colleges have got placed in reputed hospitals and companies during the campus placement drive recently. According to the college spokesman all students of BSc and Post-Basic Nursing were absorbed by reputed hospitals like Indus, Cosmo, Silver Oaks, Grecian, Grewal Eye Hospital, etc. The students of B.Pharma also got placement offers by pharmaceutical major Ind-Swift Ltd. The students were put through grilling rounds of group discussions and several interviews.
Happiness @ work
Gems of ancient wisdom
Boss, show some spine
At the workplace, differences of opinion crop up regularly. Juniors can breathe easy if they know that their senior would back them in case the top boss finds a fault. When Ahilyabai Holkar became the Queen of Malwa in 18th century AD, Raghoba, the uncle of Madhavrao Peshwa, decided to bring the Holkar kingdom directly under the Peshwas.