Wages of neglect: Maahi still stuck
Haphazard digging of borewells continues
Sunit Dhawan
Tribune News Service
Manesar/Gurgaon, June 23
It has been three days since Maahi, a four-year-old girl, fell into a bore-well in front of her house while she was playing with other children. Though an intensive rescue operation is on, she is still stuck there, and nobody knows whether she is alive.
While Maahi's mother, Sonia, has given up hope, her father, Neeraj Upadhyay, who hails from Aligarh in Uttar Pradesh and works as a security supervisor with a local company, is still hoping against hope.
As of now, a rescue operation spearheaded by a team of the Army's 3rd Engineers Regiment is on to extricate the girl from the borewell.
The whole episode has raised several questions on the functioning of the administrative machinery and the abject inability of the authorities "concerned" to learn lessons from past happenings.
There have been a number of incidents of small children falling into such uncovered borewells across the country. While some of them lost their lives, some were lucky to be saved. The instance of Prince, a young boy of Kurukshetra in Haryana, is a case in point.
In view of such cases, the Supreme Court has issued specific and stern directions to take effective measures so as to prevent such occurrences and save small children from falling into borewells.
The case of Gurgaon is even more critical. Apart from the risk such uncovered borewells pose for children, the district is on the brink of a water crisis with its level of underground water going down alarmingly.
In view of this, the Punjab and Haryana High Court has specifically directed the Gurgaon district administration not to permit the digging of any borewells without seeking its concurrence.
The orders came in 2010 after the Public Health Department maintained that at the current rate of consumption, Gurgaon would run out of groundwater by 2040. The Central Ground Water Authority has also declared Gurgaon as a notified area and banned digging of borewells here without prior permission.
Still, illegal borewells continue to be dug across the district. Gurgaon Deputy Commissioner PC Meena said the district administration had dismantled and sealed as many as 538 borewells in the past one year.
As far as the present case is concerned, the borewell was dug by the owner of the house where Maahi's parents live as tenants. An FIR under Sections 188 and 336 of the IPC has been lodged against the house owner, Rohtash Tayal of Delhi.
Meena has also directed Gurgaon ADC KM Pandurang to conduct a magisterial probe into the entire episode.
Efforts are on get the girl out in fine condition… whosoever is responsible for the carelessness (for not covering the borewell), a case is being made out against him
Bhupinder Singh Hooda, Haryana CM
We have to dig further to reach her...hard rocks are coming in the way...we are finding out ways to remove the gravel
Anil Rao, Joint Commissioner of Police
Maahi's ordeal
On June 20, Maahi,4, falls into a 68-ft-deep borewell around 11 pm as her family celebrates her birthday in Khoh village, Manesar. Her father, Neeraj Upadhyay, calls up PCR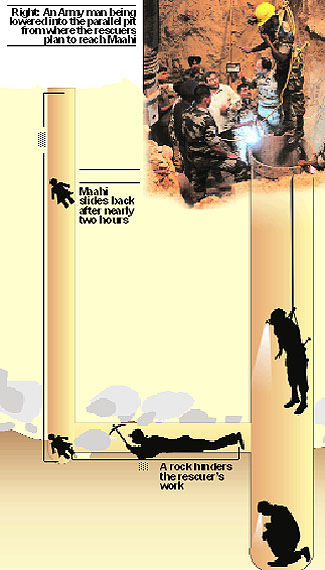 June 21
Around 3am: Oxygen is supplied to the girl and arrangements made to dig a pit parallel to the borewell in which Maahi fell
Borewell is surrounded by buildings on three sides. Deep digging impossible, DC PC Meena seeks the Army's help
6 am: An Army team headed by Lt Col Ashwani Tyagi reaches the spot. A CCTV camera is lowered into the borewell to know how Maahi is.
June 22
Army men dig a parallel pit from which the rescuers plan to reach Maahi.
The tunnel from this pit to Maahi's borewell hits a rock hampering the operation. Digging continues
June 23
4pm: State govt calls experts from the Delhi Metro Rail Corporation as Army team fails to cut through the rock
No lessons learnt
2006: Prince, 6, was rescued from a 50-foot deep borewell in Haryana's Kurukshetra after two days of rescue operations back in 2006
2007: Two-year-old boy fell into an open borewell in Madeli village in Gujarat and died
2009: A five-year-old boy fell into a 250-300 feet deep borewell in Jaipur. The child was rescued safely
2011: A four-year-old boy dies after falling into a 200-foot deep borewell in Tirunelveli district of Tamil Nadu