M A I N N E W S
Family migration to be made more fair, transparent, says UK envoy
Prabhjot Singh
Tribune News Service
Chandigarh, June 23
While continuing to attract India's brightest and best, the British Government is reiterating its commitment to reduce migration to more sustainable levels, besides attempting to stop abuse of the system. It not only wants its new immigrants to speak English well but also it wants to prevent them from becoming a burden on public funds.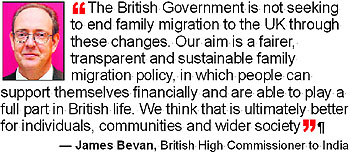 British High Commissioner to India, James Bevan, reiterates that while the United Kingdom will continue to welcome all legitimate travellers, including for business, tourism, study and visiting family, it is introducing important changes early next month to the way in which people may settle as families in the UK in future.
These changes, says James Bevan, do not seek to end family migration. The aim is to make it work better — better for the individuals and communities concerned and for the wider society in the UK.
"The British Government is not seeking to end family migration to the UK through these changes. Our aim is a fairer, transparent and sustainable family migration policy, in which people can support themselves financially and are able to play a full part in British life. We think that is ultimately better for individuals, communities and wider society," it was stated.
India is part of the UK's largest visa operation in the world. Most Indians who apply for a UK visa get one as of the 4 lakh visa applications made last year, 87% were successful. This includes more than 2,50,000 visitors, over 30,000 students and over 15,000 intra-company and work visas.
"The changes aim to promote the integration of individuals in their communities, to tackle abuse and to reduce the pressure on public finances," he adds.
Under changes effective from July 9, a new clause of a minimum income of £18,600 a year for those who wish to bring their partner or spouse from a country outside Europe to settle in the UK has been introduced. Those earning less cannot bring their spouses to the UK any more.
The time before partners or spouses can apply for permanent settlement in the UK has been increased from two to five years after they have received permission to enter the UK or stay as a partner or spouse. It means application for permanent residency can be made only after completion of five years residency in the United Kingdom.
Another change has been made for the adult dependent relatives who wish to settle in the UK. Now they have to demonstrate that if they require a level of long-term care, that would only be provided by their relative there without recourse to public funds.
Those seeking permanent residency in the United Kingdom have to meet yet another requirement- ability to speak English at intermediate level besides passing a test about life in the United Kingdom. Also being implemented are new rules to clarify a person's right to family and private life, set out in the European Convention on Human Rights.
James Bevan makes it clear that the changes, most of which would be operative from July 9, do not affect the ability of British citizens and those settled in the UK to marry or enter into a civil partnership with whoever they choose. But they do mean that if they want to establish themselves in the UK, sponsors of family migrants must have enough money to support themselves without needing help from public funds.
The change in the rules for adult relatives to join their family in the UK reflects the current high social care and health costs involved. But it will not prevent close relatives, including parents and grandparents, from settling with their family in the UK in exceptional compassionate situations, says Bevan.
Growing number of sham marriages has necessitated extending of the probationary period before a partner or spouse can apply for settlement. This is primarily designed to test the genuineness of the relationship. The extension of the probationary period will, however, not stop a migrant spouse or partner from playing a full part in British life, or taking employment during that time.
These changes would also not make it more difficult to come or stay in the UK on the basis of an arranged marriage. The UK decision-makers, it has been stated, will be sensitive to religious and cultural practices.