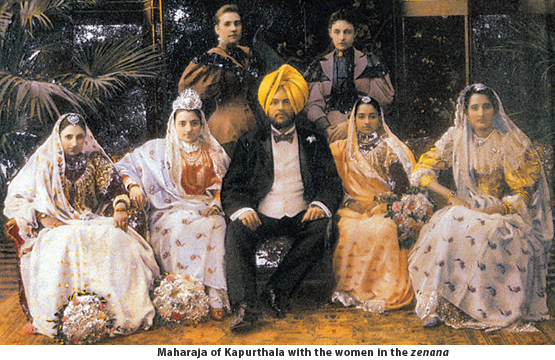 Cameras replaced paintbrushes and transformed the art of portraiture in India. Naturally, the princes were among the earliest patrons. Fortunately, many of these early portraits are either held privately or are with the descendants of former princely states Pramod Kumar KG

The story of Chapal Rani
Shoma A. Chatterji
Chapal Bhaduri, the last living female impersonator in folk theatre in India, would have died unheard of and unsung if Navin Kishore of Seagull Foundation for the Arts had not made a 44-minute documentary on the actor. Bhaduri's life is as intriguing as the female roles he has played all his life. Performing the Goddess — The Chapal Bhaduri Story (1999) sheds light on the man, who challenged financial penury to create a new performance for himself — a monologue of Goddess Shitala. This has sustained him since 1995.

A witness to many milestones
Raj Kanwar
Very few can write so prolifically and in such a consistent manner as did Nergis Dalal for more than seven decades. Now 92, she has middles, cookery books, fiction, and even books on yoga in her kitty. Based in Dehradun, it is a treat to meet this "Queen of Middles".

It's all about the journey
Aditi Garg
A good cabbie can give you wonderfully fresh insights and also double up as an invaluable tourist guide
A vacation is not worth anything if you don't enjoy the journey. For the net savvy, there is a plethora of information waiting to be discovered before you plunge into a new world. Then there are others who confine themselves to the safety of tried-and-tested travel agents based on reviews of fellow travellers. Some like to make their own road. For them, the taxi driver is the guide and saviour.
When Gods emerge
Hugh and Colleen Gantzer
Lord Jagannath's rath yatra is a mesmerising draw for devotees and visitors alike, year after year
Every year the Lord of the Universe, and his brother and sister, emerge from their sanctuary and are drawn, in a cavalcade of enormous chariots, down a broad, pilgrim-packed, road. One year we joined a million other people and waited to greet them. Sweat ran in rivulets down our faces as fat clouds added to the hot-house humidity of the day. Fire engines inched their way through, spraying glittering arcs of cool water over the throng.
ON OLYMPIC TRACK
The gentle combatant
Gagan K. Teja
Garima Chaudhary is India's lone entry to judo in the London Olympics
Bold' and 'fearless' are the two words that best describe 22-year-old Garima Chaudhary, the lone Indian judoka to qualify for the London Olympics Games. She clinched a continental quota berth in the 63-kg weight category for the London Olympics on the basis of the latest ranking released by the International Judo Federation. Chaudhary is following an intense training schedule at NIS, Patiala, under her coach Jiwan Sharma.
Girls of a different hue
Saibal Chatterjee
Bollywood is treading a decidedly new path as it increasingly woos and wins over beauties from foreign climes and unusual backgrounds
In the 99 years that commercial Indian cinema has been in existence, it has celebrated a wide variety of screen divas — from the plain Jane to the sultry stunner, from the buxom bombshell to the svelte seductress, from the pure-as-driven-snow epitome of feminine virtue to the unstoppable femme fatale out to break brittle hearts…We love them all, don't we?
Politics, drama and love
Kaun Banega Rashtrapati? This question was more or less answered on June 15 when Pranab Mukherjee's candidature was formally announced by the Congress. However, the announcement was preceded by a lot of drama on TV. We watched the Mamata-Mulayam combine proposing the names of Manmohan Singh, A. P. J. Abdul Kalam and Somnath Chatterjee. The Presidential question suddenly assumed more importance than it normally should.