success mantra
A soldierís word
Love for the olive green is what General (retd) JJ Singh inherited in his genes. This third-generation soldier, General JJ not only became the Army Chief, but also got the honorary title of ĎColonel of the regimentí, an honour which he considers far more valuable than the medals that he has earned.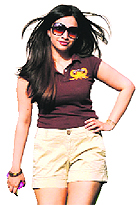 Minimum for maximum impact!
Sporting fewer clothes and making a bold fashion statement only happens in summer. And with the scorching sun and the maddening heat, you need to dress up just the minimal. Let the conservative clubs say whatever, those who want to look every bit fashionable give two hoots and stick to clothes that keep them cool. Spaghetti straps, sleeveless tops, ganjis, tank-tops bottomed up with really short shorts or skirts look the trendiest in summer.




Rubia Chauhan throws away her stylish attitude in shorts. Photo: Pradeep Tewari

COP-ing up well
Right place, right time - this is probably one of the few success mantras people go by. As for people from the entertainment industry, they swear by it! So, an actor who has been a part of the filmville, suddenly finds himself at the right place and right time.
Punjabi Tadka
Music is me
If he has known anything in life, it is music. Punjabi singer Jeet Jagjit lives everyday to create music and only music. He shot to fame with his first album in 2005, Chor Ankhiya. His latest release in 2011, Yaar Naginey, is making waves in the overseas market. Every conversation with him ends with only music, but once he gets talking we know there is more to this singer. We explore.
HEART talk
Donít go overboard
I am a 31 year old man who stays alone. I have a problem making friends and talking to people. I try hard but somehow, I canít strike an interesting rapport. What should I do?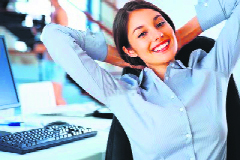 Doc Talk
Mind your pose
Sitting posture plays an important factor in both your health and performance at the workplace. Why? If you consider the fact that you spend probably half your life sitting at your desk and PC, how you sit has a huge impact on your muscles, digestive system, circulation, breathing and even your bones.
Master Chef
Banana bonanza
The humble banana is a powerhouse of energy, brimming with vitamins, minerals and trace elements. Rich in iron and potassium, bananas help to regulate blood pressure, build bone strength, ease
vanity box
Keep it natural
The time of the day too has a bearing on the type of makeup. For summer; bright, pastel shades will work best while warmer and deeper shades are a better option for winter.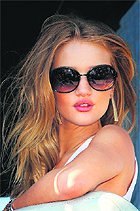 In Vogue
EYE to EYE
Itís high time that you consider this seasonís most stylish eyewear and we suggest let your eyes shine bright with brands like Gucci, Dior, Cavalli, Vogue, Versace, Chopard, Esprit, Tommy Hilfiger and Polo Club. As for the trends, sunny hues and catty frames are in. For men, it is the aviator style glasses, retro, squared framed sunglasses, coloured lens and wooden frame, while women should look for cat eye, round frames, coloured frames, 70ís squared lens sunglasses and the hit animal prints brought to life by ace designer Roberto Cavalli.
star track
Will never rebel against my parents: Justin Bieber
The forbidden fruit
Happy go lucky
I wasnít athletic in school: Kate Beckinsale
Over to next

Beyonce dines with Kim
50 pounds in five months!
Silver screen and beyond
Philosophy and films
chatter box
Picture perfect
Close connection
Parakh loves to experiment
An end for a new beginning
Not all is bad