Guide to best colleges

Results of Punjab Assembly Polls 2012


THE TRIBUNE DEBATE: NCTC

Army Chief's Age Row

2011: THE YEAR OF UPRISINGS

Punjab Public Transport, an investigation

WORLD CUP 2011: CRICKET SPECIAL

Turbans

EARLIER FEATURES

Assam flood toll rises to 10
Guwahati, June 25
Flood situation in Assam took a turn for the worse today with surging water of Brahmaputra river breaching embankments at various places in two Upper Assam districts of Dhemaji and Tinsukia inundating 200 more villages and affecting one lakh persons. The situation in the rest of 12 flood-affected districts has remained unchanged. Meanwhile, the flood toll has gone up to 10 in the state.
Child falls into pit, dies
Guwahati, June 25
A six-year-old girl, Anjali Kumari Singh, today died after she fell into a water-filled pit dug up for the construction of a concrete pillar on the premises of the Raj Bhawan in Shillong, Meghalaya. Addition Superintendent of Police, Shillong, Herbert Lyngdoh said the girl probably slipped and fell into the pit in the morning hours when it was raining heavily. A boy, Sujit Kumar, spotted her drowning in the water-filled pit and raised an alarm.
A day after Maahi tragedy
Authorities go after sarpanch, landlord
Gurgaon, June 25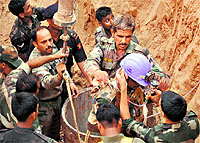 A day after the body of four-year-old Maahi was pulled out of an illegally dug borewell, the authorities on Monday cranked up the official machinery in an attempt to fix responsibility in the case.
File photo of rescue operation

India, EU to begin talks on free trade agreement
June 25, 2012
India strongly protests LoC firings at flag meet with Pak
June 24, 2012
Blow to Mamata as HC strikes down Singur land Act
June 23, 2012
Pushed to a corner, BJP backs Sangma's candidature
June 22, 2012
No fresh taxes in Punjab Budget
June 21, 2012
Pak SC disqualifies PM Gilani
June 20, 2012
Kalam opts out, BJP may turn to Sangma
June 19, 2012
NDA split over Prez nominee
June 18, 2012
As Pranab heads for Raisina Hill, search on for new FM
June 17, 2012