Guide to best colleges

Results of Punjab Assembly Polls 2012


THE TRIBUNE DEBATE: NCTC

Army Chief's Age Row

2011: THE YEAR OF UPRISINGS

Punjab Public Transport, an investigation

WORLD CUP 2011: CRICKET SPECIAL

Turbans

EARLIER FEATURES

Delhi, Mumbai to get missile defence shield
New Delhi, June 24
Delhi and Mumbai, the two most vital metros of India, have been chosen for DRDO's Ballistic Missile Defence (BMD) system that can be put in place at short notice. The detailed proposal is being prepared for final clearance from the Cabinet Committee on Security (CCS).
Special to the tribune
From Rio to Rio, the world hasn't taken a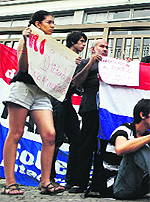 stride
A lot of high-flown rhetoric ushered in last week's UN Conference on Sustainable Development. Rio+20 was the biggest summit the UN had ever organised. Some 40,000 environmentalists and 10,000 government officials gathered with politicians from 190 nations for a meeting which the UN Secretary-General Ban Ki-moon said was "too important to fail".

Protesters at the Rio summit. — Reuters



Special to the tribune
US paying price of backing Islamic militants: Pak Prof
The role of the US in "fanning Islamic militancy" has been highlighted by a visiting Pakistani professor who was the star performer at a seminar sponsored by The Democracy Forum in London. Nuclear physicist Dr Pervez Hoodbhoy, from Quaid-e-Azam University in Islamabad, was a keynote speaker at the seminar entitled 'The role of education in combating terrorism'.

India strongly protests LoC firings at flag meet with Pak
June 24, 2012
Blow to Mamata as HC strikes down Singur land Act
June 23, 2012
Pushed to a corner, BJP backs Sangma's candidature
June 22, 2012
No fresh taxes in Punjab Budget
June 21, 2012
Pak SC disqualifies PM Gilani
June 20, 2012
Kalam opts out, BJP may turn to Sangma
June 19, 2012
NDA split over Prez nominee
June 18, 2012
As Pranab heads for Raisina Hill, search on for new FM
June 17, 2012
Pranab is UPA's choice for President
June 16, 2012
Cong, TMC head for a showdown
June 15, 2012