PUNJAB

HARYANA

JAMMU & KASHMIR

HIMACHAL

REGIONAL BRIEFS

NATION

OPINIONS

LETTERS

BUSINESS

SPORTS

WORLD


50% adolescent girls found anaemic in Haryana
Sirsa, June 21
In a state referred to with a catchy dictum "Desan Mein Des Haryana, Jaha Doodh Dahi Ka Khana (Haryana is the best state of the country, as people have plenty of milk and curd in their food)," over 50 per cent of the adolescent girls suffer from anaemia.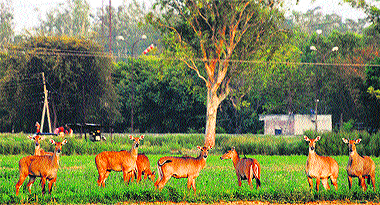 A group of nilgais on the NDRI campus in Karnal. Tribune photo: Ravi Kumar
Water scarcity in Jhajjar exposes tall claims of govt
Jhajjar, June 21
Tall claims made by Chief Minister Bhupinder Singh Hooda and his son and MP Deepender Hooda of providing sufficient water supply in summers to all villages of Jhajjar district, which is a part of the Rohtak Constituency, have turned out to be hollow as scores of villages are reeling under acute shortage of drinking water.
State all set to raise foodgrain storage capacity
June 19, 2012
HUDA residents to get potable water soon
June 15, 2012
252 bail jumpers, POs nabbed in 5 months
June 12, 2012
Power, water crises trigger protests
June 8, 2012
Mobile traffic courts in Gurgaon
June 5, 2012
Govt website displays 'stale, misleading' info
June 1, 2012
Rules on school buses being flouted in Fatehabad
May 29, 2012
Rickety poles put people's lives to risk
May 25, 2012
Rs 20.57 crore for Kaithal roads
May 22, 2012
Anti-encroachment drive launched in Rohtak, 8 challaned
May 18, 2012
Dial 102 to report violation of PNDT Act
May 15, 2012