| | | |
| --- | --- | --- |
| | ARTICLE | |
Excessive optimism on Siachen
Antony rightly rules out dramatic results
by G Parthasarathy
Faced with a hostile Mao-Nixon axis as tensions over Bangladesh grew in 1971, Indira Gandhi responded by concluding a Treaty of "Peace, Friendship and Cooperation" with Moscow in August 1971. The Treaty, coming soon after the Sino-Soviet clashes along the Ussuri river, effectively deterred any Chinese adventurism during the Bangladesh conflict. In October 1973 Leonid Brezhnev visited India and sought support for his plans for "Collective Security in Asia" — a move for the containment of China. New Delhi correctly declined to endorse the Soviet proposal. Interestingly, just after Gorbachev assumed power, the Soviets moved to mend fences with China. In a world of shifting alliances it is only prudent for India not to get involved in current US-China rivalries, especially given the wide ranging areas in which the US and China work together and cooperate on international security issues in the UN Security Council.
This does not mean that India should not collaborate with the US in moves which build an inclusive structure for cooperation in Asia. Balancing Chinese power requires building its own defence partnerships with countries surrounding China like Japan, South Korea, Vietnam, the Philippines, Singapore and Indonesia, together with expanding defence cooperation and military exercises with the US and others.  The Defence Minister, Mr. A.K. Antony, advocated such an approach in the "Shangri la Dialogue" in Singapore, where he spoke of the need to "avoid conflict and build consensus" on differences over the South China Sea. If China proclaims that the Indian Ocean is not "India's Ocean," India and China's other neighbours should insist that the South China Sea is not "China's Sea" and that China must respect the principle of Freedom of Navigation as enshrined in the UN Convention on the Law of the Seas. Actions like building our own defence potential and expanding military cooperation with countries like Vietnam through the supply of potent weapons like Cruise missiles send a far stronger and clearer message to China than moves which are seen as our acting at someone else's behest.
Defence Minister Antony clearly spelt out his stand on handling the Siachen issue when he told Parliament that India stood by its position on the need for "authentication" of actual ground positions as an imperative first step in any dialogue on the Siachen issue. He said: "The two sides have first to agree to authentication of respective ground positions on the 110 kilometre of the actual Ground Position Line along the Saltoro Ridge, then delineation on map and ground and finally demarcation of the agreed border". Cautioning against excessive optimism on an "early breakthrough" in talks with Pakistan, Mr. Antony added: "Don't expect any dramatic results from the next round of talks. It is a complicated issue". Mr. Antony thus made it clear that issues regarding the extent of troop pullback, if any, could be discussed only after an agreement is reached on the "authentication, delineation and demarcation" of what he told Parliament is the "agreed border".
Following Mr. Antony's statement in Parliament, there have been leaks of highly classified documents to a national daily, evidently from influential sources in South Block, which claim that India had virtually reached agreement with Pakistan on withdrawing its forces to positions held during the Simla Agreement of 1972 in exchange for Pakistan marking actual ground positions in separate document and not in the main agreement on disengagement. Let us get the record straight. I was told by Prime Minister Rajiv Gandhi in 1989 that an official who had spoken about having reached an agreement with Pakistan on withdrawal from Siachen had spoken out of turn, and that he could not contemplate withdrawals being sought by Pakistan after Indian soldiers had shed their blood to prevent a Pakistani incursion into areas we had legitimately claimed.  In 1992 Prime Minister Narasimha Rao had only approved the conduct of negotiations. He had told his officials not to conclude any agreement on withdrawal. In 1998 the NDA Government authorised then Defence Secretary Ajit Kumar to hold talks confined to authentication of the Line of Control. The question that arises is whether moves are being initiated to dilute Mr. Antony's assurances in Parliament in order to "manufacture" a "breakthrough" in India-Pakistan relations.
Even though the 1949 agreement declared that beyond the Shyok river in Kargil, the Line of Control proceeds "North to the Glaciers", Pakistan depicted the LoC moving eastwards to the   Karakoram Pass. This would enable a linkup between Pakistan and China north of Ladakh — a link-up that can threaten our security, especially given the existing Chinese presence in the Shaksgam Valley and also in Gilgit-Baltistan. We also cannot forget that in Kargil Pakistan crossed a LoC that had been delineated but not demarcated, asserting that it had not violated the Simla Agreement.
Moreover, a former ISI chief, General Ziauddin, has revealed that in 1999 Pakistan asked the then Taliban "President" Mullah Rabbani for 20,000-30,000 volunteers for jihad in Kashmir. Most importantly, it needs to be borne in mind that should the Pakistanis move into positions currently held by us along the hilltops of the Saltoro Ridge, it would be impossible for us to retake these positions. Should all these facts be disregarded in the quest for an imaginary "breakthrough" with Pakistan?
The motivated leaks of classified documents have interestingly come when Pakistan has launched a charm offensive inviting selected Indian scribes and "bleeding hearts" to shed tears about money "wasted" in deploying soldiers in the heights of the Karakoram. This conveniently ignores that fact that it was Pakistan that modified its maps to show that the LoC moving "east to the Karakoram Pass"" beyond the Kargil sector and not "North to the Glaciers" as agreed to in 1949.  There are indications that Prime Minister Manmohan Singh will respond positively to invitations he has received from Pakistan's leaders to visit Pakistan.
Exchanges of visits between leaders of neighbouring countries certainly help in promoting understanding, contacts and cooperation on a wide range of issues. But it would be a folly to believe, as some of our perennial optimists advocate, that the Pakistan army has had a "change of heart" and can be trusted to keep its word. This, at a time when it continues to arm and train the Haqqani network in Afghanistan, protects Hafiz Mohammed Saeed and his cohorts from prosecution, revives the Website of the Jamat-ud-Dawa, and encourages its proxies in Pakistan to spew venom against India.


| | | |
| --- | --- | --- |
| | MIDDLE | |
A rare confrontation
by Trilochan Singh Trewn
My merchant cargo ship entered the harbour of Buenos Aires, capital of Argentina, during the early seventies. It was a Wednesday morning and we were going to pick up cargo of bagged sugar for Algeria.
Soon after we berthed, an agent of local ships boarded our ship. He started very animatedly informing our captain about the tense situation prevailing ashore. He hastened to state that he had not brought the usual requirement of local currency for use by the ship's crew for special reasons and circumstances beyond his control. He informed the captain that inflation had gone very high during the last few weeks in that country and, therefore, the government had devalued the local currency drastically. He added that wheat flour, which cost $1 per kg two months ago, was now selling at $4 a kg and bottled milk was being sold at $4 a litre.
The US currency was fetching a very high price in the market and even in banks, and the situation was getting worse. The agent was in no position to provide the ship with any foreign currency to meet the ship's daily requirements. The ship's requirements of food, medical care and essential transport was, however, being met as its owners were paying to the ship's agents in US dollars from abroad.
Next day we were informed that there was going to be no cargo loading because of the situation arising due to a steep fall in the value of the Argentinean currency. When we went ashore to have a look at the situation we found no sign of fresh vegetables, fruit, milk and milk products. Wheat flour and rice had almost disappeared from the market. The situation seemed unbelievable and was deteriorating fast. My captain hurriedly addressed the ship's crew about the development.
Then next morning the government decided to demonetise the local currency. The Argentinean currency of any denomination could not buy anything. Obviously, it was a miscalculated wrong move made in desperation. It meant that even highly paid ministers, judges, police officers, medical officers, principals of colleges, revenue officers, railway staff, etc, could not buy anything even with high salaries received.
After receiving disturbing reports, the captain and myself decided to go out to look around as to what was happening. The main government bank of Argentina was located only a furlong away from our ship's berth. There was a large parking lot in the front area. As our taxi passed near the square, we saw a large well-dressed crowd shouting slogans on the steps leading to the bank entrance. As we stopped, we saw three government chauffeur-driven cars arriving. Designations of the three top officers of the administration were mentioned above their car number-plates.
First, we thought that they had arrived to calm down the crowd. But we were surprised and stunned to watch them coming out of their cars with the engine on and with iron rods in their hands and advancing towards the closed glass doors of the country's largest bank. Their well-dressed wives were also with them. They were identified as the Director-General of Police, the Chief Justice of the country's highest court and their Surgeon-General. We saw them breaking window-panes to force  entry into the bank and physically force the concerned senior finance officer there to issue orders  to cancel the demonetisation order and revive the local currency so that at least the common man  could buy from the market what people needed to survive.
In this direct physical confrontation involving high officials, we could see the hidden hand of wives possessing plenty of local currency notes with no purchasing power at all.


OPED

Society
Grey matter of concern
Mala Kapur Shankardass
Of the about 100 million elderly in India, one in every three faces abuse, often at the hands of family members. To combat this scenario we need a comprehensive 'rights' based action plan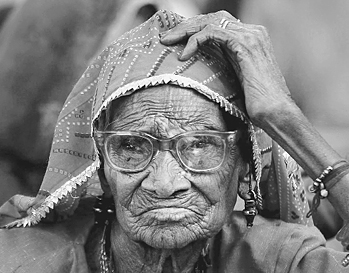 Pushed to the wall

: 70 percent of the elderly, who receive abuse from their own children, live in houses owned by them. Photo: ANI

Every year since 2006, there starts a month long observance of the World Elder Abuse Awareness Day (WEAAD), officially marked as 15 June. This year the observance had special significance for all involved with ageing issues, especially those combating the menace of elder abuse. It is during the first United Nations celebration of WEAAD at the 89th plenary meeting of the UN General Assembly (19 December 2011 Resolution 66/127, para. 21), it was decided to involve all Member States, organizations of the United Nations system, other international and regional organizations, as well as civil society, including NGOs and individuals, to observe the day in an appropriate manner. While in New York, UN Secretary General Ban Ki-moon reaffirmed that human rights of older persons are as absolute as those of other human beings, in India, very aptly, the UN Resident Coordinator, a.i. Frederika Meijer inaugurated observance of WEAAD in a programme organised by United Nations Information Centre, United Nations Population Fund and Development, Welfare & Research Foundation, a national voluntary organisation, which stressed elder abuse as an unacceptable attack on human dignity and human rights. The students, young adults, middle aged and the old voiced their concerns for ignoring the rights of the older people. Lack of well defined rights, laws and action plans make the senior citizens vulnerable to the risk of abuse, neglect, exploitation and marginalisation, was the conclusion.
Vulnerability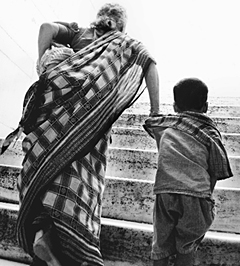 Thinkstockphotos/ Getty images

Reviewing the recent HelpAge report on elder abuse crime in India, I see a clear violation of rights of older people, more so of women by the family members. What is also striking is the ignorance of the older people about their right to life of dignity, respect and protection. This is not only an Indian phenomena or an Asian one but rather cuts across all nations. World Health Organization statistics reveal around 4 to 6 per cent of older people have experienced some form of maltreatment at home and the number is much higher in institutional settings. But, there is also acknowledgement by gerontologists and age care workers that elder abuse is often unreported and under recognised in Asian countries. The crux of the problem lies in the fact that many older people do not enjoy fundamental human freedom and rights, even though human rights mechanisms identify older men and women at greater risk of human rights violations. They require specific measures of protection. In countries across the globe senior citizens can be divided into two categories; those who are in good health and have economic and emotional security, and those who do not have adequate means of support, are deprived of social and health care, exploited financially and psychologically. Unfortunately, the latter are in majority and are among the most vulnerable, marginalised and unprotected. Yet, seldom are there any effective preventive strategies to reduce the risk of abuse for them, nor are there strong laws and policies to address these concerns.
Substitute for family
A rapidly increasing number of older people and shrinking and burdened care givers from the family point towards developing alternative facilities, services and provisions for housing senior citizens. The American Association of Retired Persons, one of the largest organised group of older persons, has been advocating with policymakers, programme managers and researchers to maintain and create housing options and communities that meet the needs of older people and facilitate ageing with dignity.
There are just about 728 Old Age Homes in India. Detailed information on only 547 homes is available. Out of these, 325 homes are free of cost, run by charitable trusts, while 95 old age homes are on pay- and -stay basis, 116 homes have both free as well as pay- and- stay facilities and 11 homes have no information. A total of 278 old age homes all over the country are available for the sick and 101 homes are exclusively for women.
Kerala has 124 old age homes, the maximum in any state.
Pune and Banglore have some retirement homes for the elderly.
Implementation- a problem
The 21st century, on the one hand, has led to the positive development in many countries in terms of formulation of legislations to protect older people from abuse. On the other hand, despite the right based perspective in legal reforms, the rights based action in implementing measures is missing. Most national legal systems stipulate punishment for the perpetrators of elder abuse, but have no adequate legal instruments to detect and report abuse of different forms and more importantly to rehabilitate the victims of abuse. In many Asian countries in particular, legislations deal more with getting just the maintenance money from family members, though they aspire to have inclusive policies for all sections of the population, including the elderly. During the last decade China, Thailand like India and even small countries like Nepal, Philippines, Singapore and Vietnam have adopted a special Act at legislative level, as an enforceable legal instrument to address elder abuse. These Acts combine provisions on family support and state responsibility through social welfare. Review of the use of the Act in different countries carried out to create enabling environments for older people to enable them a life of dignity and respect found huge gaps in implementation. Significantly, they found when older people report a case of maltreatment, abuse, neglect or violence against their own children, legal recourse helps in getting a monetary sum from children for meeting their daily financial needs, but overlooks their consequent state of loneliness, lack of available care givers, threat of emotional insecurity, depression and break down after estrangement with children.
Growing number of suicides
Rights based mechanism to provide comprehensive support to victims of abuse and neglect, is missing from national action plans. No wonder in our country the rate of suicide among the old is increasing, Kerala with the highest population of the ageing is an appropriate example of this scenario. In fact the world statistics state that the highest rate of suicide occurs among persons aged 65 and older.
The Maintenance and Welfare of Parents and Senior Citizens Act (2007) in India, which provides a framework for welfare, security, and protection to senior citizens, has till now not been notified in all the states and union territories of the country. The 21 states where it has been notified, not all the state governments have taken the five steps required for its implementation, namely; must notify the Act, frame rules for the Act, appoint maintenance tribunals, appoint maintenance officers and appoint appellate tribunals. Only five states have taken care of all the five steps. Further, like in Europe, elder abuse in India is also addressed by legislation on domestic violence, but notwithstanding the fact that older women in particular, who lack alternative provisions for their support are reluctant to use this legal instrument to safeguard themselves for a life of dignity, despite their right to it.
Do laws favour the young?
The debate began with Section 498- A, which though, was framed to save young women from dowry harassment, victimised many elderly people in the process. There is growing empirical evidence of the misuse of the Dowry Act and a strong movement is emerging asking for amendment to the Act which does not violate the rights of older persons and does not victimise them. Incidentally the Home Ministry has directed the Law Commission of India to consider amendments to Section 498-A of Indian Penal Code. The Law Commission has published a Consultation Paper-cum-Questionnaire regarding Section 498-A of IPC on its website (www. lawcommissionofindia.nic.in).
In the last few years, international conventions adopted by UN Member States have addressed the issue of rights for other specific vulnerable population groups, such as women, children, persons with disabilities, migrant workers, and others. But all the continents have not united to call for a convention on the rights of older persons. There is an opinion among certain groups that the existent conventions protect certain vulnerabilities of the people in old age, such as of older women and disabled elderly. What needs to be stressed is that without a Convention for Rights of Older People, vulnerabilities and risks to abuse and neglect of older population will continue. Particularly of those who are denied geriatric health care, dementia care, facilities for their recreation and leisure, standards for provision of services, universal pensions, and social assistance etc.
They have diverse needs
Entitlements of older persons should not be just on the basis of being a destitute and disadvantaged, but as an ageing person with diverse needs to maintain an adequate standard of living. There is need for hard legal instruments to appropriately monitor and regularise the implementation of policies and programmes. Madrid Plan of Action on Ageing to which many countries are adhering in planning for fast increasing numbers of older people is more of a soft law, a statement of intention. What is required in Asia, and for influential countries like India and China, is to take a lead in establishing a protocol on older people's right and work comprehensively on developing human rights instrument for older people as has been done by developing countries like Argentina, Brazil, Chile and others who are part of the Inter-American Regional Convention on the rights of older people. It is also being done by the European and African countries. We should not be left behind in combating elder abuse, in all its forms.
The writer, a sociologist and gerontologist, is Associate Professor, Maitreyi College, University of Delhi