Nursing old films to health
Films are an irreplaceable part of our history—political as well as social. Unfortunately, films made barely three decades ago have lost their prints for lack of storage facilities and laboratories
Ranjan Dasgupta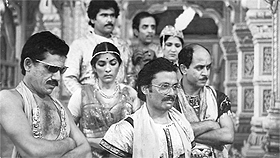 A secne from Kundan Shah's unforgettable comedy 'Jaane Bhi do Yaaron', restored by NFDC featuring ( L toR) Om Puri, Neena Gupta, Pankaj Kapoor and Deepak Qazir
Martin Scorsese Foundation has finally restored and preserved Uday Shankar's artistic creation 'Kalpana.' The film, based on the inner strife of an artist was screened at the classics section of the recently concluded Cannes Film Festival. It appeared as a brand new film in black and white and received a standing ovation.
On a request from Pandit Ravi Shankar, Martin Scorsese (Producer, director of cult films like 'The Aviator,' 'The Departed,' 'Gangs of New York,' 'Goodfellas,' 'The Colour of Money' etc.) initiated the noble step of restoring 'Kalpana.' This incident clearly shows how memorable film prints are neglected and uncared for in India. No one, not even producers have taken measures to restore classics which have brought international glory and pride to our nation. Nowhere else in the world does one come across such an act of neglect towards one's own national treasures.
The process of restoration and preservation remained unknown to India for a very long time. The print of Chetan Anand's 'Neechanagar,' India's first film to win the Grand Prix at Cannes in 1946 jointly with Sir David Lean's 'Brief Encounters' was discovered by cinematographer Subroto Mitra at a grocer's shop of Kolkata in the mid- 60s. Subroto Mitra recognised the film print and handed it over to the National Film Archives of Pune.
In the 60s, 70s and 80s, film preservation was a rarely talked about matter in India. No one cared for restoring and preserving classic film prints till Satyajit Ray's timeless classics were restored by the Academy of Motion Pictures after his demise in 1992. Ismail Merchant, Martin Scorsese and Sir Richard Attenborough joined hands to maintain Ray's masterpieces, frame by frame, the cost for which was borne by the Academy. Since the restoration of Ray's films by the Academy, the need for preservation of films in India received prominence and an awareness was generated amongst a certain section of conscious film makers.
Learning from Europe, US
Quite contrary to the neglect with which classics have been treated in India, Europe has been more sensitive in the area of film preservation. The immortal creations of Ingmar Bergman, Federico Felini and even the works of Vitorio D'Sica have been very well preserved. The torch bearers of the French neo wave Francois Truffaunt, Jean Luc Goddard, Chabrol and Louis Mal have taken special care on their own to preserve their works. The most famous of the lot has been Francisco Rossi from Italy who, in fact started the trend of preserving films at par with Hollywood which has so far the best technology for preserving films.
Hollywood has remained the ideal example of film preservation. Later generation filmmakers like Francis Ford Coppola, Sir Alan Parker and even Steven Spielberg have taken special care to preserve and restore classics created by John Ford, Sir David Lean, Alfred Hitchcock, Billy Wilder and Elia Kazan. Kazan and William Wyler first stressed on the importance of film preservation in the late 50s and 60s. Their efforts received further boost when Gregory Peck as chairman of the Oscar committee took concrete measures for preservation of umpteen Hollywood classics. Then, Steven Spielberg took the task ahead, he has stated that , " 'Brief Encounters', 'How Green Was My Valley', 'A Gentleman's Agreement' and 'Diary Of Anna Frank' and many such other  haunting films would have been destroyed if we and the Academy did not take the initiative to restore them. My idol is Sir David Lean and it was a challenge for me to see to that his creations remain intact."  
Quite contrary to this scenario, in 2009, Mrinal Sen's 'Khandahar' could not be screened at Cannes classic section at it was in a sorrowful condition. After special instructions from the Prime Minister's Office, The National Film Archives took utmost care under the supervision of Govind Nihalani to restore 'Khandahar' which was shown at Cannes the following year. Govind Nihalani, who headed the technical team of the project took personal initiative to restore 'Khandahar.' He says, "It was a matter of  shame that Mrinalda's classic could not be screened initially as the print was in a very bad condition. I supervised frame by frame the restoration process and the final print appeared brand new. Mrinalda has recently requested me to restore a couple of his other classics and I will do anything to do what he has requested me to."
Role of NFDC
During the last few years NFDC (National Film Development Corporation of India) in collaboration with the National Film Archives, Pune, has started the process of restoring and preserving many memorable Indian films. Apart from many of its own productions, NFDC has completed restoring Goutam Ghose's 'Paar' and 'Antarjali Yatra.' The pathetic condition of negatives of 'Antarjali Yatra' and 'Paar' brought tears to Goutam Ghose's eyes, his films were barely 25 years old and were in such deplorable condition. 'Antarjali Yatra' was critically acclaimed and was screened in the Un Certain Regard section of the 1988 Cannes Film Festival. 'Paar' got lead actors Naseeruddin Shah National Award for Best Actor, and Best Actress award for Shabana Azmi. In addition, Naseeruddin won the Volpi Cup Best Actor award and the film got the UNESCO Award at the Venice Film Festival and the Fipresci Award.
The presence of an able cinematographer is a must for restoration exercise of cinema. Only an experienced cinematographer can understand and work on colour compositions, understand the layers and frequencies of each frame and complete the restoration work. Along with Goutam Ghose and Govind Nihalani, cinematographer A.K.Bir has taken lots of efforts to preserve a few classics. Bir says, "It is an optimistic and encouraging trend now as more classics are being restored at the National Film Archives with the latest technology available. It is monotonous and laborious yet a very interesting process to restore old films, without disturbing the original version."
Restoration of a coloured film costs something between Rs. 14 to 18 Lakh. A black and white film's restoration costs even more. Now with availability of advanced technology many producers like Randhir Kapoor, Manoj Kumar and Kiran Shantaram have undertaken all the necessary efforts to restore films of R.K. Vishal International and Rajkamal Kalamandir banners. Similar exercises are being conducted by Yash Chopra and Subhash Ghai. Alerted by the fate meted out to classics, Manoj Kumar, veteran actor and director of several patriotic films has initiated the process of restoration on his own. He says, "I have at my own expenditure preserved 'Shaheed,' a film I am most emotionally attached to, though it is not my own production. My process of digitalizing the prints of 'Upkar,' 'Purab Aur Pashchim,' 'Shor' and other productions of mine with dolby effect is complete. If I do not care for my own creations, who else will?" he wonders.
Regional films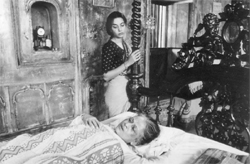 'Khandahar' restored: Shabana Azmi in a scene from Mrinal Sen's restored film of the same title Picture courtesy: Kunal Sen
Compared to films from other regional languages, Bengali films of the 40s, 50s and 60s are in worst condition. Evergreen creations of Pramathesh Barua, Ajay Kar, Tapan Sinha and Rajen Tarafdar are very difficult to restore as either prints are not available or are damaged. One really wonders if it will be possible to see 'Mukti,' 'Jighansha,' 'Ganga' and 'Khudito Pashan' again in a new form-- well preserved and restored. Even some memorable films of Uttam Kumar are facing the same fate. In comparison Telegu, Tamil and Kannada films are better preserved.
Only effective measures by the government are not enough to maintain and preserve classics. It is the duty of individual producers and distributors mainly to restore classic cinema. A reputed company like Dev Anand's Navketan does not have a proper print of its maiden film 'Afsar.' The print exists without any sound-track. The print of another Navketan film 'Humsafar' is not available. A huge fire at Bombay Talkies burnt many prints including that of 'Baadbaan', a brilliant creation of director Phani Majumdar. Adoor Gopalkrishan, noted director of Malayalam films says, " Though I have never produced any film, I fully appreciate the necessity of  restoring classics. In a country like ours where cinema is a part of our culture, it is of prime importance to see to it that the best of our works are well maintained at the level of international standards."
The writer is a freelance journalist
Classics reborn
l In Bollywood, thousands of films have been lost forever. Film storage vaults routinely put out advertisements threatening to dispose of unclaimed classics. Prints of many critically acclaimed films are lost forever. Few films of high artistic value, which are still in a restorable condition are now being selected by the National Film Development Corporation of India (NFDC). It has already launched 22 classics on DVD under the title 'Cinemas of India'. These cult films have been digitally restored for the first time and are re-released in the market with a far better viewing experience. 
l Titles under the 'Cinemas of India' launched on DVDs & VCDs include the classics like 'Jaane Bhi Do Yaaron' by Kundan Shah, Ketan Mehta's rustic 'Mirch Masala,' the multi-ensemble 'Party' by Govind Nihalani, Sudhir Mishra's 'Dharavi' and the satirical take on the modern-day Devdas in 'Suraj Ka Satvan Ghoda' by Shyam Benegal.
l The National Film Archives of India (NFAI) has belatedly begun work on digitising and preserving film titles that belong to it. With about 5,000 titles to work on, they have a long way to go. They have begun work by prioritising; films with only one remaining print are being restored first. The restored prints include Mehboob Khan's 1938 film' Watan,' P C Barua's 'Shapmukti' and 'Amiri,' Ezra Mir's 'Beete Din' and Mrinal Sen's 'Matir Manisha.'
l Shyam Benegal's films, such as 'Bhumika' and 'Nishaant' have been restored by New York's Lincoln Centre, which needed the prints for a Smita Patil retrospective. 
l Vinod Chopra's National Award-winning Parinda has had its wings clipped too. The print is badly damaged and preliminary work is on to restore it at San Francisco.