Power, water crises trigger protests
Gurgaon/Mewat, June 7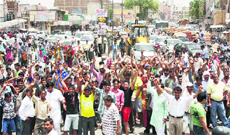 Residents of Gurgaon, Mewat and other areas of the NCR and Haryana are up in arms against the state government for acute shortage of electricity and water.

Residents block traffic against erratic water and power supply in Gurgaon. Tribune photo: Sayeed Ahmed

HAU granted patent on chickpea production
Hisar, June 7
Chaudhary Charan Singh Haryana Agricultural University has been issued a patent on biotechnological process of genetic transformation in crops.
Cardio check-up for Rs 750 only
Faridabad, June 7
The recently established heart centre at Badshah Khan Civil Hospital here will soon start a package of complete cardio check-up at a cost of Rs 750 only.
NGO honours Fatehabad girls
Fatehabad, June 7
Fighting odds, these brave girls not only continued their studies to shape up their careers, but they also helped their hapless parents in running their families. "Zindagi", an NGO, recently honoured three such girls, Kiran Verma, Ratna and Smita Thakur, with "pagree", the mark of being head of the family.