Debt-ridden man cooks up Rs 25.50 lakh robbery
Amritsar, June 24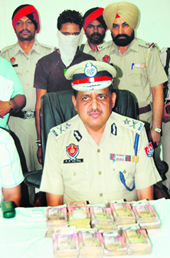 The Rs 25.50 lakh robbery incident near Company Bagh turned out to be stage managed. The plan was executed by the driver, identified as Gurjeet Singh, of the tobacco company to usurp the money of his employer. The police has nabbed Gurjeet Singh on the complaint of Prem Mishra, the marketing manager of Delhi-based Shambhu Khaini Private Limited. The police has also recovered the whole amount, which he had hidden under earth near his in-laws' house at Tarn Taran. Mishra, who used to collect the payments on behalf of the company from various areas of Punjab, in his complaint to police said his driver had gone missing while he was bringing Rs 25.50 lakh from a money exchanger located near the Landa Bazaar area opposite the Amritsar railway station.
Police Commissioner RP Mittal shows the money recovered from Gurjeet Singh (with covered face) in Amritsar on Sunday. Photo: Vishal Kumar

Where is the greenery?
Amritsar, June 24
Less than two per cent of the area in the holy city is under green cover. This news has come as a rude shock to the environmentalists and concerned citizens who have been crusading to increase green cover in the city. There are as many as 375 parks spread over about 385 acres of land in 65 wards of the city. Most of these parks are in posh colonies.
Inter-state gang of drug peddlers busted, 5 held
Amritsar, June 24
The State Special Operation Cell has nabbed five persons for allegedly possessing 5 kg of opium. They were caught from the New Amritsar area following a tip-off. Those arrested were identified as Kalu Ram, Sudhir Kumar of Chitorgarh (Rajasthan), Bansi of Bhilwara (Rajasthan), Babal Sudhar and Madan Lal of Nemach, Madhya Pradesh.
International cuisines tickle Amritsari taste buds
Amritsar, June 24
Food, like music, has no language or boundaries. We love our Butter chicken and stuffed parathas, but don't mind overlooking them once in a while for Sushi, Thai curry, Tacos and Lasagna. The recipes which were probably unknown to Amritsar a few years ago are being served at homes here, thanks to the growing popularity of world cuisine.
Day 2: Rush increases at passport mela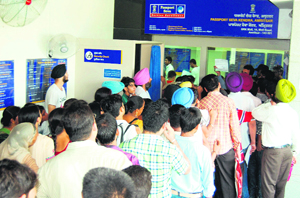 Amritsar, June 24
People turned up in huge number on the second day of passport mela organised at the local Passport Seva Kendra today. Regional Passport Officer JS Sodhi said around 450 applicants' problems were addressed during the second day. On the first day of the mela, however, only a few could avail the facility due to lack of prior information.
People stand in a long queue at the passport mela organised by the local Passport Seva Kendra. Tribune Photo: Vishal Kumar
4 held with stolen vehicles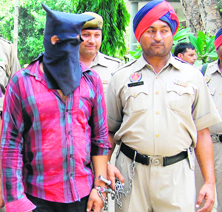 Amritsar, June 24
The city police nabbed four vehicle-lifters in two separate incidents. The D-Division police nabbed Balkar Singh and Priyaraj of New Gurnam Nagar, Sultanwind Road and Sahib Singh of Tur village, Goindwal Sahib and recovered a stolen car bearing number MH-04-BD-9516 from their possession. The police authorities revealed that the accused had formed a gang which was involved in vehicle-lifting and used to sell the cars after forging documents. The car which was recovered from the accused was stolen from Pune. A case under Sections 379 and 411 of the IPC has been registered against them.
An accused in police custody in Amritsar on Sunday. photo: Vishal kumar
Youth Congress flays construction of Bluestar memorial
Amritsar, June 24
The District Youth Congress headed by Vikas Soni has criticised the declaration of Balwant Singh Razoana as living martyr. They also criticised the construction of Operation Blue Star Memorial in the Golden Temple complex in the memory of 1984 operation Blue Star.
Here councillors focus on sewerage, infrastructure
Ward 30: Name: Dalbir Kaur Party: SAD
Major problem is of non-existence of sewerage. Ground water in Sultanwind and surrounding areas are polluted as the village pond has turned into a gunda nullah due to deposition of waste water here. Besides, the residents are not getting proper supply of potable water. I will raise the matter in the house and will try to solve them as soon as possible
GND hospital
New method to remove stone launched
Amritsar, June 24
The Department of General Surgery at Guru Nanak Dev Hospital has introduced Ureteroscopic Lithotripsy, an endoscopic surgery meant for urinary tract stone removal. Till now this surgery was available in private hospitals at a high cost.