No takers for admn's mercy
Absence of a rehabilitation policy makes the homeless go back to begging
GS Paul
Tribune News Service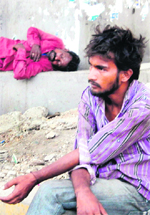 Amritsar, June 19
The streets are their home. On all days of the week the destitute know which religious shrine to go for alms. When the very society which often fails to take note of their presence extends a helping hand by way of providing shelter in Rain Basera, they seem to turn away. No help from residents to send them to the shelter homes instead of feeding them or giving them alms makes matters worse.
At a time when a rickshawala's lungs fail to breath in the heat and he falls in the arms of death or an elderly dies on his way to meet his son in his village, the homeless most vulnerable to a hostile weather have become a matter of concern. With 16 deaths reported due to sun stroke, the Red Cross Society sprung into action and brought 40 homeless persons, including three children aged between two to five years, from different points in the city and brought them to Old Karam Singh Ward over the past few days. The team received help of the police. What is needed more is a policy to rehabilitate the destitute instead of comfort of a shelter home for a short while.
Newly-renovated rooms, cupboards, new beds and even a colour television set waited for the homeless.
The life of these destitutes is divided on the basis of where they can get maximum alms. So it is the Lord Shiva temple on Mondays and Tuesdays, Thursdays and Fridays for at some peergah and Golden Temple or Durgiana Mandir on all days.
Besides making Rs 300 to 400 through alms, it is the delicious Prasad which eggs them on, feel many. At the Karam Singh ward, it is a more humble daal-roti and chapattis menu. The food is courtesy the Golden Temple management and Gurdwara Borhiwala besides other NGOs. Perhaps the reason why they go back to their old ways is beyond a cosy bed and food provided to them for a few days. They too know they cannot be off the streets, which earns them their bread and butter for too long.
Ram Sharan and his eight family members beg at posh Lawrence Road Chowk from 9 am till 9 pm, making anything between Rs 500-800 through alms. "How long can they keep us at Karam Singh ward? The government has no programme for us. They catch us only when the media wakes them up but after some days they let us go our way and we are back on the streets," he said. Begging nowadays means running after cars and worse still is making their small children tap the windowpanes of vehicles to beg.
Most of the homeless come with their children from states like UP, Bihar or Haryana. They get by doing petty jobs or selling household items at traffic signals. Their parents sell their labour at nearby construction sites. Ironically, even as the Prevention of Begging Act has already been enforced in the state, no case has been registered against even one beggar in past three years here despite the fact that 'organised' begging nexus cannot be ruled out. The police said no action can be taken against them until somebody files a complaint.
A random survey of the city found most of these beggars near Golden Temple, Dussehra Ground, Shiv Dev Mandir, Longawali Devi Mandir, Bhandari Pul and Lohgarh area.
n The district administration, in collaboration with the Red Cross, has been running a programme since February 12, 2010, to rehabilitate the destitute by accommodating them in a portion of the Old Dr Karam Singh ward. They are provided with three meals a day besides clothing and medicine but this hospitality has not proved enough to keep them from begging, which earns them anything between Rs 250 and 300 per day.
n Recently, the administration, with aid-in assistance from the Municipal Corporation has renovated the Karam Singh Ward to provide reasonably better shelter to the homeless. The walls of this building were painted, broken doors and windows were replaced with new ones, the bathrooms and toilets were fixed with new seats and tiles. Apart from providing fresh sets of blankets and quilts, a new LG-make television set with cable connection and a set of ten single-board beds were also provided here. Similarly, new water storage tanks were provided for 24X7 water supply.