Fire at paper mill a wake-up call for administration, MC
Severe staff crunch and poor infrastructure hamper functioning of the fire wing of the MC
GS Paul
Tribune News Service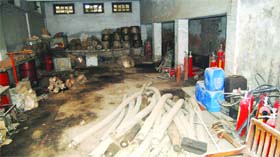 Fire-fighting equipment in a dilapidated state at the Town Hall fire station in Amritsar. Photos: Vishal Kumar
Amritsar, June 13
The devastating fire at Khanna Paper Mill which could not be brought under control even after 20 hours, should be taken as a lesson for the administration to wake up from its deep slumber and revamp its dilapidated fire fighting infrastructure in the holy city.
The fire machinery of the Amritsar Municipal Corporation proved totally inefficient in controlling the situation. Thanks to administrative officials, who were successful in arranging the additional help from neighbouring places, to control the fire up to some extent (60 per cent) and avert the major loss of life. If not controlled, it could have caused enormous damage because several residential colonies were located adjacent to the destroyed part of the mill.
There are only four fire stations, which cater to entire Amritsar and Tarn Taran districts, to deal with any untoward incident. This most important wing has always been ignored.
Staff shortage
Amritsar with a population of over 11 lakh, at present has a staff of 58 firemen and officials, including one Assistant Divisional Fire Officer- in charge, and one Fire Station Officer on its disposal, whereas the sanctioned strength of the fire department is 130. Ironically, this strength was stipulated in 1980s, when the city's population was just 7 lakh.
At present, against the 78 sanctioned posts of firemen, the department is managing with just 32. Out of nine sanctioned posts of sub fire officers, only six are filled. Similarly, nine posts of driver and three posts of leading firemen are lying vacant for a long time.
This scant 'fire-fighting and disaster response force' is also supposed to take care of Tarn Taran, Khem Karan, Baba Bakala, Patti, Ajnala Mehta and Beas too which have a population of 10 lakh.
Shockingly, not a single recruitment has been made in the fire department against those who got retired since 1980.
There are four fire stations in the city at Town Hall, Gilwali Gate, Civil Lines and near Beri Gate. Teams on duty in each station comprise just 14 employees, including one officer in charge, leading firemen, firemen, drivers and other supporting staff.
Due to staff crunch, they are put on eight-hour duty schedule on a rotational basis, in three shifts. The firemen have no uniforms, safety jackets and other alternative fire extinguishers. The fire manual says that for 50,000 citizens, there should be one fire station comprising at least 24 firemen each. But the actual situation is very different. Here against 20 lakh population, there are just 4 fire stations, with 14 persons each.
Infrastructure blues
Most importantly, the city has insufficient water filling points. With the overhead water tanks becoming obsolete, the existing hydrant points in various parts of the city got nonfunctional and over 50 per cent of the total tubewells in and around the city are nonfunctional. If a fire breaks out in the Ranjit Avenue area, the water in the fire tender would be filled up from Town Hall station only. The Gillawali Gate station has a reservoir that had a capacity of 20,000 litres of water. However, this too demands renovation, which was never thought of, till date. Another demand for two water bousers (large tankers) of 25,000 litres capacity each, that could be used to provide water to fire engines at the spot, has not been met, despite reminders.
Similarly, against the requirement of at least 25 fire tenders, there are only 11. Except for four (two 2002 model and two 2009 model), the remaining seven have outlived their age. The department has no small tender which can manoeuvre through the interior narrow lanes of the walled city.
The fire department has no uniform, no wireless, no hotline at present. They use their own personal mobile phones. Similarly, multi-storey malls are coming up in holy city, but the fire station has a ladder that reaches only 35 feet. It has been learnt that in 2005, a proposal to purchase the hydro-platform vehicle, which had a capacity to reach 150 feet, was passed, but it never got materialised.
Lack of planning
The Central Government had sanctioned an amount of Rs 157 crore to the Punjab Government in 2009 for the purchase of equipment for disaster management. Amritsar was granted Rs 15 crore as its share from this head. Ironically, this was an opportunity for revamping the system in the district, but till the lapsing period of funds (March 31, 2010), nothing concrete could be done by the authorities, except for forming discussion panel and holding meetings. Ideally, the Municipal Corporation is bound to incorporate 5 per cent of the total tax collection to the fire department as 'fire-cess', but here, never a single penny was ever spared for the purpose.
What needs to be done?
There is an urgent need of foam extinguishers.
The water relay system is inadequate keeping in mind the growth in population. There is requirement of at least 100-foot high turntable ladder to reach prevailing high-rise buildings to fight fire or rescue trapped persons.
The vacant posts of firemen should be filled up soon.
Official Speak
The intensity of fire at Khanna Paper Mill was too high and we have provision for pooling in the resources from outside which we did in this case. But it is true that the fire wing required due attention. The Amritsar Master Plan, which was notified recently, has elaborately described the disaster management plan for the city and everything would be streamlined shortly
— Rajat Agarwal, Deputy Commissioner