Major fire breaks out in paper mill
No loss of life; tonnes of raw material reduced to ashes; Army called for help
GS Paul
Tribune News Service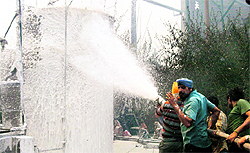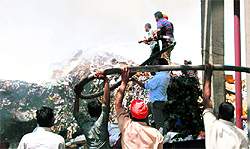 Firemen try to douse the flames at Khanna Paper Mill in Amritsar on Tuesday. Photos: Vishal Kumar

Amritsar, June 12
A major fire broke out at the stock yard of Khanna Paper Mill, located on the Fatehgarh Churian road.
Though no casualty was reported in the incident, yet tonnes of raw material, supposed to be used for recycling purpose, was reduced to ashes.
Even as fire officials stated that the fire is under control, but the intensity of the fire was so much that it could not be doused fully till the filing of this report.
In a damage control exercise, the occupants of 30 to 40 houses located adjoining the site were vacated to avoid any loss of life.
Assistant Divisional Fire Officer Bhupinder Singh Sandhu said though the flames were under control, yet it would take some more hours to douse them fully.
"The exact cause of fire cannot be ascertained till yet. It will take us some more time to douse it fully because the material was highly flammable. We are facing difficulty because the fire gets intensified due to wind and the bad light again cause hindrance for us," he said.
The whole battery of administrative officials, including Deputy Commissioner Rajat Aggarwal, were witness to the fact that the local fire extinguishing machinery proved to be incompetent in controlling the fire of this intensity.
Sensing the gravity of the situation, heavy-duty fire hydrant tenders from the Airport Authority of India and fire-control machinery from Jalandhar, Gurdaspur, Ludhiana and Kapurthala were summoned.
The mill, itself, has been equipped with a very efficient fire hydrant system, which, too, ran out of water and the mill workers had to refill the storage tanks repeatedly to meet the requirement of water, but the blaze swept through the storage yard very quickly.
Even as the exact cause of fire and quantum of loss could not be ascertained, yet mill staff members said the flames were spotted at about 1.45 pm by them when they were on lunch break. "But before we could raise an alarm or take any action, it had engulfed the mounds of raw material lying adjacent to each other," they said.
The mill's fire control system was made operational instantly and their two fire tenders were also pressed into service.
The owner of the mill, Brij Mohan Khanna, and his other family members were present on the spot.
"It seems that the severe hot conditions had caused the material to catch fire. It had happened quite often earlier too, but our own two fire tenders and fire extinguishing system were quite enough to control such fires. But this time, the fire could not be noticed well in time and it spread immediately," said Khanna.
Meanwhile, the Army has been called to control the fire.