Farmers seek 16-hr power supply
Amritsar, June 5
Activists of 17 farmer associations held a protest outside the DC office here today. The farmers demanded that the government should provide 16 hours of power throughout the year to make crop diversification possible.

Members of farmer organisations stage a protest at the DC office in Amritsar on Tuesday. Photo: Vishal Kumar


Warmth of the city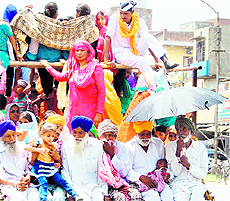 Visitors try to save themselves from the sun on their way back after a visit to the holy city. Photo: Vishal Kumar
crime against women
One booked for rape
Amritsar, June 5
The Beas police has booked Harjinder Singh, a resident of Dhardeo village, on charges of abduction and rape of a teenager. The accused is a distant relative of the victim. The victim alleged that the accused raped her on the pretext of marrying her. She alleged he kept her in several hotels in Amritsar before dumping her at Butala village bus stand. The accused had recently come back from Italy.
Man robbed of Rs 9.5 lakh
Amritsar, June 5
Three persons allegedly snatched Rs 9.50 lakh from Harpal Singh of New Bhalla Colony, Chheharta, here last evening. He along with Harpreet Singh and Jaswinder Singh was going towards the district courts for the registry of a property at the time of the incident.
world environment day
NGOs wake city up to environment cause
Amritsar, June 5
This World Environment Day was all about embracing green energy. The theme for 2012 World Environment Day as per the United Nations Environment Programme was Green Economy and are you a part of it? It encompassed various aspects of human living, from transport to energy to food to sustainable livelihood. And the holy city took part in it as well with hoards of activities promoting the latest green mantra.
| | |
| --- | --- |
| | Children look for food from a burning heap of garbage; and (right) artist Amritpal Singh poses with a model of the globe on World Environment Day in Amritsar. Photos: Sameer Sehgal/Vishal Kumar |
Students speak on conserving ecology
Amritsar, June 5
Members of the Environment Club of Spring Dale Senior School today addressed the issue of environmental degradation resulting in global warming and extreme weather conditions. The students delivered speeches to a gathering of parents of students. Holding placards in their hands they highlighted the need to conserve and preserve natural resources.
4,000 cops for MC polls
Amritsar, June 5
More than 4,000 policemen will be deputed at every nook and corner of the city in view of the Municipal Corporation elections to be held on June 10. The 65 wards in the city have been divided into six zones and each zone will be headed by an ACP rank officer.
WARD WATCH: ward no 58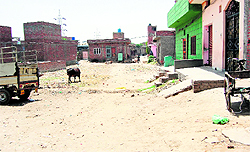 Apathy out in the open
Amritsar, June 5
Open drains, garbage heaps, streets filled with filth are the major problems faced by the residents of Ward number 58. The area is represented by the Congress councilor Neeru Chaudhary. The residents of the Bhadrakali colony say an open drain in the area has made life difficult for them.

Unpaved streets in Ward number 58 in Amritsar. Photo: Sameer Sehgal

ward no 41

Encrochments galore in markets
Amritsar, June 5
The reason behind a dilapidated civic system in Ward no 41 is the illegal mushrooming of hotels and encroachments by shopkeepers. Shops and hotels are being operated from residential buildings while defying the CLU (change in land use) norms.


Roads encroached upon by shopkeepers in Ward 41 in Amritsar. Photo: Sameer Sehgal