SAD, BJP pitted against each other IN 2 wards
Manmeet Singh Gill
Tribune News Service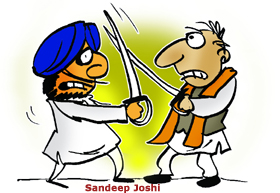 Amritsar, June 1
The power tussle between the ruling alliance partners in the state --- the SAD and the BJP --- has come to fore with both fielding party candidates from two wards for the MC elections.
While both the parties have strictly adhered to seat sharing arrangements in all other wards, separate candidates, who have also been allotted party symbols --- scales and lotus flower --- for contesting the elections, have been fielded from Wards 14 and 53.
The BJP has fielded Neelam Bala from Ward number 14 against Kashmir Kaur of the SAD. In Ward number 53, Som Dev Sharma has been nominated by the BJP and Avinash Chander Jolly has been fielded by the SAD.
As per the seat sharing arrangement, Ward number 14 was with the SAD and Ward number 53 was with the BJP.
District SAD President Upkar Singh Sandhu said, "Initially there were talks of exchange of seats. As per the decision of senior leaders, Avinash Jolly filed his nomination from Ward 53. In the evening there was some confusion and BJP's Som Dutt Sharma too filed his nomination."
He said similarly both the parties happened to have allotted tickets from Ward number 14. He said there is no rift between the two parties and alliance is as strong and united as ever.
Easy going for SAD
n In Ward 39, SAD's candidate Dalbir Singh Mamanke won unopposed after Congress and Independent candidates withdrew from the contest.
n Even in Ward 37, the SAD stands on a strong wicket after Congress candidate withdrew. The contest is now between the SAD and Independents, who incidentally are not considered strong candidates.
Straight fight between Cong, SAD-BJP
n In three wards --- 2, 12 and 51, there is a straight contest between the SAD-BJP combine and the Congress. In Ward number 2, Mamta Dutta of the Congress is contesting against Nagwant Kaur of the SAD. In Ward 12, Sandhya Sikka of the BJP is fielded against Dalbir Kaur of the Congress. In Ward 51, Preeti Taneja of the BJP is fighting against Kiran Kundra of the Congress.
Maximum contenders
n Ward 61 has the maximum numbers of aspirants for the councillor's chair. In total, 13 candidates including from the BJP, Congress and CPI, are contesting the elections.
Rebel factor
n The rebel factor comes into picture in few wards. In Ward 9, Neetu Mahajan, wife of BJP councillor Rajinder Kumar, is contesting as Independent against official BJP candidate Seema Khanna, who is wife of BJP councillor and Improvement Trust Chairman Sanjeev Khanna.
n Arun Kumar Pappal and his wife Manju Mehra are contesting as Independent candidates from Wards 46 and 47, respectively. Local candidates feel that with the couple contesting the election, the fight for official BJP candidates has become harder.