MC POLLS WARD WATCH
ward no 33

Residents cry for basic amenities
PK Jaiswar
Tribune News Service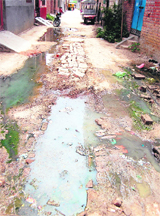 A dilapidated street in New Kapoor Nagar in Ward 33 in Amritsar. Photos: sameer sehgal
Amritsar, May 27
Kot Mit Singh, which was established much before the Partition, besides parts of historic Sultanwind village, falling in Ward 33, are yet to get basic amenities such as water supply and sewerage connectivity.
The areas had been excluded from the ambitious JICA project under which the sewerage system is being revamped in the holy city. The areas were left out of the project due to an inordinate delay in its execution which has resulted in the increase in the project cost. "Thereafter the authorities concerned and political leaders have made no efforts to initiate new sewerage projects," say residents.
Dilapidated conditions of the roads reveal the naked truth. Dirty water spilling over open drains is a nuisance in several parts of the ward.
The unpaved road alongside the UBDC Sultanwind Canal leading to areas of New Kapoor Nagar has failed to get attention of the authorities even after decades. Residents claimed that the road was never laid and repeated requests of the councillor of the area failed to bear any fruit.
The story of parts of Sultanwind village falling in this ward is no different.
Like Ward number 31, under which majority of the Sultanwind village falls, the conditions are no better in this part of the village that comes in this ward.
A huge pond serves as a perfect breeding ground for mosquitoes and insects. The consecutive governments have done little for its cleaning and de-silting.
"No plans were ever chalked out to get rid of this problem by any government which ruled the state. This way residents are forced to live in most unhygienic conditions," said a resident of the area.
Doors and establishments were shut early in the evening in fear of mosquitoes and insects. During peak summers, the conditions worsen, residents added.
The political leaders show up during the elections only to seek votes while all through the years they remain inaccessible and don't bother about our problems, said a resident of New Kapoor Nagar.
Other areas that fall in the ward include Kot Mit Singh, New Kot Mit Singh, Davinder Nagar, Wadhawa Singh Colony, Bhai Manj Singh Road, Khalsa Nagar, Gurnam Nagar, Kapoor Nagar, New Kapoor Nagar, Friends Colony, Akali Colony and Dashmesh Nagar.
Residents speak
I have been living in this area for last seven years, but there are no streets in our locality. I don't know who is the councillor of the area as he has never visited our area
— Tarsem Singh
We have been living here for past over a decade. But the authorities have not laid a road alongside the UBDC canal. We have repeatedly requested the officials concerned and councilor of the area, but we haven't got any response from them.
— Baldev Singh
Dirty water spills over the open drains in absence of proper de-silting. Foul smell makes our life a hell. The water recedes only in the nights
— Harbans Dass
Roads, sewerage or drinking water supply, there is nothing in our area. Water connections have been provided to limited residents. But there too, the supply is sufficient. There is nothing in the name of development.
— Santosh Rani
Only a part of the Kot Mit Singh has water supply connection. However in absence of proper supply, the area inhabitants are often a troubled lot
— Ranjit Singh
Councillor speak
I admit that there is a problem of sewerage in Kot Mit Singh, Sultanwind and Daburji areas. A separate project of Rs 87 crore was initiated for laying the sewerage system. However, somehow it could not be materialised due to technical problems and lack of funds. But this is very much on my priority as these areas were the oldest areas of Amritsar
— Amrik Singh Lalli