Forced to live in the 'stone' age
PK Jaiswar
Tribune News Service
Amritsar, May 20
A black marble foundation stone of a road project was laid a year ago. But nobody knows when the construction work will begin and when the residents of Patti Balol in the historic Sultanwind area, falling in Ward number 30, will get freedom from the bumpy ride.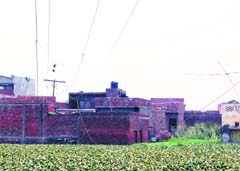 High-tension wires pass over rooftops posing threat to residents. Photos: vishal kumar
The project is a perfect example of the hollow claims of the 'so-called development works' carried out in the area.
There is no proof that this historic village falls in the limits of the Amritsar Municipal Corporation.
Residents say no road has been constructed in this area for the past over a decade and the ruling party leaders remained busy laying foundation stones. Nobody bothered about the problems for decades, they add.
Importantly, Sultanwind was established about four centuries before the holy city came into existence. In fact, the Golden Temple was constructed on the land of the Sultanwind village, which derived its name from a Muslim saint, Sakhi Sultan.
Today, besides historic Gurdwara Atari Sahib (belonging to sixth Sikh Guru), a major portion of the village, which has witnessed the visits of Guru Arjun Dev and Guru Hargobind, faces the problem of water seepage which causes damage to buildings.
The authorities have taken no pain to get the ponds, which were constructed to drain out the rainwater, cleaned. In absence of proper drainage system, these dirty water bodies become a major reason for water-borne diseases.
The underground water has been polluted which make people dependent on MC water supply. But, ironically, majority of population doesn't have that facility too.
In absence of any sewage disposal system coupled with absence of safe drinking water, the people easily fall victim to water-borne diseases.
A number of residents regularly complain about stomach infections, informed a local chemist.
In certain areas, the water supply pipes pass through the open drains making it dangerous for residents. About 40 per cent of the people are devoid of safe drinking water. Out of those who get water, many complain of constant leakage from water pipes. "Kutcha roads remain muddy," they add.
History of Sultanwind
Named after "Pir" Sakhi Sultan, Sultanwind came into being four centuries back. Situated on the old Golden Temple road, Sultanwind was once a Muslim-dominated village before the Partition. Guru Arjan Dev had visited Sultanwind to rescue his follower Bhai Manjh after he had fallen into a well while bringing wood from a forest. Sri Guru Hargobind stayed here when he was returning after solemnising his marriage. An old tree of "Karir", where the sixth Guru tied his horse, still exists in the gurdwara.
In the MC limits
The area came under the Municipal Corporation in 1972. The village is divided into 12 zones, including Mansoor, Balol, Dadujalla, Bhainiwal, Malka, Sau, Sultan, Pandora and Shaho Ki.
What are the problems of your area?
Absence of sewerage system is the major problem in my ward. Majority of the Sultanwind area falls in my ward. The area was left out of the sewerage project under JICA due to increase in the cost of the project.
What are your achievements?
During my tenure I spent Rs 10-12 crore in carrying out various development works in my ward. I got constructed a number of roads and lanes. Eight water tubewells and two overhead reservoirs were constructed to ease drinking water issue. Water connections have been provided in majority of area especially those near the main roads.
Why should people vote for you?
I have carried out a number of development projects in the area. Besides I have remained accessible to everyone.
What will be your agenda for next elections?
My foremost priority would be to install the sewerage system by ensuring special grants for this purpose. Besides completion of pending works would be my utmost priority.