Councillor fails to keep his backyard clean
Manmeet Singh Gill
Tribune News Service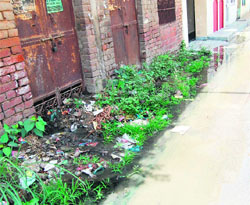 The overflowing Ganda Nullah in a street at Guru Gobind Singh Nagar in Amritsar. Photos: Vishal Kumar
Amritsar, May 8
Residents of Ward number 8 accuse their councillor Sanjeev Khanna of being inaccessible. Khanna is also the chairman of local Improvement Trust. Even the BJP and SAD workers feel that the councillor has failed to strike a chord with the residents of Bank Avenue, Tagore Nagar, Guru Gobind Singh nagar, Model Study School lane, Beauty Avenue, Basant Avenue and the portions of Medical Enclave and New Medical Enclave which are part of the ward.
The residents said the BJP councillor who is close to MP Navjot Singh Sidhu has failed to fulfil the expectations of the residents.
Even BJP workers rue that Khanna never visited the localities. However, the BJP workers claimed that local MLA Anil Joshi had initiated a number of development works during the tenure of the previous government. The sewerage system in most of the areas such as Tagore Nagar, Bank Avenue and Basant Avenue is not capable to hold waste water.
Residents face the problem of foul smell emanating from a street in Bank Avenue besides the Ganda Nullah which is being covered these days.
A park in Tagore Nagar area had turned into a grazing ground for stray cattle. The residents complained that the park is used by anti-social elements to play cards and drug abuse. The residents of the areas near the park say garbage dump outside the park is not lifted for days.
A resident of Basant Avenue, Sandeep Bhullar said, "The area does not have safai sewaks. The residents pool Rs 50 every month to pay them. They have themselves arranged for the safai sewaks." He said garbage collection vehicles rarely visit the area.
The residents of Basant Avenue complain that Ashoka Park in the area needs more lights so that people can use it in the evenings. A large quantity of rubble is blocking the entrance of the park. Besides wild vegetable, including bhang can be seen growing on alongside the park.
councillor speak
Profile

A businessman, Khanna though associated with various organisations of the Jansangh for decades, entered electoral politics with his election as a councillor from Ward number 8. Later, MP Navjot Sidhu handpicked him for the post of Improvement Trust chairman. Sidhu had vehemently opposed Rajinder Mohan Chhina's appointment as the Trust chairman, after which he was replaced by Khanna. A B.Com degree holder Khanna also holds a diploma in textile technology.
Residents accuse you of being inaccessible?
There is no truth in that. I have worked for the overall development of the area. Besides a councillor is responsible to ensure development and not roam in the streets just to be accessible. I meet people in my office.
What development works did you accomplish?
Allmost all works have been done. During the next MC, only Rs 5 to 7 lakh more will be required for the remaining works.
What is your next agenda?
Developing a green belt at places where the Ganda Nullah was there will be my priority.
residents speak

Khanna is inaccessible. We have not seen him meeting people. All the works here have been done by MLA Anil Joshi. Sometimes people keep waiting outside his residence but his gateman don't let them inside
jijjy kumar, a property dealer

The sewerage pipes cannot hold the dirty water. The capacity needs to be enhanced. Besides anti social elements eve tease school girls. The area needs to be watched
amarjit singh dhillon, a resident

The councillor gave Rs 5.5 lakh for a park in Guru Gobind Singh Nagar. But he has not given a paisa for our park as a result it is in a dilapidated condition and looks more of a waste land
amandeep singh honda, a resident of tung bala

Even a cabinet minister is more accessible than him. People have to get the forms for residence proof and birth and death certificates attested from him. But he is often reluctant. He is more a businessman than a politician
Narinder Singh Sibal, a retired government employee

Garbage dump is the biggest problem of the area. The lifting vehicles hardly come to the area. We as workers feel he is not accessible. Sometimes we have to request the Congress Councillors of the nearby wards for attestation of forms as out councillor is not available

Lakhbir Singh, SAD leader and Tagore nagar resident
The water for Ganda Nullah often enters the streets. The foul smelling water is the biggest problem of the area. We hope the administration would divert the flow to solve the problem
Kavita Sharma, a resident of Guru Gobind Singh Nagar