Ward number 2 residents want better roads, end to water woes
Manmeet Singh Gill
Tribune News Service

Amritsar, May 9
Supply of quality drinking water is the biggest problem faced by the residents of most of the localities of ward number two.
The Ward is represented by former Mayor Sunil Dutti. Datti blames it on the discrimination against the areas represented by the Congress councillors.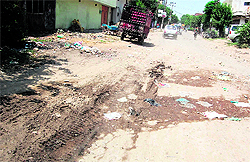 An unpaved Sher Shah Suri road in Ward number 2 of Amritsar. Photos: Sameer Sehgal

Residents of Shori Nagar had a tough time when water logged at the entrance of the area. The residents of Vikas Nagar rue that street number seven often gets inundated during rains. The street leading to Dhakha Colony also needs repair.
The residents complained that Sher Shah Suri road, which connects most of the areas in the ward was paved nine years ago.
They said Sunil Dutti got the road paved in the first year as the Mayor but nothing has been done since then.
The road from the GT road to Dashmesh Nagar has a slant due to which water enters the area during rains. Despite the foundation stone of a sewerage project was laid recently, the problem still persists.
The residents rue that the water pump for supplying water to Dhaka colony has been lying defunct for more than three years.
They also complain that lack of drinking water has made people susceptible to problems such as jaundice and diarrhoea.
A medical store owner said people often come to procure diseases for water-borne diseases.
At least two places where tubewells have been installed also have sufficient area to be converted into parks but are a picture of neglect.
The outer wall of the tubewell compound at Chintpurni Chowk needs repair.
A large vacant area lies unused. Same is the condition of the space for a tubewell-cum-park at Dhaka Colony. At this place though the walkways for residents have been constructed but there is no greenery.
The tubewell too is not working.
Profile
Sunil Dutti entered politics by winning the MC elections in 1997. In the next MC elections in 2002 he was elected Mayor. Dutti is serving his third term as a councillor.
Dutti had recently contested elections for the state assembly from Amritsar east constituency.
Councillor speaks
Which development projects did you initiate?
I completed all development works in my ward during my tenure as the Mayor. However, development is a continuous process. Though being a Congressman, things were not easy for me but I have been using my influence to solve problems faced by the people.
What are the biggest problems in your area?
Few streets need repair. Population has increased and facilities need to be upgraded.
More of pumps to supply drinking water are required.
What is your agenda for the next term?
Development plans will be chalked out on the basis of suggestions from all quarters. Focus will be on a balanced but not haphazard development.
The problem of drinking water would be solved on a priority basis.
Residents speak

During rains the entrance to the Sher Shah Suri road gets water logged. The sewerage system of the area needs to be improved. The corporation should become more sensitive to the problems.
Kuldeep Singh, a resident

The councillor gave Rs 5.5 lakh for a park in Guru Gobind Singh Nagar. But he has not given a paisa for our park as a result it is in a dilapidated condition and looks more of a waste land.
Kuldeep Singh, a resident of dhaka colony

The councillor never visited the area. Even if he is in the opposition, he should not have lost touch with the residents. Quality of drinking should be improved. More pumps should be installed to supply drinking water.
Mahinder Singh, a resident

Sewerage water often overflows. Water pumps should be repaired immediately. People here cannot afford to install submersible pumps in their homes.
Vijay Kumar, a shopkeeper

The safai sevaks hardly come here. Garbage can be seen piling up at places. Few places don't have adequate supply of water and some don't have it at all. Snatching incidents too have increased during the wee hours.
MP Satija, a resident