Number 13, this area fails to get lucky with development
Manmeet Singh Gill
Tribune News Service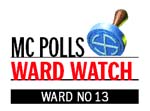 Amritsar, May 21
The disparity in development in Ward number 13 is clearly visible. Few of the localities such as Vikas Vihar and Parkash Vihar are neglected in comparison to others.
Residents of these localities complain that streets were never paved for the past 15 years since people started living in the area.
Residents of the Parkash Vihar locality said even rickshaw pullers refuse to enter the streets.
A resident, said, "Few days ago, one of our neighbours needed to be hospitalised. However, no vehicle could enter these streets. Finally, few men had to carry the patient on their shoulders to the end of street."
They complained that the level of the street is much lower than the level of the houses.
People constructed their homes thinking that the level of streets would be raised when sewerage pipes would be laid.
However, they are still are waiting for the sewerage system.

The ward has sewerage facility in certain parts. The same is the case with the drinking water facility. Residents rue that there is no check on the sale of illicit liquor.
They also said they have not been registered as voters despite applying for it many times.
"The procedure has been made cumbersome for common people. The councillors and politically connected people have no problem getting votes made for their supporters," said a resident.
What are the major problems in your area?
The sewerage and water supply are the two biggest problems.
However, the project was inaugurated only a few days ago. The problem will be over soon. We have promised that the streets will be paved and we will fulfil the promise.
Few residents complain that they have not been registered as voters?
Only those who either do not have valid documents or those who have not pursued their case properly say so.
Getting registered as a voter is a legal right. People can come to me if they have any problem.