Govt's new fund-raising formula
MC property worth Rs 150 cr to go under the hammer
GS Paul
Tribune News Service
Amritsar, May 29
The Punjab Government has mooted the proposal of auctioning properties belonging to municipal corporations rather than mortgaging these properties to generate funds.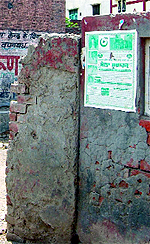 A defunct slaughter house has been identified for an open auction. Photo: Vishal Kumar

The government's assertion came following a petition filed by Jalandhar residents Sunita, Ritu and others before the Punjab and Haryana High Court. The petitioners had said instead of utilising enormous income generated through levying of taxes, the public land and properties meant for public use and utility were being mortgaged with the banks or the private institutions to raise loans purported to be distributed to the self-governed municipal corporations.
The Local Government department has issued fresh directions to municipal corporations of Amritsar, Jalandhar, Bathinda and Ludhiana to identify the unutilised land falling in their jurisdiction which can be put to sale through an open auction. The respective corporations would be the nodal agencies to conduct auction proceedings.
The money generated through this move, would be diverted to a common head of the Punjab Municipal Infrastructure Development Fund (PMIDF) Act 2011, under which Punjab Municipal Infrastructure Development Company (PMIDC) was formed. It is headed by Punjab Chief Minister Parkash Singh Badal. These funds would be utilised for providing basic amenities like safe water supply, sewerage and sewage treatment plants, roads, slum development, street lights, solid waste management system in all the towns.
The Amritsar Municipal Corporation (MC) has identified six properties worth over Rs 150 crore, to be auctioned shortly.
These properties included: six acres of land at old Sabzi mandi near Hall gate, 2100 sq yards plot of defunct slaughter house near Nawan Kot, 1500 sq yard plot opposite to C-Division, sixteen booths lying adjacent to Automobile Workshop on Gole Bagh, 3800 sq yard plot on the Mall road, behind Commissioners residence and 2000 sq yard plot near Shaheed Udham Singh Foundation Hall near Gilwali gate.
Confirming the move, the AMC Commissioner Dharampal Gupta said, "The government has chalked out Rs 750 crore plans in the first phase, for urban development. The auction process has tentatively been scheduled for May 25 here for old slaughter house land and the booths. All the proceeds would directly go to PMIDF. Though, we expect that matching share would be ploughed back for development projects in Amritsar but ultimately it is for the PMIDC to decide."
Meanwhile, a Designing and Planning Cell comprising five renowned experts from the fields of civil engineering, planning, finance, environment and traffic would carry out the development projects in a comprehensive manner.