Sanjha Morcha's disunity to fore
Amritsar, June 8
Even as the PPP-led Sanjha Morcha has fielded 29 candidates from different wards for the MC elections, constituent parties --- the CPI, CPM and PPP --- have fielded separate candidates from few of the seats instead of helping alliance candidates collectively.
PSEB merit list: District fares badly, govt schools draw a blank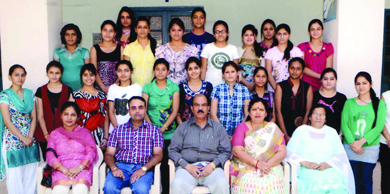 Amritsar, June 8
Amritsar, the second largest educational district in the state with 35 clusters, has faired badly in senior secondary examinations of the Punjab School Education Board (PSEB).
Students pose for a photograph after clearing PSEB Class XII exams in Amritsar. A Tribune photo

Parties bank on the 'new' connection
Amritsar, June 8
All major political parties have fielded new faces in the elections to 65 wards of the Municipal Corporation. The BJP has fielded 32 fresh faces out of 38 wards it is going to fight. Its alliance partner SAD had gone ahead with 22 new faces out of 27 seats.
'Illegally confined' at hospital, doc knocks at Civil Surgeon's door
Amritsar, June 8
A gynaecologist has filed a complaint with the Civil Surgeon office accusing few persons, said to be relatives of a woman health employee at Sakatri Bagh Satellite Hospital of misbehaviour and illegal confinement.
4,000 arms deposited with police
align="left">Amritsar, June 8
Ahead of civic polls, the city police today claimed that over 4,000 arms have been deposited with it. The police had issued instructions to arms holders to deposit their arms with the respective police stations.
Three months on, woman booked for husband's murder
Amritsar, June 8
Three months on, the Rambagh police has booked Tanu Sharma for the murder of his husband Pawan Kumar Sharma. Pawan was found dead in his residence at Pawan Nagar under mysterious circumstances on March 3.
MC POLLS: WARD WATCH: ward no 43
Contaminated water supply, their biggest worry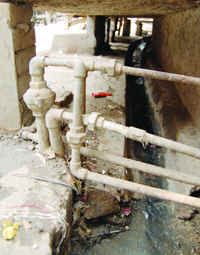 Amritsar, June 8
For over a year and half now, residents in Ward 43 are reportedly getting a supply of contaminated water. They are agitated as their repeated complaints on the matter have gone unheard. They said though they have met several officials and political leaders, the problem has not been rectified. Residents claimed that the water they get at their homes comes mixed with solid waste from the sewers. They added that water emits a foul smell and people are afraid to drink it. Problems of water-borne diseases in the area are rampant. "Where do we go? Nobody is concerned about our plight," said Rajinder Kaur, a resident of the area.
Water supply pipes pass near the open drains in Ward 43 of Amritsar. photo: Vishal Kumar

Ward no 45
Water contamination, traffic chaos the bane
Amritsar, June 8
A trade hub, Ward 45 faces a massive problem of encroachments by shopkeepers, vegetable vendors and rehriwalas which chokes traffic movement in markets.
Six booked for murder bid
Amritsar: The Civil Lines police has booked six persons in an attempt to murder case. Those booked were identified as Ranjit Singh, Vicky Soor and Madan of Gali Ghumiaran wali, Ashok Kumar of Gali Naiyan wali and Raju of Gali Kabran Wali and Nishan of Faizpura.
Man booked for rape
In yet another case in which a woman was cheated after she was tricked into marriage, the police has booked Ravi Raj Sidhu of Sewa Nagar on Ram Tirath road here.