Three robbers arrested
GS Paul
Tribune News Service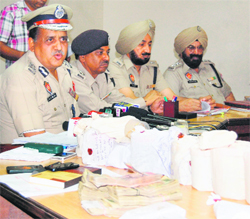 Police commissioner RP Mittal with the arms, cash and jewellery seized from the accused in Amritsar on Wednesday. Photo: Vishal Kumar
Amritsar, June 6
The police claims to have busted a gang of robbers allegedly involved in several cases. The police has seized arms, jewellery, cash, stolen vehicles and narcotics from their possession. The accused include members of an inter-state gang of truck lifters.
Police Commissioner RP Mittal told the media today that two members of the gang have been arrested and the rest will be arrested soon. The accused have been identified as Gurcharan Singh and Harpreet Singh. The police has recovered a truck (PB-06-2494), six kg poppy husk, two pistols (3X3 with four live cartridges) and .12 bore with two live cartridges, a Swift make car bearing no registration number from their possession.
He claimed the accused have admitted to have sold stolen trucks in Punjab, West Bengal, Delhi and Haryana. "They admitted to the involvement of seven members in this crime and used to sell the stolen at least 14 trucks in different states and in places like Siliguri and Darjeeling. They also passed the stolen trucks to Nepal through West Bengal," said Mittal.
A case under Section 379, 198 IPC has been registered against the accused. In the second instance, the CIA staff has arrested Kiran Kumar alias Karan, Dharminder alias Dharma, Baljinder Singh alias Chhotu, Amit Kumar alias Brok and Kamal alias Pinta on charges of robbery at a house in Katra Safaid area.
Mittal said the accused had looted gold jewellery after taking the occupants of the house as hostages on May 19. "In this case, Amit Kumar Brok was the mastermind. He knew that the house owner used to fund his clients in lieu of mortgaged gold ornaments. Brok hatched a conspiracy in connivance with the accused. On May 19, they barged into the house but could steal only a set of gold bangles as their weapon misfired. Meanwhile, they got scared as the house was located in narrow lanes amidst heavy rush and escaped from the spot. They were caught on June 5 on a tip off from Bhaktanwala area by the police team and we hope to recover other materials from their possession," Mittal said.
The police has recovered gold bangles weighing 22 gm, besides 260 gm poppy husk, 180 gm narcotic powder, 560 gm charas, mobile phones, five pistols (3X3 with 12 live cartridges), a sharp-edged weapon and mobile phone from their possession.
The police has also arrested Harpreet Singh and Manjinder Singh, both residents of Chheharta, and recovered 500 gm narcotic powder, one country-made pistol (.32 bore and two live rounds) a motorcycle from their possession. They have admitted to be involved in various cases of looting in the past.
In yet another case, the police has arrested the accused involved in snatching Rs 9.5 lakh and seized a .12-bore country-made pistol, 12 live cartridges from their possession.