Issue of New Districts
Shanta camp to step up campaign against Dhumal loyalists
Shimla, June 6
The re-carved political boundaries of Assembly constituencies in Kangra due to delimitation has flared up bickering among ministers and legislators of the ruling party with Shanta faction all set to intensify its campaign in the coming days against attempts by loyalists of Chief Minister PK Dhumal to bulldoze into their territories.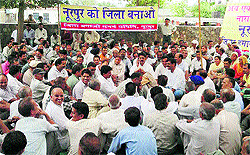 District status: Samiti begins relay fast in Nurpur
Nurpur, June 6
Recently formed Zila Banao Sangharsh Samiti today started its chain fast in front of the SDM office here for granting the district status to Nurpur.


Members of the Zila Banao Sangharsh Samiti hold a protest in Nurpur on Wednesday. Photo: Rajiv Mahajan

Pvt varsities mull assn to lobby their cause
Dharamsala, June 6
Following criticism by politicians of opposition parties and the strict control of the regulatory commission, managements of private universities are planning to come on a single platform.
Dressed in tradition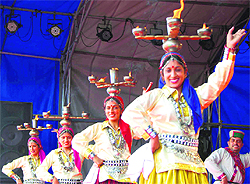 Artistes from Sirmaur district present a traditional dance during the Summer Festival in Shimla on Wednesday. Photo: Amit Kanwar

Batish appointed Info Commissioner
Shimla, June 6
Kali Dass Batish, a former Additional Advocate-General and practising lawyer, was today appointed as Information Commissioner after a committee, chaired by Chief Minister PK Dhumal, cleared his name.
Apple growers submit memo to Governor
Shimla, June 6
Disillusioned by the alleged indifferent attitude of the government towards their demands, apple growers of the upper Shimla region today sought the intervention of Governor Urmila Singh to help secure the arrears of the fruit procured under the MIS (market intervention scheme) and ensure proper arrangements for marketing of the produce during the ensuing harvesting season.
State needs to be ready for Kangra-like quake: Expert
Shimla, June 6
"With a 200-km fault line running through the heart of Himachal, the hill state needs to be better prepared to face a 1905 Kangra-like earthquake, which can spell total disaster," says M Shashidhar Reddy, Vice-Chairman of the National Disaster Management Authority (NDMA).
CTA in no hurry to appoint new envoys
Dharamsala, June 6
The Central Tibetan Administration (CTA) seems to be in no hurry to appoint new envoys for holding talks with China.
Advisory issued
Hamirpur, June 6
On the basis of information received from Senior Superintending Engineer of the BBMB, Pandoh, Hamirpur DC Rajinder Singh has informed the people living on the banks of the Beas that due to a rise in the water level of the Pandoh dam, the spillway gates of dam can be opened anytime.
Govt policies pushing power board into debt trap: Union
Chamba, June 6
The Himachal Pradesh State Electricity Board Ltd (HPSEBL) Employees Union has pointed a finger at the functioning of certain bureaucrats. It has alleged that they have personal biases against the HPSEBL and are providing undue benefits to independent power producers (IPPs).
Bharatnatyam performance leaves audience spellbound
Kangra, June 6
Ragini Chandershekhar, a renowned Bharatnatyam dancer, enthralled dance lovers of this town with her spellbinding performance at the Sobha Singh Auditorium of the DRPGMC, Tanda, on Sunday evening. She effortlessly floated from one character of "natyam" to another with a mere change of expression and posture.
Factionalism to the fore in Cong over Bali's yatra
Mandi, June 6
Congress leader from Kangra and MLA GS Bali and state party president Kaul Singh and other Congress leaders are locked in a "fierce factional fight over Bali's padyatra being viewed as a ploy to grab public attention as a potential state-level leader" to the run-up to the upcoming state Assembly elections.
Palampur MC flayed for not utilising funds
Palampur, June 6
Parveen Sharma, local BJP MLA, recently criticised the local municipal council for stalling the development of the town and failing to utilise funds amounting to Rs 2 crore given by the state government for various development projects. Sharma said the council was playing into the hands of Congress leaders and ignoring the development of the town merely on political considerations.
Framing of Charges in CD Case
Court reserves order
Shimla, June 6
A special court today reserved its order on the issue whether charges should be framed against Union Minister Virbhadra Singh in the alleged CD case registered against him and his wife.
Experts to set up nanobiotechnology society at Mandi IIT
Mandi, June 6
A panel of experts comprising scientists, engineers and clinicians has decided to put in place a healthy mixture of "noble, bio-compatible nanomaterials for promotion of a healthy environment, strengthening available research efforts for diagnosis and treatment of diseases in human, plants and animals".