Nauni, Canada varsities to sign memorandum
Solan, May 30
Dr YS Parmar University of Horticulture and Forestry, Nauni, will soon sign a memorandum of understanding (MoU) with the Faculty of Natural Resource Management, Lakehead University, Canada, for which a principal agreement has been reached between the two universities.
Transport staff's stir enters 2nd day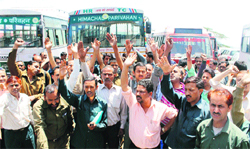 Shimla, May 30
Bus services on over 120 routes of the Himachal Road Transport Corporation (HRTC) were affected as the "work to rule" stir of employees entered the second day today.




Employees of the HRTC raise slogans in support of their demands at the Old Bus Stand in Shimla on Wednesday. Photo: Amit Kanwar
Kisan union threatens agitation
Bilaspur, May 30
The Himachal Pradesh Green Growers' Kisan Union has served an ultimatum to the government that if its demands charter is not accepted within 10 days, it will be constrained to start an agitation in the shape of dharnas, demonstrations and chain fasts here as a mark of protest against the government.
Journalists, sports officials' row resolved
Bilaspur, May 30
The controversy between journalists and some officers of the HP Sports Department was settled amicably here today. District Youth Services and Sports Officer Arun Sharma and a coach Pradeep Kalia appeared at a meeting of local journalists at the Circuit House and extended their unconditional apology for their highly objectionable conduct against journalist Abhishek Mishra and another photo journalist of his daily newspaper.
District Status for Nurpur
Officers' federation submits memo to CM
Nurpur, May 30
The demand to grant district status to Nurpur spearheaded by local MLA Rakesh Pathania got impetus when hundreds of employees from the Non-Gazetted Officers' (NGO) Federation, Nurpur subdivision, today came in open support of the MLA on the issue.
Anti-tobacco camp held at Tanda medical college
Kangra, May 30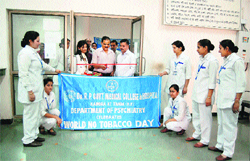 The Department of Psychiatry of Dr Rajendra Prashad Government Medical College, Tanda, today organised a Tambaku Mukti Shivir (tobacco cessation camp) in the Psychiatry OPD from 9:30 am to 4 pm in connection with a two-day programme organised in connection with World No Smoking Day.

Dr Dinesh Sood, Medical Superintendent, inaugurates a Worlds No Tobacco Day camp at the DRPGMC, Tanda, on Wednesday. Photo: Ashok Raina
Pensioners, retirees to form 'united front'
Chamba, May 30
In the wake of the present show of "deep-seated resentment" among pensioners, which has come to the fore across the state, pensioners are gearing up to form a "united front" irrespective of their identity to wage a "decisive fight" against the state government for getting their long-pending demands accepted at the latest possible time.
Monkey Menace
Take action or face agitation, say villagers
Bilaspur, May 30
Led by former MLA Tilak Raj Sharma and prominent Congress leader Pratap Kaundal, a number of village leaders from five panchayats of Hawaan, Churadi, Chalehali, Talyana and Malywar met Divisional Forest Officer DR Kaushal here last evening.
Staff Shortage at Cancer Centre
High Court tells state to file reply
Shimla, May 30
Expressing concern over the shortage of medical physicists and physicist technicians in the Regional Cancer Centre at Indira Gandhi Medical College and Hospital (IGMCH), the Himachal Pradesh High Court today directed the state to file a reply as to why theses posts have not been filled.
Man gets 2-year jail
Bilaspur, May 30
Ramneek Sharma, Judicial Magistrate (First Class), Ghumarwin, near here, has found Ashok of Haryali Tanda (Bhambla), guilty of throwing acid on complainant Dev Raj resulting in injuries on his body. The accused has been sentenced to two-year imprisonment with an additional fine of Rs 500 under Section 324, IPC, on Monday evening.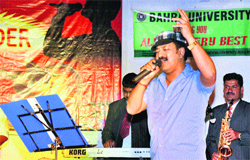 Musical evening held at HPU
Shimla, May 30
The auditorium of Himachal Pradesh University (HPU) reverberated with old melodies of legendary Bollywood singers Kishore Kumar and Mohammed Rafi during a musical evening featuring well-known local artiste Bhupinder Negi.


DSP Bhupinder Negi performs at a function in Shimla on Tuesday evening.
14 kg guchhi seized, 2 held
Dalhousie, May 30
Two persons have been arrested and guchhi (morchella esculenta), a wild mushroom, weighing 14 kg was seized from their possession at Dhargala on the border of Salooni tehsil in Chamba district yesterday.