3 cops suspended for negligence
Amritsar, June 18
The city police today suspended Taranwala Bridge chowki in-charge Amarjit Kumar, head constable Hardev Singh and a Punjab home guard jawan Lakhwinder Singh on charges of negligence.Kumar has been booked for negligence due to which a notorious criminal who was brought on a production warrant escaped from police custody.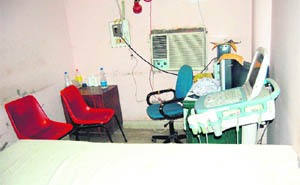 Out-of-order ultrasound machine gives tough time to patients
Amritsar, June 18
Patients are at the receiving end as the ultrasound machine in Guru Nanak Dev Hospital has been out of order due to some technical snag for a week.


The out-of-order ultrasound machine at Bebe Nanki Mother and Child Health Care Centre in Amritsar. Photo: Vishal Kumar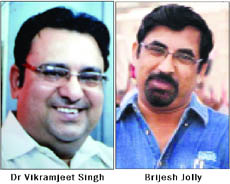 debut act
New champions of mighty pen
Amritsar, June 18
"Writing is not everybody's cup of tea but anyone who passionate about it and has a thought process to share can and should write," said Dr Vikramjit, who became a writer recently. His debut book is titled 'Supna, Seesha, Leher', in which he has penned the change in profession. A doctor by profession and a poet by passion, he believes that "You don't choose to become a writer, but it happens."
Music is losing Punjabiyat, feels Hans Raj Hans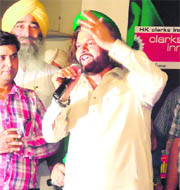 Amritsar, June 18
Hans Raj Hans feels the Punjabi music is gaining popularity, but the Punjabiyat in it has somehow been lost. Sharing his thoughts after judging a super model contest, organised by a local mall, the Sufi singer said, "The entertainment industry needs to check the growing concerns of losing out on quality for quantity. I strongly support the idea of meaningful music, which is hard to find amidst growing commercial interests, beyond my understanding."

Hans Raj Hans enthralls the audience at a mall in Amritsar on Saturday. A Tribune photo

Sale of petrol cars hits low gear
Amritsar, June 18
Hike in petrol prices have taken a toll on the sale of petrol cars in the holy city. More and more people are now going for diesel-run cars.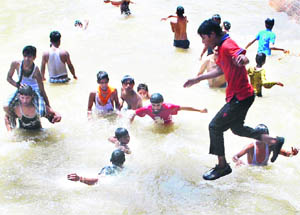 Jumping bath

Children enjoy a splash in the water on a hot summer day in Amritsar on Monday. Photo: Vishal Kumar
Looking Ahead
Councillors to take the path of development
Ward 1
Name: Nirbhay Singh Fauji
Party: Independent
My ward has remained a victim of neglect. Be it water supply, sewerage or roads, everything is in a mess.
700 NCC cadets take part in integration camp
Amritsar, June 18
About 700 NCC cadets from various parts of the country are taking part in the 12-day national integration camp that started at Sidana Institute of Education, Ram Tirath road, today.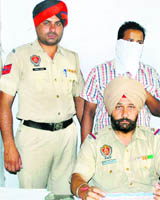 Karan Kumar (face covered) in police custody in Amritsar. He was wanted in a theft case of 2011. He was booked under Sections 380 and 109 of the IPC. Photo: Vishal Kumar
College entrance test: Girls bag top six positions
Amritsar, June 18
More girls are interested in the otherwise considered rugged subject of agriculture. Girls have bagged the top six positions in the entrance examination for B.Sc Agriculture course at Khalsa College.
Summer art camp begins
Amritsar, June 18
The Indian Academy of Fine Arts has begun its Summer Art Camp 2012. The month-long activity camp will have workshops and classes for amateur artists, children and grown-ups on painting, singing, dancing and other performing and fine art forms.
16 LPG cylinders seized
Amritsar, June 18
In order to stem the problem of misuse of domestic LPG cylinders, the district food and civil supplies department today raided several commercial establishments, including restaurants, and seized 16 cylinders.