Revamping water supply system need of the hour
GS Paul
Tribune News Service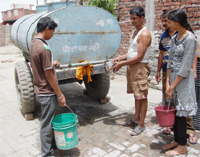 In the absence of water supply network, residents are dependent on the municipal corporation water tank, in Amritsar. photo: vishal kumar
Amritsar, June 25
As the city will see the new MC House in place in a few days' time, residents expect that the water supply system will be revamped as early as possible.
The water supply network has been spread in an area of 1,022 km. Ironically, water supply network doesn't reach 3.5 lakh residents out of 12-lakh population in the city.
Inadequate water supply
The water supply network still could not reach around 25 per cent houses here. Even, 8.5 lakh residents, who have piped water supply in their houses, too get 50 litres below the national recommendation scale, which recommends an average of 150 litres of water daily to a citizen. In Amritsar, it comes to about 100 litres.
The system of distribution and maintenance is old and poorly managed.
Hand pumps, stand posts and wells help fulfil the need of water in slum areas and localities not covered by the water supply network.
Prevailing scenario
Nevertheless, the system of water supply here is entirely based on groundwater, which is drawn through tubewells and supplied to residents through a system of overhead reservoirs. According to Punjab Water Supply and Sewerage Board, there are 350 tubewells in Amritsar that supply 180 million litres of water. Due to inefficient supply line, around 80 million litres of water get waste.
Quality of water
It is irony that in the absence of any scientific system to treat or check the quality of water, residents of many areas are compelled to drink 'contaminated' water. In most of the localities, the water supply gets mixed with the sewage because of breakages in sewerage and water supply pipes.
As far as treatment is concerned, the water is treated through a system of chlorination or bleaching powder, which is added at the level of water extraction.
The MC had begun a process in this regard by engage private firms to check water quality and testing in 2010. Three firms had come forward to do the task for Rs 10 lakh, but the proposal was scrapped due to official rigmarole. Till date, the proposal is gathering dust in the files.
However, officials said the bacteriological test is carried out occasionally to determine the level of bacterial contamination. And bleaching powder is used for the disinfection of water. But importantly this practice is also not carried out in accordance to BIS, 1991(clause 3.1)} (ISI-10500).
The water testing lab set up at a cost Rs 25 lakh is a mere structure.
Depleting groundwater
About 10 years ago, the groundwater level varied between 45 and 55 feet. It currently rolls between 60 and 80 feet deep. Officials said the groundwater level on an average is declining by 1 foot with passing year.
Over a period of time, numbers of tubewells have been installed to extract groundwater and meet the increased needs of its residents. At present, there are 310 tubewells in the city.
The wastage of water is rampant here.
The indifferent approach of the Municipal Corporation has further aggravated the wastage at public places. One of its examples is a toilet outside Sadar Thana, where a pipe is lying broken, and water continues to seep through it all through the day. It has not been repaired despite our several reminders to the MC authorities and Punjab Water Supply & Sewerage Board. The wastage is also noticed in TB Hospital and Civil Hospital.