3 countries come together to check immigration fraud
Chandigarh, June 26
To fight "fraudulent immigration", Canada, the United Kingdom (UK) and Australia today cautioned prospective visitors and immigrants against falling a prey to unscrupulous immigration agents.
International Day Against Drug Abuse and Illicit Trafficking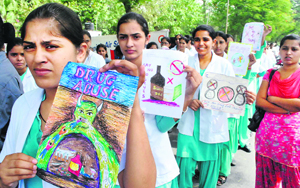 Hundreds hit streets to raise anti-drug awareness
Patiala, June 26
An awareness rally was organised here to mark the International Day against Drug Abuse and Illicit Trafficking today. Appealing to social organisations and activists, Patiala SSP Gurpreet Singh Gill stressed the need to curb rising drug abuse in society.
Nursing students at an anti-drug awareness rally in Patiala: and (below) policemen at the rally. Tribune photos: Rajesh Sachar

Inspiring addicts to quit drugs
Faridkot, June 26
At a time when researchers are zeroing in on social problems that drive youth to drug addiction, a de-addiction centre at Guru Gobind Singh Medical College and the Red Cross Society here have taken an initiative to prevent relapse among addicts, a critical element of effective treatment for alcohol and other drug abuse.
Data bank to nail peddlers soon, says Moga police
Moga, June 26
The Moga police has started compiling and updating the data bank of hardcore criminals, particularly drug traffickers, in order the curb the menace of drugs, besides bringing down the crime graph. The state police has gone hi-tech over the years with computerisation of its departments.
Mukerian MLA announces support for Congress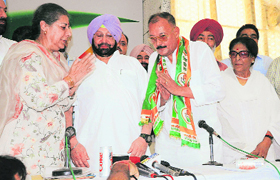 Chandigarh, June 26
Independent MLA from Mukerian Rajneesh Bubby today announced his support to the Congress. Welcoming his support, Capt Amarinder said it was unfortunate that Bubby could not get the party nomination for the assembly elections.



From left: Ambika Soni, Capt Amarinder Singh and Rajneesh Bubby, MLA from Mukerian at Congress Bhavan on Tuesday. Tribune photo: Parvesh Chauhan

Cong wants memorial outside Darbar Sahib
Chandigarh, June 26
Punjab Pradesh Congress Committee president Capt Amarinder Singh today said his party was in favour of setting up a peace memorial in homage to those killed during militancy.


GND varsity makes Punjabi mandatory
Amritsar/Jalandhar, June 26
With a view to acquainting its students with the basic Punjabi language, Guru Nanak Dev University has decided to replace the existing Punjab history and culture syllabus with elementary functional Punjabi. This significant move would be applicable to all undergraduate students, irrespective of the stream they opt for in any of its affiliated colleges in the state, from the session 2012-2013.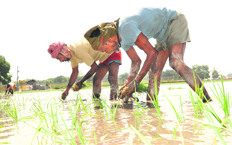 Water supply stopped, Muktsar farmers left high and dry
Muktsar, June 26
With the Irrigation Department stopping water supply to Arniwala minor without any prior announcement, a large number of paddy growers in the district are in trouble. They are now facing a shortage of water to transplant paddy saplings in their fields. The department stated that the supply had been scheduled on a rotational basis due to water shortage.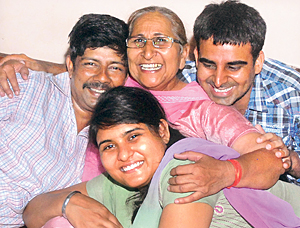 Pak 'confusion' over Sarabjit cuts short celebrations
Amritsar/Jalandhar, June 26
The "confusion" over Sarabjit's freedom in Pakistan couldn't have been more cruel for Tarn Taran: In the evening, the small town of the border district erupted in joy as soon as the residents heard about Pakistan President Asif Ali Zardari commuting the death sentence of Sarabjit Singh. Late at night, the celebrations gave way to despondency and frustration.
ALL SMILES: Dalbir Kaur (middle, at the top) with Sarabjit Singh's daughter Swapandeep Kaur, son-in-law Sanjay (top left) and Rajat celebrate in Jalandhar on Tuesday. Tribune photo: Malkiat Singh

Despite debt, things not that bad: Dhindsa
Chandigarh, June 26
Admitting that the state was caught in a debt trap, Finance Minister Parminder Singh Dhindsa today said: "The situation is not as bad as is being projected by the Opposition. The state economy is better than what it was during the Congress Government from 2002-2007," he said.
Central team to visit waterlogged areas on July 1
Muktsar, June 26
After the recent visit of Union Rural Development Minister Jairam Ramesh to waterlogged areas of Malwa, a 15-member central team of experts comprising members of the Planning Commission and the Central Water Commission is scheduled to reach here for a three-day visit beginning July 1.
Scores of dead fish at Kanjli wetland raise stink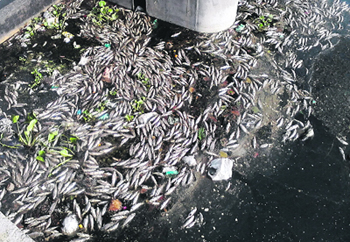 Kapurthala, June 26
Scores of fish have been found dead at the Kanjli wetland. While officials of the state Fisheries Department claim that aquatic life is gradually vanishing from the wetland due to low oxygen levels in Kali Bein, a tributary of the Beas, environmentalist Baba Balbir Singh Seechewal, member of the Punjab Pollution Control Board (PPCB), blames polluted water from nearby villages for the death of the fish.
Dead fish at the Kanjli wetland in Kapurthala. Tribune photo: Malkiat Singh
College teachers seek first instalment of arrears
Patiala, June 26
While Punjab Finance Minister Parminder Singh Dhindsa has announced that the second instalment of 30 per cent arrears to the government employees in the state would be issued this month, the teachers working in government colleges of Punjab are still waiting for their first instalment of 40 per cent arrears.
J&K Chief Justice honoured
Malerkotla, June 26
Religious and social organisations of Malerkotla honoured Justice Mahesh Mittal Kumar, Chief Justice, Jammu and Kashmir High Court, at a function organised by the local Bar Council and Sanatan Dharam Sabha at Pandher Palace here yesterday.


HC holds SBI at fault
Chandigarh, June 26
In a major embarrassment to the State Bank of India, the Punjab and Haryana High Court has held it at fault for indulging in 'vexatious exercise' against an employee, and has also imposed a cost of Rs 10,000 on it. The amount is to be handed over to the employee by the bank.


1,990 kg of poppy husk seized
Moga, June 26
The Moga police seized 1990 kg of poppy husk and arrested six smugglers in the past two days. SSP Surjit Singh Grewal said a team of Fatehgarh Panjtoor police station arrested Amarjit Singh of Daulewala and Surjit Singh of Dharamkot and recovered 420 kg of poppy husk. In another incident, the team of Dharamkot police station arrested one Surjit Singh and recovered 245 kg of poppy husk from his possession.
Coach booked for raping schoolgirl
Amritsar, June 26
A judo coach has been booked under Section 376 of the IPC for raping a student of Kanya Maha Vidyalaya, Namak Mandi, at a sports camp in Kangra a few days ago. The accused, identified as Rajiv Arora of Chheharta, is at large.
Cow slaughter
One more arrested
Patiala, June 26
The police on Tuesday claimed to have arrested the second main accused in the infamous Joga (Mansa) cow slaughter case, from Haryana. Addressing media persons, the SSP, Sangrur, HS Bhullar, said they had arrested Hans Raj from Karnal in Haryana.