Bebo's alternating looks
Kareena Kapoor looks different every time she returns from a trip abroad. Earlier, she looked plump with a belly and now her cheeks look sunken and she doesn't even pout. She returned from Istanbul earlier this week with mother Babita. She was there to meet Saif on the sets of Race 2.
My daughter's wedding
Dharmendra avoided being photographed at Esha Deol's wedding because he was not feeling well and he wanted his family members to be in the spotlight. He is delighted that she is getting married on June 29. It is a dream come true for him.
Fresh addition
Sonali Bendre has been signed on to play a role in Ekta Kapoor's sequel to Once Upon a Time in Mumbaai. The film finally stars Akshay Kumar, Sonakshi Sinha and Imran Khan and will go on floors soon. Imran Khan is paired with Sonakshi and is bulking up to look good with her.

Martial arts with Masumeh Makhija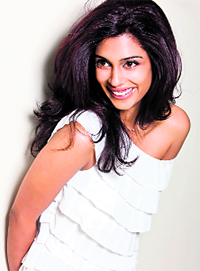 Model and actress Masumeh Makhija has been training in martial arts since she was a child. She shared some tips with her Australian hair-dresser which helped her fight back when someone tried to molest her when she was in Goa. Women need to know how to protect themselves from hooligans. We got Masumeh to share some self-defence tips with us.
1 The point is not how many times you hit; you have to make one punch count by striking in the right places. You must focus on the person's weakness.
2 It is important not to get frightened. You must try to be calm and quick. Focus on hitting him really hard at a sensitive area. If you hit haphazardly, then you will dissipate your energy and feel tired very quickly.
3 I believe that men and women are equal but we must all accept that men are physically stronger and bigger than women and act realistically. And once you deliver your blow, you must back off and move away from the scene.
4 Places to strike where it hurts are the middle of the nose because the person will be blinded; a strong knuckle punch must be delivered in the middle of the rib cage which will make him gasp for breath. If you hit him here, you will catch him off guard. The guy expects you to kick him in the groin, so keep it as a last resort and hit him in places where he doesn't expect.
5 If you are on your own and are likely to visit deserted areas, keep a pepper or mace spray handy. Even perfume or deodorant helps- spray it straight into his eyes. Also, don't visit deserted areas alone. Moreover, invest in self-defence or martial arts classes; kick-boxing is fun too. Also, if you are wearing a revealing outfit, it is important to cover up once you step out of the party. Be safe!—HRM

Loads in her kitty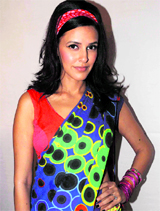 Neha Dhupia is getting many endorsement offers such as for colas, shaving foams, bathroom fittings, and cell phones. She is taking them up. She has Maximum with Sonu Sood and two more films lined up for release.
Smart spender
Ekta Kapoor is spending crores on the sets of the songs of Kya Super Kool Hai Hum which stars Tusshar Kapoor, Riteish Deshmukh, Neha Sharma, and Sarah Jane Dias. So how much has she spent on the movie which is currently facing trouble at the Censor Board?
Raining money: Ekta Kapoor
Perfect face
Arjun Kapoor will play the Punjabi male lead in the film adaptation of Chetan Bhagat's 2 States. The movie is produced by Karan Johar and Sajid Nadiadwala. He has signed on the dotted line because they think he is perfect for the role.

Esha Deol, Bharat Takhtani tie the knot
Actress Esha Deol married businessman Bharat Takhtani in a traditional South Indian ceremony at the Iskon temple in the Juhu suburb here on Friday. Her mother, Hema Malini, says she is "very happy" for her daughter.
Bride Esha was glowing in a red lehenga made of three Kanjivaram saris and gold jewellery, while Bharat looked dapper in white sherwani with zardozi work. The wedding outfits were designed by Neeta Lulla.
The decor at the temple was simple yet beautiful. It was heavily decorated with flowers.
Hema said she will miss her daughter, adding, "It was a normal South Indian wedding, with just slight changes. I am very happy for Esha, she has found the right person. We all are very happy. I will miss her but she is going to be in Mumbai, so I am happy about that."
The dress code for women was Kanjivarm saris and Hema looked elegant in a orange-red hand woven six yard, which she teamed up with a green blouse and kept her hair neatly tied at the the back. Esha's dad and yesteryear star Dharmendra kept it simple - he chose to wear white kurta-pyjama.
The ceremony saw the presence of creme da la creme from filmdom as well as politicians and businessmen.
Amitabh Bachchan came with song Abhishek and said, "My best wishes to the married couple." Legendary actress Vyjayanthimala, who attened the wedding, looked evergreen in a purple and orange traditional sari and said that she would have "not missed the occasion".
"Hema is like a younger sister. The wedding has been done in a fabulous way. It is totally traditional. I am here only for Hema, we are like family," she added.
Actor-politician Shatrughan Sinha's wife, Poonam Sinha, also came with her twin sons - Luv and Kush. She looked beautiful in a pink and golden sari.
Hema's niece and actress Madhoo is happy for her cousin and said: "I want to tell her that marriage in beautiful. Marriage is all about what you do for the other person, so you should never fall into any power struggle. She has gone into a good family and I wish her all the best."
Madhoo was wearing a golden and maroon sari.
Vinod Khanna, Manoj Kumar, Anu Malik, Esha's cousin Abhay Deol, Ramesh Sippy, Sandip Soparrkar and his wife Jesse Randhwa were also there to bless the couple.
Rani Mukerji, looking beautiful in a white sari with red embroidery, was among the guests and said: "I am here to wish Esha on her special day. All the best for her married life." The duo worked together in Yuva".
Fardeen Khan said he hopes that the couple should go to a nice place for honeymoon. "Lots of congratulations. I am very happy for her. I hope they go on a good honeymoon to get away from this heat."
Sahara's chief Subroto Roy, industrialist Mukesh Ambani's wife Neeta Ambani and Sunil Rane of Atharva Group of Institutes, who is a family friend, were among the other high profile guests.
Top notch Bharatiya Janata Party (BJP) leaders too attended the wedding. From Raj Purohit, Mumbai chief of BJP, to party president Nitin Gadkari to national vice president Mukhtar Abbas Naqvi - were seen there.
The family will host a reception Saturday at a prominent five star hotel in the city. —IANS

Motherhood, a full time job: Shilpa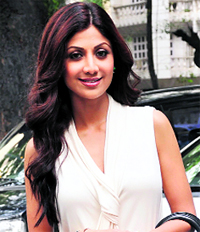 Actress Shilpa Shetty, who recently gave birth to her baby boy Viaan, is busy performing her motherly duties. Says Shilpa, "My son keeps me busy. I don't know how time has flown. I am sleep deprived and look like a zombie but Viaan is joy personified!" she says.
The actress says that being a mother is a full time job and saluted all moms. "Being a mother is a full time job! One has to be ready to give all hours a day to the baby or don't do it. It's amazing how mothers do it all without any help," she adds.
"I am glad that I have the luxury of time to take off but hats off to all those moms who multi-task home chores/work after a baby single handedly," she adds.

Please don't stop the music
Saif Ali Khan had to cancel the music launch of Cocktail because the Pakistani singers in the movie did not get a visa to come here for the event. The music by Pritam and others has taken the country by storm already!
Less for more
Veena Malik is more than happy to take off her clothes. After being linked with Mohd Asif, Ashmit Patel, she is now linked to her director Hemant Madhukar. She is promoting her movie by hanging out in teeny-tiny bikinis while he is wrapped up in a bathrobe.

Pinto to romance Christian Bale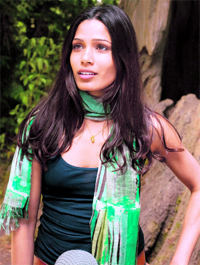 Indian actress Freida Pinto will be seen romancing Oscar-winner Christian Bale in Hollywood director Terrence Malick's next project Knight of Cups.
After Brad Pitt starrer The Tree of Life, Malick, will explore the theme of love and truth in the film, which has already gone on floors in Santa Monica.
Also starring Natalie Portman and Cate Blanchett, Knight of Cups is set to hit the big screen internationally in 2013.
Pinto, born in Mumbai, has been making strides in Hollywood since starring in Danny Boyle's Oscar-winning movie Slumdog Millionaire.
Pinto has successfully avoided being stereotyped in Hollywood by playing a variety of roles in movies like You Will Meet a Tall Dark Stranger, Rise of the Planet of the Apes and Immortals.
Bale, an Oscar-winning actor, is famous for his methodical approach to roles. He will be next seen in theatres in The Dark Knight Rises, the final triology of Christopher Nolan's Batman saga.
Malick, considered Hollywood's big foot for being extremely reclusive, has directed only five feature films in his four decade long career but his films are highly regarded.—PTI

Date of honour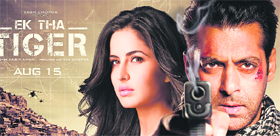 This is a film about a story that became a legend, a story that is spoken about only in hushed whispers… a story that shook the very foundation of a dark world of intelligence and espionage… where there are shadows without faces. And where Governments fight shadow battles through soldiers of the unknown…But like all reports that come out of this uncertain world… nobody will ever confirm those events… This story is about an agent named Tiger…It may or may not have happened…
Yash Raj Films is pleased to announce the release date of one of the most anticipated releases of this year – Ek Tha Tiger. The film will release in theatres worldwide on August, 15, 2012.
It is directed by Kabir Khan and produced by Aditya Chopra, Yash Raj Films'