Prolonged dry spell could spell trouble for farming community
Moga, June 29
The unrelenting heat wave has increased the demand for water for growing paddy and cotton. Farmers are running tubewells with the help of generators to protect basmati seedlings. However, there are no reports of damage to crops in Moga district.
Short-duration varieties more in demand
Jalandhar, June 29
The dry spell has not only delayed paddy transplantation but also resulted in damage to vegetables in the state.
Area under cotton down by 2.7 lakh hectares
Bathinda, June 29
Having failed to get a remunerative price for the previous crop, farmers growing cotton in the Malwa belt have switched over to cultivating gawar and paddy for a bigger profit. Hence, the area under cotton has decreased by about 2.73 lakh hectares.


Budget session
Bills for 2 more pvt universities passed
Chandigarh, June 29
Legislators, cutting across party lines, today called for regulation of private institutions but "unanimously" passed two Bills leading to the creation of two new universities- Chandigarh University and Adesh University- in Punjab.
Resolution seeks Sarabjit's release
Chandigarh, June 29
The Vidhan Sabha today passed a resolution welcoming the release of Indian prisoner Surjeet Singh from Kot Lakhpat Jail in Pakistan. The House further adopted a resolution urging the Centre to again take up the issue of release of death-row convict Sarabjit Singh, also lodged in Kot Lakhpat Jail.
Majithia: Cong has lowered the sanctity of zero hour


Illegal mining: Jalandhar admn officials visit site
Jalandhar, June 29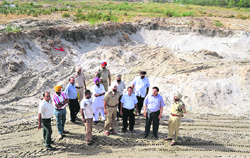 Following a report published in The Tribune on how villagers took to task the sand mafia in Mehatpur area, officials from the Jalandhar administration today visited the Sutlej riverbed and took stock of the situation.




A team inspect a site near the Sutlej bed at Mehatpur where sand mafia had carried out illegal mining. Tribune photo: Malkiat Singh
Phidde village wants Surjeet as sarpanch
Phidde (Ferozepur), June 29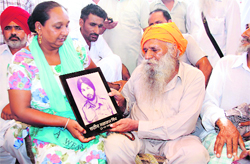 After spending over three decades in a Pakistan jail, 69-year-old Surjeet Singh is all set to emerge as a strong old man in his native Phidde village in Ferozepur where he reached yesterday evening.



Paramjit Kaur, daughter of Jugraj Singh who went missing in the 1971 India-Pakistan war, shows his picture to Surjeet Singh in the hope of getting news about him. Tribune photo: Pawan Sharma
No news of Surjeet's namesake
Faridkot, June 29
There is another Surjit Singh of Faridkot whose family has been waiting for his return from Pakistan for 41 years. His family claims Surjit, a BSF jawan who went missing during the 1971 war, too is lodged at Pakistan's Kot Lakhpat Jail.
Gill: Frame policy on undercover agents
New Delhi, June 29
Expressing anguish over Surjeet Singh's fate who had to spend three decades in a Pakistani jail, Punjab MP Manohar Singh Gill has said there was a need to frame a policy on all those who chose to work as undercover agents for different intelligence agencies but were caught.
RAW agent claim false: Home Secy
New Delhi, June 29
A day after Surjeet Singh claimed he had been working as a RAW agent before he was arrested by Pakistan, Union Home Secretary RK Singh today clarified that the country had no spies in the neighbouring nation.
Tax evasion by truckers comes to light
Patiala, June 29
The police today unearthed a scam where trucks carrying iron scrap would enter Punjab without paying any tax to the Excise and Taxation Department. Initial investigation points towards a nexus between officials and smugglers.
Day 2: Tension continues at Mansoorpur village
Mukerian (Hoshiarpur), June 29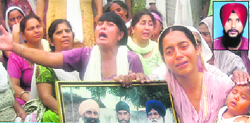 Tension continues in Mansoorpur village, near here, on the second consecutive day after Gurpreet Singh's death in a clash between two groups of villagers over a land dispute on Friday noon.

Wailing family members of Gurpreet Singh (inset) who was killed in a group clash in Mansoorpur village, near Mukerian, Hoshiarpur. Tribune photo: Malkiat Singh

Canal tragedy: One body recovered
Khamano, June 29
The police has recovered the body of a person, who, along with five others, was allegedly pushed into the Bhakhra Canal by Khushwinder Singh, near the Thablan Bridge on the night of June 26.

Nirmaljit Kaur sworn in as permanent HC Judge
Chandigarh, June 29
Justice Nirmaljit Kaur was today sworn in as a permanent Judge of the Punjab and Haryana High Court. She was administered oath by the Acting Chief Justice of the Punjab and Haryana High Court, Justice Jasbir Singh, at a simple yet impressive ceremony at the Judges' lounge this morning.


Gang of train robbers busted
Patiala, June 29
The government railway police (GRP) today claimed to have arrested three members of a gang of robbers who used to target migrant labourers on trains. The members of the gang, who were arrested at Amritsar railway station, have confessed to having robbed many migrant labourers.