Villagers show the way in tackling sand mafia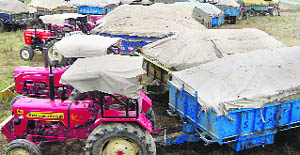 Jalandhar/Nakodar, June 28
After the authorities concerned allegedly failed them, residents of Parjian-Kalan and Narangpur villages near Mehatpur, 40 km from Jalandhar, have showed the way in how sand mafia should be dealt with. They not only seized 24 tractor-trailers loaded with sand, but also handed over their drivers to the police.
Tractor-trailers that were seized by villagers while sand was being "illegally" ferried from the Sutlej bed in Mehatpur. A Tribune photograph

Babby on its side, Cong banking on Chang votes
Dasuya (Hoshiarpur), June 28
Congress workers are trying to encash on the three Bs-BSP, Babby and anti-Bluestar memorial sentiment among the Hindus-to upset the BJP applecart.
Investigate poor quality work on rail link: Cong
Fazilka, June 28
Former Punjab Pradesh Congress Committee president Virender Kataria has demanded a CBI probe into poor quality construction work done on the newly built Fazilka-Abohar rail link.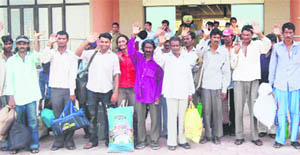 Pak sets free 314 fishermen
Amritsar, June 28
As many as 314 fishermen, including 22 juveniles, freed by Pakistan today entered India through the Attari-Wagah joint checkpost. They had inadvertently entered Pakistan's territory while fishing.


Indian fishermen enter India through the Attari-Wagah checkpost after their release on Thursday. A Tribune photograph

Industry in shock over move to hike power duty
Chandigarh, June 28
The proposal to increase electricity duty on all category of consumers, from the existing 13 per cent to 17 per cent, has not gone down well with consumers, especially the industry. Bogged down by erratic power supply and unscheduled cuts, industrial consumers say the hike in duty will push up input costs and affect their profit margins.
PSEB's secrecy fund under govt scanner
Chandigarh, June 28
A drastic cut in secrecy fund of the Chairman of the Punjab School Education Board (PSEB) is on the cards.
Govt schools with less students to be merged
Patiala, June 28
Government schools having less than 10 students will soon be merged with nearby schools in order to ensure that all teachers are made to work. The Education Department will bear the transport charges in respect of students of the merged schools.
Three of family from Fatehgarh Sahib murdered in Italy
Fatehgarh Sahib, June 28
Shock wave swept Nadiali village here today as the news of the murder of three members of a local family reached the village. Charanjit Singh, his wife Jasbir Kaur and daughter Jaspreet Kaur, who had lived at Margharita, Solofrav in Italy, were murdered last night.
Probe polygamy charge against NRI, SSP told
Jalandhar, June 28
The Punjab State Commission for NRIs has directed the Kapurthala SSP to initiate a probe against a Philippines-based NRI for allegedly harassing his "third" wife and cheating her by concealing his two earlier marriages.



Canal killings
Accused in police remand till July 2
Fatehgarh Sahib, June 28
Khushwinder Singh, who allegedly killed six members of his relative's family by pushing them into the Bhakra canal yesterday, was presented in a local court today which remanded him to police custody till July 2.



Ranike's PA indicted in Rs 1.15-cr grant scam
Amritsar, June 28
An inquiry conducted by a special investigation team has indicted the personal assistant of Animal Husbandry Minister Gulzar Singh Ranike and a bank manager in a Rs 1.15 crore scam. The case dates back to November last year (during the SAD-BJP coalition government's previous regime).
One killed, 6 hurt in clash over prime land
Mukerian (Hoshiarpur), June 28
One person was killed and six, including three of a family, were injured in a clash over a piece of land at Mansoorpur village, near here, this morning. Tension had been building in the village for the past four months over a 27-kanal prime land that its owner Parkash Kaur refused to sell to Bhupinder Singh, alias Sona, even after a sale deed was registered and commuted a new sale seed with village sarpanch Mahanbir Singh.