Need for drug trials in India
According to a provision by the Directorate-General of Health Services, Ministry of Health & Family Welfare, every drug, even if marketed internationally, is required to undergo a clinical trial in India before approval for release in the market. Re-trials of all such drugs are bound to pose problems of increased costs and delays in the availability of the drug
Dr S. K. Jindal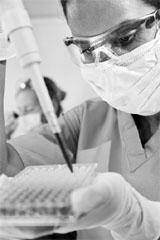 The 59th report of the Parliamentary Standing Committee on Health and Family Welfare, presented in the Rajya Sabha in May, 2012, has highlighted several lacunae on the functioning of the Central Drugs Standard Control Organisation. It has raised several important issues and made recommendations thereof in relation to the requirements, availability and marketing of drugs in India. More importantly, it raises a critical question about the need for drug trials in India before a drug is released in the market.
A new drug enters the market after going through a long and tenuous process. The initial pre-clinical development takes place in the laboratory either by modification of the existing molecules or by creating an entirely new molecule, which is based on the identification of possible micro-targets in causation of a particular disease. This is a laborious process undertaken by basic medical scientists through many biochemical and pharmaceutical experiments. These experiments are usually done on animals in the initial stages. Several hundred molecules, about 1,000-odd drugs are experimented upon and discarded before a 'successful' molecule is selected for the clinical trials.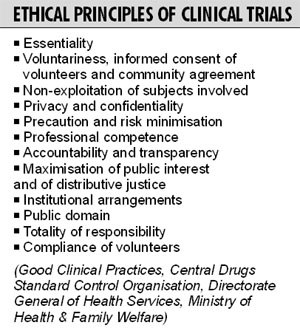 Factually speaking, the basic research constitutes the core and innovative component of a new drug's development. A lot of this data remains buried on the shelves of laboratories. The development of a drug molecule is often the result of well-thought and planned experiments. Though occasionally, it may happen by chance.
We all are familiar with the chance discovery of penicillin by Alexander Fleming. There are many similar stories of accidental discoveries of drugs like quinine (used to treat malaria) and insulin (used in treatment of diabetes mellitus). But such examples are rather exceptional which cannot be applied to routine discovery of new drugs.
The molecule development takes place behind the scenes in laboratories hidden from the public view. It rarely becomes a matter of concern unless there happens to be a disaster or a serious problem occurs with the drug during the trial phases. The use of trial drug in human volunteers and/or patients, at times, causes concerns and doubts in the public mind.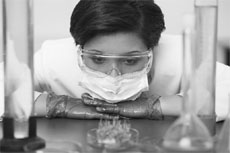 There are four phases of a clinical trial of which three are done prior to the release of a drug in the market. Phase I studies are done on a limited number of people to evaluate the safety of the drug. It is administered in different therapeutic dosages. All side-effects reported in the "experimental group" are duly identified.
Phase II studies involve relatively larger number of people to assess the efficacy of the drug as well as its safety. Both phase I and phase II studies, to be done on human subjects, carry the potential risks of drug-toxicity, which obviously, can't be anticipated. The trials require a great degree of caution and supervision so as to avoid unintended damages to the volunteers.
Phase III studies consist of trials on larger groups of patients at multiple centres usually located in multiple countries. These consist of "final trials" to study a drug for the treatment of a disease before it gets the final approval for marketing. Most of the drugs, which pass through phase III, later become available for commercial use. Some drug companies may also go in for phase IV post-approval studies to assess the drug in actual field-use. Phase IV study may also be undertaken in case of reports of adverse effects and misuses in the community.
Difficulties of clinical trials
There are strict regulatory and monitoring provisions applicable to all trials. Most countries, including India, have their own ethical guidelines to follow and Institutional Review Boards to oversee the approval and progress of a trial.
Some of the major difficulties that are faced before or during clinical trials of a new drug can be the enormity of costs, long time periods, especially for drugs to be used in treatment of chronic diseases where the end points for control or drug efficacy are poorly defined. Similarly, the time-period for trial of a drug for an uncommon disease is also likely to be long. The inclusion criteria as well as the trial protocol are bound to be rigid, and are required to be religiously adhered. The rate of recruitment of patients is therefore quite slow.
Concerns about drug trials
Phase I and phase II trials are generally undertaken by the clinical investigators engaged in the development of a particular drug on behalf of a pharmaceutical company or other sponsors of the drug. It is risky to outsource such trials to external investigators. On the other hand, phase III trials are done by multiple collaborators, most of whom have no direct involvement with the development of the drug. A large number of centres are usually required for recruitment of a few thousand patients who are needed for a phase III trial.
To complete the target number of patients required for a phase III trial, the drug companies often choose small or private nursing homes or investigators, who are not necessarily trained in trial protocols. Moreover, the regulatory and monitoring provisions at such places are often lax. This may also be true for many large hospitals or institutional set ups in both the governmental and the private sectors. Financial incentives tend to override the true science of a drug protocol.
Need for trials
The Parliamentary Committee, in its recent report, has pointed out that a large number of clinical trials are being done in India — a total of 2,282 trials were approved between 2005-2010. This has been an obvious cause of concern for the people in this country, including those in the medical fraternity. Many of these studies consist of phase III trials involving participants from multiple countries, including from India. What is, however, surprising is the provision that every drug, even if internationally marketed (obviously after phase III trials), should undergo a clinical trial in India before approval for release in the Indian markets. This has the potential of multiplying the number of clinical trials in India by several folds.
This provision is unnecessary and one of the reasons for the large number of clinical trials in India. A drug in the developed countries is approved for marketing after extensive research and all phases of trials. All over the world, including in India, the health-care institutions rely on investigators and laboratories of those countries for almost all new drugs. Unfortunately, India can hardly boast of an innovative brand of its own.
Re-trials of all such drugs in India are bound to pose problems of increased costs and delays in the availability of the drug in the market. Moreover, some drug companies, in their effort to expedite matters tend to resort to short-cut procedures or even indulge in unethical practices to seek approval for drugs.
One of the important reasons cited for this need is the likely possibility of ethnic differences in the effects of many drugs, i.e. a drug, already tested on American volunteers, may cause different reactions in an Indian person.
But the issue of ethnic differences in the action of drugs is largely hypothetical. In the past hundred years of pharmaceutical research, there is hardly such an example of a drug with such a propensity. The ethnic or racial variations may explain some of the social, psychological or genetic differences of a disease. But the biochemical and physiological structures of human beings are similar, through and on which the drugs act. From the current evidence which is available, the race cannot be treated as a biological-category.
Furthermore, the ethnicity within Indians is highly variable. Possibly in the future, one might even see the era of "personalised medicine" with therapies designed to benefit individual patients with certain genetic characteristic.
But race is a poor proxy for wide genetic variability among humans. Globally, blacks, whites, Hispanics and Orientals do not consist of separate ethnic groups which can be used to test for drug effects. Similarly in India, there are no ethnic differences in drug-effects among North, South and North-East Indians or Hindus, Muslims, Sikhs and Christians, or among tribal people and people of different castes.
What is more important in the Indian scenario is to check the scientific evidence available globally about the drug to be released and critically analyse the commercial and marketing aspects with reference to the Indian patients; avoid combinations of drugs and other unscientific products which tend to flood the market with poor justification. Any new preparation or fixed dose combination not marketed elsewhere obviously needs an adequate evidence justified with the help of clinical trials.
The writer is Professor & Head, Department of Pulmonary Medicine, Postgraduate Institute of Medical Education & Research, Chandigarh