Farmers to be encouraged to grow willow, sandalwood trees
Pratibha Chauhan
Tribune News Service
Shimla, July 1
To cater to the growing demand for quality cricket bats made out of English willow, farmers in the hill state will be encouraged to plant saplings specially brought from Kashmir so that they can get good returns.
In case the experiment of the Forest Department succeeds, Himachal will become the second state in the country after Jammu and Kashmir to provide English willow wood for sports equipment manufacturing as it is in high demand for making cricket bats. Besides willow, there is also a proposal for popularising sandalwood cultivation in the state for which 10,000 plants have already been procured from the Horticulture and Forest University, Nauni, near Solan.
The Forest Department has made arrangements to get 500 salix (English willow) plants from Kashmir and distribute these among farmers as an experiment.
Certain areas in Chamba, Kangra and Mandi districts could provide the required moist conditions where willows grow.
"The Bhattiyat area in Chamba is one such example and we feel that rather than planting saplings on government land, it will be better to encourage private land owners to take to its commercial cultivation in view of the good returns," says RK Gupta, Principal Chief Conservator of Forests. He says with better personal care by private land owners, the survival rate of the pants will certainly be higher which will be planted during the monsoon in Jogindernagar and Palampur forest divisions.
If the experiment succeeds, sandalwood could also become a major produce from the state as 10,000 plants of improved species are to be planted this monsoon. Though sandalwood is found in some parts of Kangra like Jwalamukhi, the quantity of wood and oil that one gets from the plant is very less. With a lot of demand for sandalwood, both for perfume and in the cosmetic industry and for making artifacts, the farmers could get good returns.
"Scientists at the Nauni university have provided us with plants which are of superior species; we are hopeful that the good returns that the farmers get will help them take to sandalwood cultivation on a commercial scale," said Gupta.
He said besides the plantation of specific species like willow and sandalwood, the Forest Department had set a target of plantation on 20,000 hectares for 2012-13.
The endeavour was to shift towards having a farmer-friendly mixed forest with emphasis on planting broad-leaved species along with wild fruits. Besides, 45 lakh medicinal plants would also be distributed among people, which would "help enhance their livelihood opportunities" and help in conservation efforts, he added.
Willow cricket bats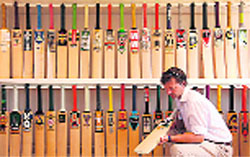 l Many types of wood are used in the manufacture of cricket bats, but history has proven that only willow provides the necessary springiness, strength and compression liabilities to make the perfect cricket bat.
l There are essentially three types of willow used today to make cricket bats: English willow, nurtured abroad, English willow and Kashmir willow.
l English willow of the genus Salix Alba Caerulea is the traditional material used in the manufacture of cricket bats and grown exclusively in the UK in low-lying wetland areas, along river banks and in coppices.
l English willow, nurtured abroad, is exactly the same genus as English willow, but the trees are not grown in the UK. These are grown in Kashmir, parts of Pakistan and now recently in Australia.