image consultant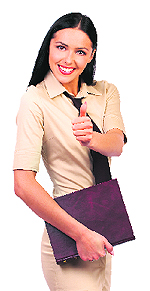 Makeover masters
Do you know who is behind your favourite film star's couture line, the famous business magnate's suave style and the picture perfect poise of presenters on celluloid? Who is the real hero behind these glamorous role models? It is the image consultant who is behind the scenes and runs the show. It is one of the career paths that is growing at an exponential rate and is among the hottest career options today due to an increasing self-awareness and public image perception not only among classes but also among the masses. Synonymous with names as wardrobe consultant, fashion stylist, or makeover consultant, image consultants are paid to show people how to create a lasting impression. They might recommend wearing different colours or new styles, go through closets to toss out clothing that isn't working, shop for a new wardrobe, and put together incredible outfits. They might advise a change of hairstyle, makeup, or grooming.
Career Hotline
What are the prospects in molecular biology?
Open option
A lot on your platter
scholarship roundup
Research at IIT-B
Applications are invited for Research Associate position in Climate Studies at Department of Science and Technology at Indian Institute of Technology, Bombay. The position is temporary initially for a period of one year and is tenable only for the duration of the project.
news board
Science conference at LPU
Lovely Professional University in association with Punjab Technical University will be hosting the third Bhartiya Vigyan Sammelan and Expo-2012, from October 11 to 14, 2012.
Cool Counsel
Good handwriting mirrors a beautiful mind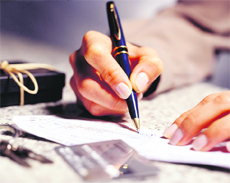 In a world dominated by keyboard and mouse, very little attention is paid to the handwriting of a person. This fact is revealed in the indecipherable scrawl of many a youngster. While the handwriting of two persons can be similar, it can never be identical. Handwriting is as personal as our fingerprints. Descriptive tests are actually based on the fact that handwriting is brain writing. It is one's brain which guides how one writes. Handwriting is truly the brain graph on paper. The interpretation of one's handwriting brings forth the coded message of one's personality.
field in focus: packaging industry
Many roles, many dimensions
A Maggi noodle packet or a colourful tetrapack of fruit juice is certainly very inviting. Whether it is toothpaste or a computer mouse, McDonald's hotdogs or medicine tablets, everything comes in a package, often attractive, eye-catching and designed not only to catch your attention but also to protect the product and enable it reach the consumer in a safe and sound condition.
course cruising
UG in economics
Indian School of Business & Finance (ISBF), an affiliate centre of the University of London (UoL) with academic direction from London School of Economics & Political Science (LSE) invites students to apply for its three-year full-time undergraduate honours degree programmes in BSc Economics, BSc Economics & Management and BSc Business.
course chat: bba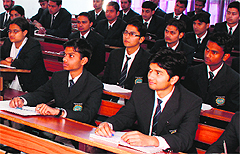 Basics of business
With admissions after Class XII becoming synonymous with cut-throat competition, students are concerned about getting prepared for the job world at the earliest. Parents, too, want their ward to get the best quality education and be fully prepared for the future. No wonder then that more and more school passouts are now opting for professional courses, instead of the conventional BA and B.Com degrees.
PG in financial markets at IIM Shillong
The National Stock Exchange (NSE) and Indian Institute of Management, Shillong (IIMS), have started a two-year full-time Post Graduate Programme in Financial Markets (PGP-FM).The programmes is the first of its kind offered by an IIM in India. An agreement to this effect was signed recently by Ravi Narain, Managing Director & CEO of NSE and Ashoke K. Dutta, Director of IIM Shillong.
office mantra: power dose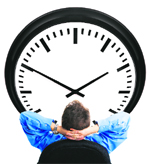 Take a lunch-cation
Can't afford a holiday? Try turning your lunch hour into your own mini vacation and rejuvenate your mind, body and soul. All too often, those precious 60 minutes in the middle of the working day are given over to either the practical (bill paying, banking and so on) or the prosaic (chit chat with a colleague or mindlessly flicking through the holiday photos of someone you once went to school with on Facebook). It is, however, possible to transform this time into one that rejuvenates mind, body and spirit; to get some respite from the daily grind. Welcome to your very own "lunchcation".
ON MY OWN
For the record
Inspiration lies at the heart of entrepreneurship and this is what makes a simple idea combined with a vision and hard work turn into a yummy recipe for success. This is the road that Indian Institute of Science alumnus Sunil Mahajan took to start his own venture and become a job provider from being a job seeker.


CareerCature
sANDEEP jOSHI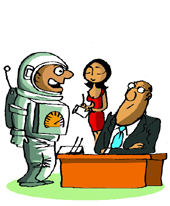 Since we have exhausted all resources on earth, Let me try elsewhere Sir !
Happiness @ work
Treat staff as family
In a scenario where people change jobs as regularly as they change clothes, many of us don't get the time to 'connect' with our workplace. In order to bond with your new workplace, think of it as kin. Deep devotion and commitment for one's work and everyone associated with it never goes unrewarded and is the quality that distinguishes true and successful leaders from the one's who are just rolling stones who gather neither moss nor a shine.
food for thought
A tough call
Working mothers are chronically exhausted, stressed parents who lie awake at night worrying about bulging to-do lists, a new research has revealed. According to the Ipsos Mackay Report, while the mums would not turn back the gains of feminism, they are envious of the clear gender divide and simpler life lived by their mothers and grandmothers.