Ground Realty
Get the most from water tank
Jagvir Goyal...
A water-storage tank has to be essentially provided on the top of a house to receive and store water from the water source and then to supply it to various points in the bathrooms, kitchen, front and back courtyards and other locations. It is important to keep certain aspects related to water-storage tanks in mind while making its provision. Here are some important points:
Choice of material
Earlier, the water-storage tanks used to be built in brick masonry, plastered well from inside and outside and rounded off at joints to avoid any leakage. Such tanks are rarely built these days. The trend has now shifted to readymade polyethylene tanks. As a result, countless companies have started manufacturing and marketing polyethylene tanks. But one has to be careful while making a choice.
Desirable features
The polyethylene tank should be seamless and manufactured in one mould. Above all, it should be made of food grade material. It should resist algae, fungi and bacteria and shouldn't lend any taste or odor to the water. In no case, should it cause any toxic effect on water. The tank shouldn't require any sort of maintenance after its erection in position. Its lid should have a proper locking arrangement. One should look for ISI marked water-storage tank. The ISI mark for such tanks is IS 12701.
Weight of the tank
One should check the weight of the polyethylene tank. A 2,000-litre tank should have a minimum weight of 64 kg. A 1,000-litre tank shouldn't weigh less than 33 kg. A 1,500-litre tank should weigh 47 kg or more. In general, a water tank should weigh more than 3.2 kg per 100 litre capacity up to 3,000 litres. Thereafter, the weight of tank per 100 litre capacity increases and should be 3.6 kg or more.
Manufacturing features
The house builder shouldn't entirely depend on the brand name of a water storage tank but should check certain manufacturing features himself. One feature to check is that the process used in manufacturing polyethylene tank is rotational moulding process, known in short as 'roto-moulding'. Secondly, certain percentage of carbon black should be available in the polyethylene being used for the tank to make the tank resist UV rays. The percentage of carbon black is kept around three per cent. The polyethylene used in tanks may be HDPE or LDPE or LLDPE. Mostly, LLDPE which means Linear Low Density Polyethylene is used by the manufacturers.
Layer system
Tank manufacturing firms are marketing multi-layer tanks these days. Earlier, there used to be single layer tanks. These were followed by two layer and three layer tanks. Now, one can come across four, five and even seven layer tanks. It is difficult to check the number of layers in a tank. Manufacturers and sellers are unable to show these layers and one has to rely on their word. Often, they try to show different colours of layers near the rim of the tank. Thus, checking the thickness and weight of a tank is a more reliable way.
Thickness
The wall thickness of tanks increases with the increase in their capacity. A 2,000-litre tank has a wall thickness of 8 mm or more. Wall thickness doesn't increase uniformly with increase in the capacity of tank. Minimum wall thickness of any tank should be 4.5 mm. Tanks of 1,000 to 1,800 litre capacity should have 7 mm or more thick walls. Tanks of 3,000 litre or more should have 10 to 11 mm thick walls.
Dimensions
A water-storage tank can be circular or square in area and therefore, cylindrical or cubicle in shape. A rectangular tank may be provided if there are any space constraints on length or width side at the location of the tank. A circular tank is preferred by people as it has no corners. While choosing square tanks, a 1,200-litre tank may have length and breadth as 120 cm each while the height may be 1 metre so that a free board of about 15 cm is available in the tank. A 2,000-litre tank may have 140 cm length and breadth and a height of 120 cm. All tanks should have a free board of 15 cm or more.
Choosing capacity
For domestic purposes in urban areas, a water requirement of 200 litres per head per day, including flushing system requirement, is considered sufficient. According to this figure, a 1,000-litre tank should be sufficient for a small family. However, general preference of people is for a 1,500 to 2,000 litre tank as people try to play safe when the tank is connected to municipal supply only.
Cost
The rates of water-storage tanks are quoted in Rs per litre. As the manufacturers have succeeded in popularising the layer system, they quote different rates for different layered tanks. A single-layer tank costs around Rs 4.50 per litre, a two-layer tank costs Rs 5.75 per litre and a three-layer tank costs Rs 7.50 per litre.
The pipes
A water-storage tank has inlet pipes, outlet pipes, drain pipe and overflow pipe connected to it. While the outlet pipes shall be connected at the bottom of the tank, inlet pipes should be connected at the top. The outlet pipes should be connected 2 to 3 inch above the base of the tank. Separate outlet pipes should be run to different storeys of the house if a single, common tank has been provided for all the floors.
Pipe connections
Pipe connections to the tank should be made by drilling holes of exact size in the tank. Location of holes should be carefully marked after finally positioning the tank so that no wrong hole is drilled in it. The pipes should be well supported and shouldn't cause any weight pressure on the tank. All pipe connections to the tank should be sealed well by the plumber by using sealants.
Mosquito nets
The outer ends of drain pipe and overflow pipe, if left in the open, should be covered with mosquito nets. These are available in the market and prevent mosquitoes from entering the tank.
Air release pipes
All the outlet pipes must be provided with air release pipes at the tank junction level to avoid any loss of pressure in the pipes due to air lock. The top level of air release pipes should be kept above the top level of the tank. The outlet pipes should have minimum number of bends also to avoid any loss of pressure.
Insulation
These days, the practice is to further cover polyethylene tanks all around with glass wool or EPC sheet and there is no harm in doing that. Brick masonry walls are provided around the EPC sheet and a slab is laid over the chamber to provide insulation to the tank. The manhole cover provided in the slab is kept fully tight, heavy and lockable to avoid ingress of any insects, mosquitoes, lizards or birds in the tank.
Installation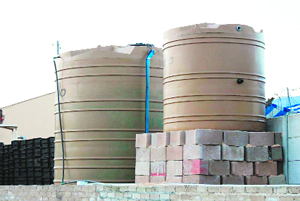 Installation of water tank should be got done carefully. Highest possible level should be chosen for its installation. A flat concrete slab should be created to provide full support to the base of the tank. This platform should be well supported over beams and shouldn't sag under the weight of a water-filled tank. A polythene sheet should be spread over the concrete base before positioning a water tank over it.
— This column is published fortnightly