Gang of pickpockets busted, 2 women held
New Delhi, July 7
With the arrest of two female pickpockets near Desh Bandhu Gupta Road, the Capital's central district police has busted a gang of pickpockets and recovered an amount of Rs 28,000, a part of the booty from their possession.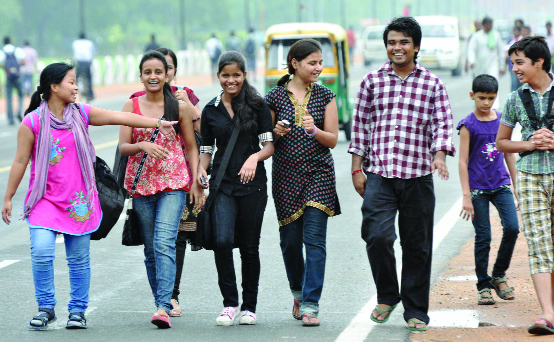 ALL smiles: Youngsters enjoy the pleasant weather at the Rajpath in New Delhi on Saturday. Tribune photo: Mukesh Aggarwal

CNG price hike decried
New Delhi, July 7
Reacting to the hike in the CNG price, Leader of the Opposition in Delhi Legislative Assembly Vijay Kumar Malhotra said that this year the CNG price was increased for the third time which was a severe blow to Delhiites.
3 juveniles held for burglaries
New Delhi, July 7
Three juveniles have been held in connection with burglaries at officers' flat in south Delhi. A 43-year-old woman named Roshan Sarkar Bhalla has also been arrested for allegedly buying stolen items from the juveniles. The arrests were made on July 5, the police said today.
Yuvraj launches 'YouWeCan' for cancer control
New Delhi, July 7
Having emerged a resilient cricketer, Yuvraj Singh, a cancer survivor, today launched 'YouWe Can', an initiative by the Yuvraj Singh Foundation (YSF) here in Delhi. The drive aims to combat cancer by spreading awareness about the need for early detection and treatment.
Muslim activists meet Rahul
New Delhi, July 7
Congress general secretary Rahul Gandhi today assured a delegation of Muslim social activists of taking action against the culprits who indulged in violence in Gopalgarh recently. He said he would talk to the Chief Ministers of the states in this regard.
Fake deodorant bottles seized
New Delhi, July 7
The police today arrested a 48-year-old man for allegedly manufacturing fake deodorant and selling it in bottles of well-known brands. A total of 341 fake deodorant bottles have been seized.
DTC hikes Fbd bus fare
New Delhi, July 7
The Delhi Transport Corporation (DTC) has revised its fare in the buses bound for Faridabad. The fare revision has been made in accordance with the notification issued by the Haryana State Transport Authority on June 22.