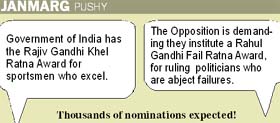 Accountant held for cheating
Chandigarh, July 8
The UT police arrested an accountant with the office of the Punjab Accountant-General in a case of cheating. The accused, 46-year-old Suresh Syal, had procured a housing loan of Rs 15 lakh from the LIC Housing Finance and allegedly forged the signatures of his landlord, Shashi Bhushan, as his guarantor.
Water tanks at GMSH-16 still without lids
Chandigarh, July 8
More than two weeks after the publication in these columns of the report on uncovered water tanks on top of the buildings of the Government Multi-Speciality Hospital (GMSH) at Sector 16 here, the hospital authorities have not bothered to cover those.
Organ donation to be reality at PGI shortly
Chandigarh, July 8
The Post-Graduate Institute of Medical Education and Research (PGIMER) has received confirmation of support from private organisations, including the Army Hospital (R&R), the MOHAN Foundation and advocates, for its 'organ donation programme', which will be formally announced shortly.


open house response
CHB was first violator of building bylaws
New structures in Chandigarh Housing Board (CHB) colonies have mushroomed in such a way that now it is really difficult for the board authorities to come up with a workable plan without making big changes in existing bylaws to regularise new additions and alterations made by people over decades.

A view of illegal structures constructed on the first and second floors by residents of the housing board colony at Sector 45 in Chandigarh. A Tribune photograph
Varied images of City Beautiful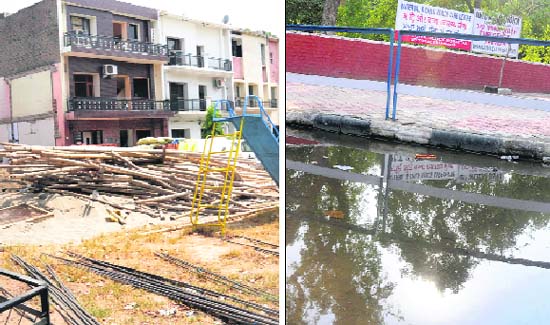 A park being used for building material; and (right) the entry to the polyclinic at Sector 22 is water-logged in Chandigarh on Sunday. Tribune photos: Pradeep Tewari
Getting passport is a lot easier now
Chandigarh, July 8
Sushil Kumar, a 24-year-old resident of Sector 23, was happy as not only he fills the online form for passport while sitting at home but also the Passport Seva Kendra (PSK) completed his documentation in a single day. Sushil said, "The process of filling the form was very simple and one could fill it without the help of any tout."
Applications being processed at the passport seva kendra in the Industrial Area of Chandigarh. Tribune photos: Pradeep Tewari
An employee helps an applicant with the procedure; and (right) a canteen on the office premises offers eatables to the applicants.
Now, GPS on garbage trucks
Panchkula, July 8
In order to keep tab on sanitation system, the Municipal Corporation will direct the sanitation contractor to install Global Positioning System (GPS) tools on vehicles collecting garbage in the town.
Road-mending work left undone
Mohali, July 8
The lackadaisical attitude of local administration has left most of the roads in the town in a poor state. The people are facing inconvenience as widening works of roads have been left undone by the concerned authorities.


Panchkula residents demand bus stop at Industrial Area
Panchkula, July 8
The residents of Sector 19 have demanded for a bus stop, which was demolished, at Industrial Area Phase I. At present, the residents have to tread at least 300 metre to catch buses.


The spot where the bus stand once existed at Panckula. Tribune photo: S Chandan

CHF's mobilisation rally from today
Chandigarh, July 8
The Chandigarh Housing Federation (CHF) today announced to start its ninth mobilisation rally from tomorrow by organising daylong fasts by five-member teams in different CHB and rehabilitation colonies.


Members of the Chandigarh Housing Board Federation Association take part in a rally in support of their demands at Sector 37, Chandigarh, on Sunday. Tribune photo: Parvesh Chauhan

109 diarrhoea cases reported in a day
Chandigarh, July 8
A total of 109 diarrhoea cases were reported at Vikas Nagar on Sunday. Out of which, nine were referred to the GMSH, Sector 16, and one was referred to the Civil Hospital, Mani Majra. However, no death has been reported from diarrhoea, a press release said.
Garbage lies unattended at Vikas Nagar in Chandigarh. Tribune photo: S Chandan


Audit department objects to practice
Chandigarh, July 8
The audit department has objected to "irregular" practice of the UT's hospitality department in splitting purchases to avoid attracting provisions of the general financial rules (GFR) that govern the purchase of items from open market.
Dr Nagarkar to head Raipur AIIMS
Chandigarh, July 8
Dr Nitin M Nagarkar, a professor of ENT, head and neck surgery, Government Medical College and Hospital, Sector 32, has been appointed as the director, AIIMS, Raipur, a communication from the Ministry of Health and Family Welfare has confirmed.


Interlocutors' report on J&K against nation's interest, says Arun Jaitley
Chandigarh, July 8
A senior BJP leader and leader of the Opposition in the Rajya Sabha, Arun Jaitley, today said the Centre's interlocutors report on Jammu and Kashmir (J&K) was one sided and against the interest of the nation. The report would weaken India's position on the sensitive border state.
Senior BJP leader Arun Jaitley speaks on interlocutors' report on Kashmir in Chandigarh on Sunday. Tribune photo: Pradeep Tewari
Efforts on to forge unity in PUTA
Chandigarh, July 8
Apart from the Senate elections, the appointment of new PU Vice-Chancellor appears to be affecting Panjab University Teachers Association (PUTA) elections as well. What has come as a huge surprise is the fact that a group of teachers and Senators have approached the two warring contender groups of Panjab University Teacher Association asking them to forego elections and mutually agree on a panel to create a congenial environment for the new VC.
PU withholds geography results of DAV-10
Chandigarh, July 8
Geography results of students of DAV College, Sector 10, have been withheld by Panjab University for abnormally low internal assessment awarded to students. In a communication received by principal today, the office of PU Controller of Examination has highlighted the fact that many students have been given zero in their internal assessment, while others have managed to get 2 or 3 marks.


Govt model-25 students win first prize in PU competition
Chandigarh, July 8
It does not take swanky classrooms, gleaming infrastructure or tag of a renowned school to ideate and innovate. Three students of Government Model School, Sector 25, whose innovative mobile operated solar car has won first prize in the recently held science competition at PU have proved this.
Students of the Sector-25 school, (from left) Abhishek, Prince and Vikram, with their mobile-operated solar car in Chandigarh on Sunday. Tribune photo: Parvesh Chauhan
Missionary schools to open from today
Chandigarh, July 8
All city missionary schools will reopen from tomorrow. Carmel Convent and Sacred Heart School will be reopening on Monday for all classes. They will follow the regular school summer timings. For St Anne's School, Sector 32, the school will be open for all classes from 7:30 am-12:30 pm.