Music across borders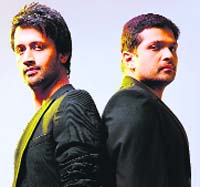 Talent unlimited: Atif Aslam and Himesh Reshammiya
Venturing into the world of music for the first time, Colors today announced a first-of-its-kind strategic tie-up with Sahara One to simulcast a new singing based reality show - the most-awaited show Sur-Kshetra, a Gajendra Singh show. This is the first time that two players from within the Hindi general entertainment segment have tied-up to present content to audiences across the spectrum. Produced by Sahara One in association with Saibaba Telefilms, Sur-Kshetra will be a cross-border musical battle between the Indian Team, captained by Himesh Reshammiya and the Pakistani Team, captained by Atif Aslam. Evaluating the teams and judging the musical flair that resides in the subcontinent will be the three legends - Asha Bhosle (India), Abida Parveen (Pakistan) and Runa Laila (Bangladesh) - who have played an integral part in shaping the music industry. The stalwarts will bear witness to history-in-the-making as incredible singing talent from India and Pakistan engage in a musical competition to prove their supremacy. The show will be anchored by Bollywood damsel Ayesha Takia.
Messing with the stars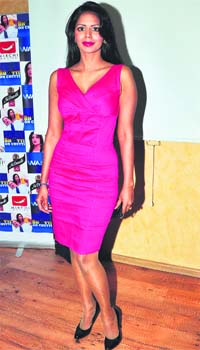 Bhairavi Goswami is one actor who doesn't believe in keeping quiet about any wrong happening in society, no matter who is involved in it. She is completely unabashed and unapologetic. She has gone ahead and slammed Madhuri Dixit-Nene for asking the Bombay Municipal Corporation (BMC) for a plot of land for her dance school. Goswami, who took up this news on Twitter, tweeted "Madhuri needs free land to start her dance academy. The BMC offers a list of 100 plots to choose from. Why??? Has she done more for dance than Saroj Khan".
When asked, Goswami mentioned "Why should BMC give away land for free or as a subsidy to someone who can easily afford it. Also, in that case, why can't super models get free land to start a grooming academy to teach English? In fact, those who are poor should be given these kinds of privileges. With due respect to Madhuri Ji, who is a living legend, I think she has done nothing good for the nation or state courtesy which she should be expecting huge favours in return." No fears: Bhairavi Goswami
Of chills and thrills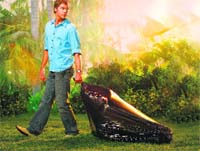 Crime thriller: A still from Dexter
This monsoon, it's about cold-blooded murders, psycho serial-killers and analysts who will be the flavour of Big CBS Prime, India's leading English general entertainment channel offering the latest and the hottest shows to the urban Indian male. The channel brings to you a psychological crime thriller show - Dexter. Dexter is based on the compelling novel "Darkly Dreaming Dexter" by Jeff Lindsay, a South Florida native. Orphaned at the age of four and harbouring a traumatic secret, Dexter is adopted by a police officer who recognises Dexter's homicidal tendencies and guides his son to channel his gruesome passion for human vivisection in a constructive way - by killing those heinous perpetrators who are above the law or who have slipped through the cracks of justice. A respected member of the police force, a perfect gentleman and a man with a soft spot for children, it's hard not to like Dexter, a serial-killer with standards. Although his drive to kill is unflinching, he struggles to emulate normal emotions he doesn't feel, and to keep up his appearance as a caring, socially responsible human being.
Making waves
History TV 18 brings a brand new show Shockwave. It is a groundbreaking series taking the best raw footage of catastrophic, headline-making events from all over the world, revealing astonishing 3D views and explanations for what really happened. We take an in-depth look at the stories behind the headlines and introduce you to the people who conquered tragedy with their incredible human spirit.
Bhangra beats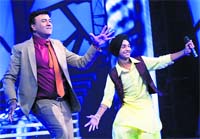 Anu Malik decided to put on his dancing shoes for the second gala round of the popular singing reality show Indian Idol 6. He was unstoppable and danced like there was no tomorrow. Anu Malik does everything with a bang and this dance act of his was no different! During the second gala round of Indian Idol 6, after the performance of Devendra Pal Singh, Anu Malik couldn't control himself and made his way on to the stage and danced hysterically. He showed some never-seen-before dance moves.
Dancing act: Anu Malik and Davendra Singh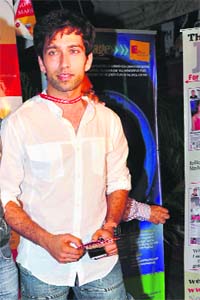 On cloud nine
Aditya aka Nakuul Mehta from Star Plus' latest attraction Pyaar Ka Dard Hain Meetha Meetha Pyaara Pyaara is on cloud nine. The talented actor revealed that he considers himself extremely lucky that he is sharing the silver screen with veteran actor Mukesh Khanna who was his childhood super-hero. His passion about the actor and his work was such that he would collect stickers of the superhero and also keep cut-outs of all the articles on him. When contacted, Nakuul said, "My father too is a die-hard fan of Mukesh ji."
Flying high: Nakuul Mehta
Salman Khan's humorous take
Salman Khan is one funny man. At a recent event, the media asked him about his marriage plans and he responded saying that how would his marriage benefit anyone in the media. He also said that he is talented and Katrina Kaif is hard-working. Also, he finds Katrina Kaif is very lovable on and off screen. That is why she has so many fans and the camera loves her too. The question is does she find him lovable?
Sarah on a trip
Sarah Jane Dias is happy with the response the promos of Kya Super Kool Hai Hum is getting. She says making people laugh is a tough job. She has got many film offers now. She debuted in Game which sank without a trace.
Hands full: Sarah Jane Dias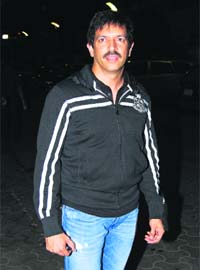 Cold places work for Kabir
Salman Khan thinks Kabir Khan loves shooting in cold locales like Dublin and Istanbul because both places were at zero degree.
He has previously shot in New York which is obviously cold and in Afghanistan which also has extreme climate.
Going extreme: Kabir Khan