Top official among 23 dead in blast at Afghan wedding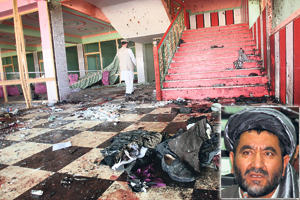 The scene inside the wedding hall where a suicide bomber detonated himself killing Afghan lawmaker Ahmad Khan Samangani (inset) and 22 others in Aybak city, the capital of Samangan province, on Saturday. — Reuters

Kabul, July 14
A suicide bomber blew himself up today in a wedding hall in northern Afghanistan, killing at least 23 people, including a prominent warlord-turned-politician and three Afghan security force officials, in an attack that deals a setback to efforts to unify the nation's ethnic factions.
Ahmad Khan Samangani, an ethnic Uzbek and anti-Soviet guerrilla leader in the 1980s who later became a member of parliament, was welcoming guests to his daughter's wedding when the explosion occurred in Aybak, the capital of Samangan province.
President Hamid Karzai said 23 persons were killed and about 60, including government officials, were wounded in the attack, which he condemned and said was "carried out by the enemies of Afghanistan." He ordered a team from Kabul to fly to the northern province to investigate the bombing.
No one has yet claimed responsibility for the blast. But in announcing their spring offensive on May 2, the Taliban said they would continue to target those who back the Karzai government and the US-led international military coalition.
Karzai needs the minority groups, loosely known as the Northern Alliance, to back his efforts to reconcile with the Taliban.
But minorities already worry that Karzai, a Pashtun, will make too many concessions to their Taliban enemies to achieve a peace deal to end the war.
Whatever support for peace talks that Karzai has won from minority groups is likely to erode if militants continue to pick off their leaders one by one.
It was the most recent in a month-long string of deadly attacks around the country.
On June 22, heavily armed Taliban fighters attacked a lakeside hotel north of Kabul and killed 18 people during a 12-hour standoff with security forces. — AP