Land Acquisition Act, housing policy soon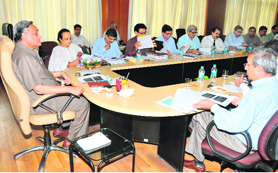 Dehradun, July 30
To expedite land acquisition and overcome the shortage of houses in Uttarakhand, the government will soon come up with its own Land Acquisition Act and a housing policy. "The Land Acquisition Act of Uttarakhand will be framed in such a manner that it is beneficial for land owners, including farmers.
Chief Minister Vijay Bahuguna chairs a review meeting of the Forest Department in Dehradun on Monday.

Marriage aid for 2 daughters raised to Rs 21,000 each
Dehradun, July 30
Various important decisions pertaining to the welfare of construction workers were taken at a meeting of the State Construction Workers Welfare Board held at the Vidhan Bhawan auditorium here today.
Health Dept staff observe strike
Haridwar, July 30
Employees of the Health Department, under the aegis of the Fourth Grade State Employees Union, observed a strike in support of their demands here today. District president of the union Shiv Narayan Singh said though they had been an integral part of the Health Department, they had always been neglected with regard to salary and facilities.
Sanitation workers accuse MC of ignoring seniority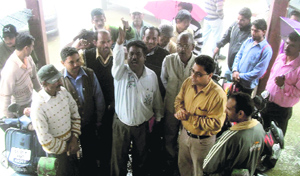 Mussoorie, July 30
The decision of the Municipal Council to appoint a safai nayak at the post of sanitary inspector, although on a temporary basis, has invited the wrath of other employees of the Sanitation Department.
Members of INTUC raise slogans against Municipal Council officials in support of their demands in Mussoorie on Monday. A Tribune photograph

Heavy rain continues in Uttarakhand
Dehradun, July 30
Heavy rain continued in the state today, disrupting traffic movement at a number of Char Dham routes. The Rishikesh-Gangotri and Rishikish-Badrinath routes witnessed main blockages. However, the district administration, in assistant with Border Roads Organisation officials, managed to open the routes by the evening.
Downpour leads to flooding of Mussoorie roads
Mussoorie, July 30
Incessant rain today led to flooding of various areas in Mussoorie due to choked drains and culverts, causing inconvenience to residents and tourists. It also exposed inadequate arrangements made by the Municipal Council for the monsoon.
Khushbu, Bhoomika in badminton semis
Haridwar, July 30
The inter-district level badminton tourney entered its semifinal phase here today. The event being organised by the District Badminton Association is witnessing a whopping 450 participants in the teenage category.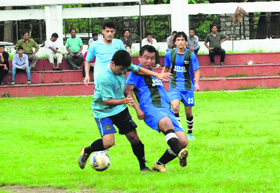 CT Young, U'khand Police clash in final today
Dehradun, July 30
CT Young will clash with the Uttarakhand Police team tomorrow in the final match of the 3rd ONGC-BS Negi Memorial Football Tournament being played at Ambedkar Stadium here. Chief Minister Vijay Bahuguna will be the chief guest on the occasion.
Players in action during a match in the 3rd ONGC-BS Negi Memorial Football Tournament in Dehradun on Monday.

Fire in house on school campus
Mussoorie, July 30
Household goods worth lakhs of rupees were destroyed in a fire that broke out in the house of a Class IV employee on the premises of Oak Grove School today. However, no one was hurt in the incident. The fire is suspected to have erupted due to short-circuit.
Protest against patwari
Dehradun, July 30
BJP councillor Sachin Gupta protested in front of the office of District Magistrate Ravinath Raman against a patwari for demanding money for issuing income certificates to slum dwellers under the Gora Devi Kanya Dhan Yojana.
MLA to take up transformer issue with govt
Dehradun, July 30
Raj Kumar, Congress MLA from Rajpur, has assured residents of the Bhagirathi Enclave Residents Welfare Society that he will take up the issue of installation of a new 250 KV transformer with the government to deal with the problem of power fluctuation in the area on the Balbir road in Dalanwala.