RBI holds rates as inflation, growth outlook worsens
Lowers FY13 GDP forecast to 6.5% from 7.3%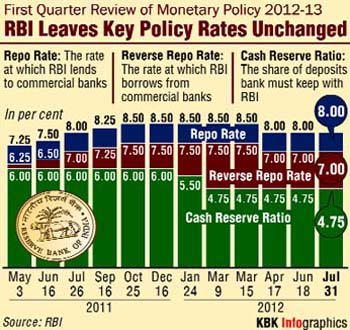 Mumbai, July 31
The Reserve Bank of India left interest rates unchanged on Tuesday for the second straight review, showing that bringing down stubbornly high inflation is its top priority even as economic conditions deteriorate.
Underlining its policy dilemma as it faces pressure to reduce rates, the RBI cut its economic growth forecast for the fiscal year to March 2013, while at the same time raising its inflation forecast.
The RBI left its policy repo rate at 8% and cash reserve ratio for banks at 4.75%. The CRR is the share of deposits banks must keep with the RBI.
"In the current circumstances, lowering policy rates will only aggravate inflationary impulses without necessarily stimulating growth," governor Duvvuri Subbarao wrote in the monetary policy review. The RBI's primary focus remains inflation control, he added.
The central bank's hard line on rates sits in contrast to many other central banks that are easing credit conditions to try to bolster economies feeling the impact of the eurozone debt crisis.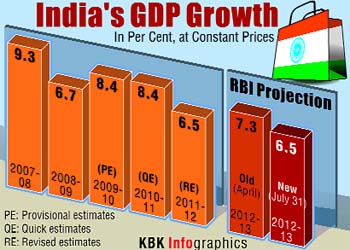 The stance maintains pressure on the government to rein-in populist subsidy spending and take other steps to bolster an economy growing at its weakest pace in almost a decade as companies hold back on investment and a creaking infrastructure stunts growth as it adds to business costs and so fuels inflation.
A Reuters poll of 20 economists last week showed all but one expected the RBI to hold rates steady. Many economists expected the central bank to resume cutting rates only in the second half of the fiscal year, and modestly at that.
Weaker-than-normal monsoon rains in India this summer complicate monetary policy. Higher food prices are beyond the reach of monetary policy, but can fuel inflationary expectations and tempt the government to spend more on subsidies.
"Given the inflationary risks and pressures, which I don't see going away, we will continue to see high inflation in the rest of the year," said Abheek Barua, chief economist at HDFC Bank in New Delhi. "In the foreseeable policy horizon, I don't see the RBI cutting rates," he said.
MARKET DOUBTS: Wholesale price inflation remained above 7% in June and consumer price inflation was 10%. India's growth slowed to a nine-year low of 5.3% in the March quarter.
On Tuesday, the RBI cut its economic growth outlook for the fiscal year that ends in March to 6.5%, from the 7.3% assumption made in April, putting its outlook closer to that of many private-sector economists. It also raised its headline inflation projection for March 2013 to 7% from 6.5% in its April review, further denting market hopes for policy easing in the near term. — Reuters