decor trends
Get a chic
personal retreat Make your bedroom an oasis of comfort, calmness and luxury
Neha Joshi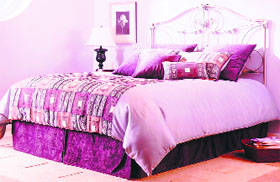 COMFY DEN: Colour coordination with a generous sprinkling of pillows and cushions usher in style and harmony in this clutter-free modernistic decor
With space having become a luxury, the craving to a have a 'place' that resonates in perfect harmony with one's lifestyle has become even more compelling in the current scenario.
Often called the heart of a house, bedroom is one place where senses get rejuvenated and worries melt away. Various elements, styles and trends go into making the bedroom a perfect personal space. Although new trends in bedroom design often echo those in the fashion world, a careful selection of colours, textures finishes and materials can add character and individuality to a room that is a haven for comfort and serenity.
Talking about how bedrooms have suddenly become a crucial part of the home décor, garnering as much attention as the living rooms, Sachin Sehgal, Director, Studio a+i, a New Delhi-based interior designing firm, says, "Earlier with limited resources experimentation of interior design was mostly confined to the living room. However, with the changing times and rising income levels, the demand for luxury living and style has risen tremendously and this desire is reflected in bedrooms being viewed as exclusive zones of comfort and luxury."
However, an important aspect that is often missed by home dwellers is that a fine balance between aesthetics and functionality should be maintained as it can make any space more conducive to the flow of positivity. "A bedroom must cater to the basic human needs such as enough natural light and good ventilation, and at the same time incorporate elements to create an aesthetically superior ambience," adds Sehgal.
A mélange of ideas
As bedroom is the second place after workspace where one spends the maximum time in a day, it becomes the only 'personal space' where one can feel at home. Suggesting ways to dish up an eclectic mix, Sehgal says, "A surefire way to achieve a highly personal bedroom is to create uniqueness by cleverly mixing styles and periods. For example a sleek contemporary dresser topped with a beautiful Venetian mirror will not only enliven the room but would also exemplify style and capture uniqueness." The right use of various elements and style reflects good taste and artistic sense.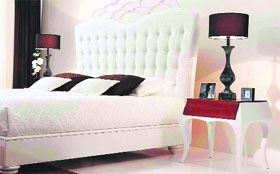 LUXURY UNLEASHED: An elegant headboard and subtle contrast lends a plush look
Colourful hues
Colour being the most important aspect in bedroom décor, sets the pace for the drama to unfold and plays a key role in creating the desired mood. Choosing the right colour is half the battle won. If it is the 'easy-on-the-eye feel' that you desire, then pastels are the right shades for you. Pastel shades not only soothe the senses but also allow for a more meditative atmosphere. In order to make the space more inviting, energetic and fresh, a range of electric colours can be splashed across the walls setting cheerful tones. One can even use colour selectively to create an illusion of space.
Bed bliss
Another vital aspect of bedroom decor is the choice of furniture. A huge variety of beds available in the market today promise ultimate comfort and unmatched quality. An ottoman can be cleverly placed at the base of the bed and it can further double up as a storage space.
The bed headrest should be comfortable, especially if you prefer to read in the bed. The headboard being the most important feature of a bed together with its shape and size can totally transform the overall look of a room. According to S.K Malhotra, Director, Sales & Marketing, Springfit, "A wall-mounted headboard allows the mattress to sit underneath without creating a gap between the mattress and the wall. One should opt for straight headboards clad in leather and fabric as these not only work better than wood but also lend a more spacious look to the bedroom. Changing headboard is also a fun way to change the entire look of the bedroom without spending a fortune."
Mattress magic
It is well known that good sleep is integral to having a refreshed mind. Therefore, a good mattress is indispensable to a comfortable bedroom. Interestingly, the trend of selecting quality and medically approved mattresses such as spring or memory foam rather than coir or simple foam mattress has caught the fancy of the new age health-conscious customers, says Ashok Sharma, CEO and Director Spring Air India. "The foremost role of a mattress is to provide ultimate comfort and superior body support. A good mattress is like a good doctor. A mattress should provide equal distribution of body weight and pressure. Very hard or very soft mattresses with unequal pressure can disturb sleep and cause pain and stiffness, so a mattress must be chosen very carefully," he adds. Orthopedic or Europedic mattresses are also being preferred nowadays to get that luxurious sleeping experience.
Funk and punch
Several other ways can be employed to make the bedroom a reflection of one's personality. Bringing in new accessories such as aromatic candles, unique artifacts, adding plenty of photographs or re-upholstering traditional chairs in contemporary fabric can give the room an eclectic punch.
Carpets and rugs can also be used to add a splash of colour to the bedroom.
Flooring available in different shades and textures such as bamboo, laminate, linoleum or wooden can be chosen depending on the type of style and design that one envisages for the room.
Painting furniture bought from the flea market in bright colours or metallic finishes can also add oodles of funk to the entire setup. Using fresh linen, fancy bolsters and curtains or blinds that go with the décor of the room are other things to consider.
Market mantra
Having witnessed an upsurge in home décor interiors in the past few years, the market is brimming with products that provide stylish solutions at affordable prices. As Sehgal puts it, "Doing up the bedroom doesn't have to cost a fortune. It just has to represent what one wants from the room." The availability of accessories and decorative items at furnishing stores such as Home Town, Home Store, Evok, @Home has led to home decor items gaining a wider base.
With items such as vases, designer candles and candle holders, trendy lamps, cushions and throws in rich fabrics, decorative boxes, beautiful mirrors, photo frames etc, people now have a chance to turn their bedrooms into more inviting and cozy places to be in.
Ideas that work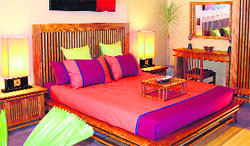 Alluring Accent: Use decorative pillows and cushions to create a delightful accent in the room. Pile your bed high with pillows and cushions using a variety of sizes and styles, colours and patterns. Layered pillows give a lush feel to any bedroom.

Add Floral Fragrance: Candles serve a dual purpose as an accent item. Scented floral candles can be used to add a splash of colour and fragrance in the room. The judicious use of potpourri can give the room a perfect finishing touch.

Use Natural Neutrals: Decorating the bedroom with neutrals can help you achieve a new look everytime. Change comforters, pillows and pictures to easily achieve fresh look and colour schemes on a regular basis.

Create Space: Colour is the key to create space. Use cool light colours — whites, blues and greens to make the walls apparently recede. Another trick to help your space look larger is to paint the moldings to match the walls. Keep things clutter free to make the most of your livable space.

Mix Fun Ideas: Personalise your room to add your individualistic style to the décor. Instead of a picture, gather small mementos around a theme and display them in a shadow box like a few of your collectibles from your college days etc that serenade you with warm memories each time you see them.

Contemporary Charisma: Use neutrals with nice accent colours such as a muted navy to accomplish a contemporary look. The idea is to stay crisp and clean. Florals don't belong in this look. Go for minimum clutter to flaunt this stylish look.

Romantic Retreat: There is nothing as delightful as a bedroom that invites romance. Have soft lighting available and think plush — with lots of pillows and fabrics to give tactile pleasures. An excellent sound system with speakers discreetly tucked around the room will envelope you with mood-setting music. Use colours on the softer side which appeals to you personally. Surround yourself with luxury to create a perfect romantic retreat.