Northern grid failure
'Near-miss' warning was ignored
Ajay Banerjee
Tribune News Service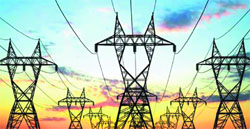 New Delhi, August 4
Even as the government has ordered a high-level probe into the two grid failures on July 30 and July 31, it has emerged that grid managers possibly ignored the first major hint when the northern grid was about to collapse. The grid had survived a major crisis 11 hours before it actually first tripped in the wee hours on July 30.
Documents accessed by The Tribune show there was a "near-miss" situation at 3:10 pm on July 29. This had happened as extra heavy flow of power was recorded at the 400 kV Bina-Gwalior-Agra power circuit. The grid tripped at 2:33 am on July 30 - almost 11 hours after the first "near-miss" situation.
This key hint was overlooked as no correctives steps appear to have been applied to prevent a recurrence, said sources while pointing out that once the grid survived the "near miss", all parameters should have been checked and rechecked.
Within 10 hours of the first scare, five circuits of 400 kV each were running high voltage when the trouble first started around 1 am on July 30.
It could not be contained and had a cascading effect. The entire northern grid -connecting nine northern states - buckled under plunging cities in darkness and stopping trains midway.
The Power System Operation Corporation Limited has written to all the power suppliers and distributors describing how moments before the grid collapsed there was a heavy flow of power - which was beyond its capacity - through several circuits.
The communication says: It has been found that just before the grid collapsed "there was a heavy power flow on a single circuit - the 400 kV Bina-Gwalior-Agra section". Some 1,000 MW of power travelled on the single circuit available that day on this section.
The second circuit on the same route had been shut down for upgradation on July 28. The single circuit has a power-surge ceiling of 691 kV. This is an inbuilt safety feature so that small spikes in power do not threaten the grid.
If this was not enough, the loading on many power circuits in the eastern region was also of the order of 550 MW - much above the ceiling of 515 MW.
Power engineers across the northern region are networked through a dedicated optic fibre cable link that provides real-time information on desktop computers in dedicated 24x7 control rooms. A warning is issued online by the Northern Regional Load Despatch Centre (NRLDC) in Delhi and can be simultaneously seen by grid managers in Punjab, Haryana, Himachal Pradesh, Rajasthan, Uttar Pradesh, Jammu and Kashmir, Delhi and Chandigarh.
Even while the grid has been restored, three of the five circuits that ran high voltage, including Manesar-Neemraana, Gorakhpur-Lucknow-iv and Neemrana-Sikar, are still being repaired.
Till a detail report of the grid failures is out, a review has been ordered to check the capability of all lines carrying power from one area to another. Also, the states have been told that they would face penalties in case the overdrawal of power does not stop.
The Government of India has tasked a committee headed by the chairperson of the Central Electricity Authority (CEA) to probe and submit a report.