Bhucho Khurd fast developing into a marble hub
While the first shop came up in 1985 and the fifth in 2000, now at least five new shops are opened every year
Gurdeep Singh Mann
Tribune News Service
Bathinda, August 5
With more than 55 stone and marble shops located at Bhucho Khurd, on the outskirts of Bathinda on Barnala road, the place is fast developing into a hub of stone and marble stores.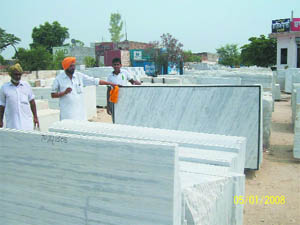 There are as many as 55 shops in Bhucho Khurd selling a variety of stones and marble. photo by writer
The popularity of the market can be gauged from the fact that customers from within a radius, as wide as 250 kilometres, frequent the market.
Every year, as many as five new shops come up at the Bhucho Khurd marble market which dots more than a kilometer of Barnala Road. Shops in the market sell marbles and stones of various qualities, mostly brought from the neighbouring state of Rajasthan.
"I was the fifth person to open a marble shop here in 2000 and since then a large number of shops have come up," said Rahul, owner of the City Marble House. He added that despite a boom in the construction business, the sales have been stagnant as the customer base evenly spreads across the increasing number of shops.
Corroborating that the market has become very popular over the years, he added that some sellers from Rajasthan have set up extension counters in Bhucho Khurd. He added that some shopkeepers have also expanded their shops by constructing more than two or three godowns.
Suresh Kumar Aggarwal, who was the first person to open a marble house in Bhucho Khurd in 1985, said more than the local customers, it is the people from far off places who visit the market more these days.
Kamal Kumar, a worker at one of the shops, said it was the little maintenance that marble needs, its many varieties, different prices, customers' lack of knowledge about the varieties and price that have led to an increase in the number of shops.
Depending upon the variety, whiteness and shine, the price of marble may range between `12 and `300 per square feet. He added that there are numerous qualities of marble and the finest quality of marble comes from Makrana in Rajasthan.
Marble is also obtained from other places like Kishangarh, Rajnagar, Abu, Kankroli, Alwar, Banswala in Rajasthan and Katni in Madhya Pradesh. Some shopkeepers sell inferior quality marble to innocent customers by claiming it is from Makrana, he said.
"The marble obtained from Makrana has the optimum ratio of iron, silica, lime, magnesium and carbonate while the marble obtained from other places has disparities. The shine of Makrana marble improves with time which is not the case with the marbles from other places," said JS Brar Rangi, a local contractor.
He added that marble from Makrana has less than one per cent iron while others have more than 40 per cent iron. More iron leads to corrosion of marble when it comes in contact with water, Rangi explained.
Customers, who go all the way to Makrana, 488 kilometers from Bathinda, may get marble which will not only last but also retain its shine for over 50 years.
Apart from the huge price difference, the norms of measuring marble in Makrana are liberal as compared to way the shopkeepers in Punjab measure marble, added Rangi.
Rangi said marble extracted from the depths of the earth in Makrana has all the chemicals and is perfect according to the standards laid down by the Bureau of Indian Standards.
Aziz Gehlot, a marble seller in Makrana (Rajasthan), while talking to TNS, said they stock and sell more than 100 qualities of marble with a guarantee of 100 years of shine and whiteness. "A good quality marble will have 55.26 per cent calcium, 0.39 per cent magnesium, 0.12 per cent aluminium and a mere 0.12 per cent of iron," Gehlot said.