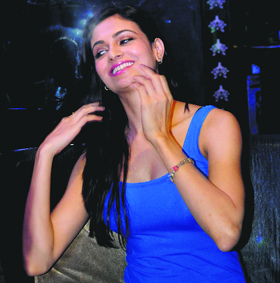 Punjabi to the core
To announce the third edition of Punjab International Fashion Week, Arjan Bajwa and Simran Kaur Mundi came to Chandigarh to rightfully claim their Punjabi heritage
One thing is for sure, good-looking actor Arjan Bajwa is proud of his heritage. Rooted that he is, he can't stop raving about Punjabi music, clothes and culture taking over Bollywood cinema. Brand Ambassador for the third season of Blenders Pride Punjab International Fashion Week (PIFW), Arjan shares excerpts from his journey in films and fashion. Without a godfather or connections, he definitely has to slog it out, but that's not made him bitter.
Fresh Face: Simran Kaur Mundi. Photo: Manoj Mahajan

Success mantra
Winning moves
There are ups and downs in everyone's life; those who make use of the highs and beat the lows are successful. Gen VP Malik (retd), former Chief of Army Staff, in his early seventies, is pretty agile and engaged in addressing security issues, giving motivational lectures and travelling the world; leading life to the full (he was thrilled to see his favourite football team Spain win against Italy at Kiev at the recent Euro Cup).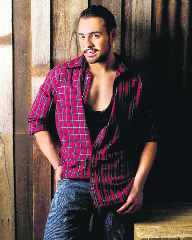 Going on record
Upcoming singer Manveer Bajwa is happy that the Punjabi music industry is welcoming towards new-comers
You have five seconds to list a place, an area or a sphere where technology hasn't seeped in…right from getting up in the morning to retiring at the end of the day, technology travels like our second self. So, when an aspiring Punjabi singer Manveer Bajwa shows us his newly opened state-of-the-art recording studio Rhythm Crafts in Chandigarh, it is certainly not a revelation. What we topple over is the fact that more and more Punjabi singers, both aspiring and established, are coming up with recording studios that have just about every equipment one can imagine!
SING ALONG: Manveer Bajwa
Astro turf
ARIES: The need is to be vigilant as someone at office might try to harm your interest or reputation. Call friends you haven't seen for a long time. Socially, there may be quite a few rumours, so keep an open mind. Tarot message: You have well-wishers who will give you sound advice.Lucky colour: Turquoise Lucky number: 60
Collars up
The autumn & winter collection is all about bright hues, ornate fabrics and collars in all forms and sizes
'Sales' are perhaps the biggest indicator of a new fashion line. And for fashionistas who have their shopping bags ready for a brand new wardrobe, the autumn/winter collection is all about shapes, ornate fabrics, embellishments, bright hues, swathe of tweed, some Perspex heels and a pair of what we're now calling investment trousers. And yes, collars are going to peep out in every form, be it in a top, shirt, sweater or even a dress. But one thing that we forgot to mention is - wear your trousers (and even the jeans) a little shorter than before, which is the golden rule for the season.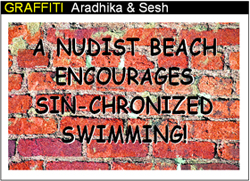 The year ahead
If your birthday is August 8...
A smart partner or co-worker will help you expand your ideas, as well as help you implement it. Cultivate an insight that helps you win over situations. Number eight is the manager—strong and successful. Ruled by Saturn, you will be ambitious, business-minded, practical, leading, authoritative, successful, courageous, accomplished and organised. If expressed negatively: tense, narrow, materialistic and forceful.
Celeb point
Reason to smile
I was in Toronto for the PIFFA awards. I went there a week ahead for the rehearsals. What was most special about this trip was that my family went with me. Well, the rehearsals took all my time and whatever little time I had, we went out. So no rest at all!

Chatter box
Host of things
MTV VJ Siddharth Bhardwaj, who rose to fame with Bigg Boss Season 5 on Colors, apparently has been offered daily soaps but he isn't interested in doing them. He claims he is more inclined towards hosting which is his forte. Serial cut : Siddharth Bhardwaj
Real to reel
After creating waves with her shows based on social themes, Star Plus will launch Lakhon Mein Ek, a new series that will be built on the lines of Satyamev Jayate. The show will focus on issues of social consequence. We chat up with Pratigya aka Pooja Gor who will be anchoring the show...
Emraan on par with Sallu bhai?
Emraan Hashmi is a true-blue popular hero. This is evident now because he is being paid the same amount as Salman Khan to endorse a car battery. A source says, 'Salman Khan endorses a car battery brand and the rival company has roped in Emraan Hashmi to be their ambassador. They are paying him a huge amount. Emraan appeals to the classes and masses and is identifiable. He connects.
Who will bag Jism 3?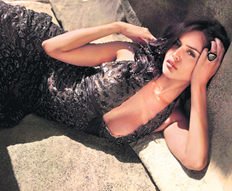 Jism 2 may have got terrible reviews but the money is rolling in. Pooja Bhatt intends to make Jism 3 with not one but two sirens! Pooja shot the posters of Jism 2 with Nathalia a year ago. Everybody thought it was Sunny Leone but she kept it a secret until now. Nathalia is Brazilian-Indian-Portuguese. She knows she is very sexy and has no inhibitions. She created a buzz with her item song Dana Dan in Ram Gopal Varma's Department and is being heralded as his discovery though Pooja worked with her a year ago. She has done the sheet poster and the waterfall poster. Probable contender: Nathalia Kaur Pinheiro
TREND SETTER
Classic cut
Whether one keeps a casual stance or a glamourised one, it does require an effort to get that style. Being fashionable and putting your best foot forward has become a science which is catching up with the youngsters. Let's catch up with the petite fashion consultant Paavi Bakshi for her views—
Master Chef
Easy bites
Summer is a time when we want our food to be light, flavourful, crisp and refreshing. Heavy and spicy curries tend to sit, not only in the stomach but also on our midriff! My all-time favourite treat is skewered, grilled vegetables. It's like dinner on a stick! Plain vegetables get spruced up with a blend of
New release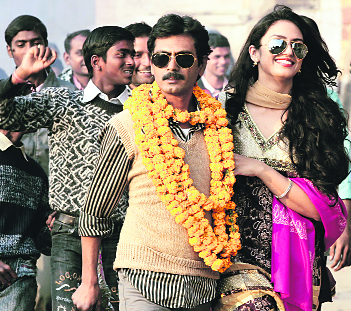 Gangs of Wasseypur 2
Producer: Anurag Kashyap, Sunil Bohra, Guneet Monga
Director: Anurag Kashyap
Gangs of Wasseypur 2 (GOW) is Anurag Kashyap's most ambitious project which will be screened at the Melbourne International Film Festival on August 12. Anurag's Gow part one was an extraordinary achievement. The critical success of the first part has helped the filmmaker a lot towards creating great excitement for Gow 2 which opens all over on August 8. The audience is ready to watch part 2.
A still from Gangs of Wasseypur 2
High Spirits
Kiwi Kamikaze
Ingredients
45 ml Havana Club aged white rum
˝ fresh kiwi fruit
1/2 of a lime cut in wedges
10 ml lime juice
2 tsp castor sugar
Sprite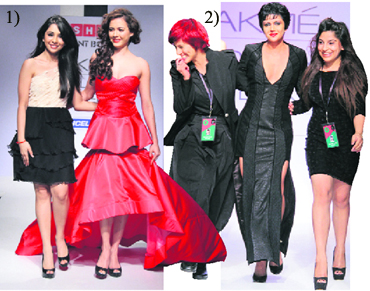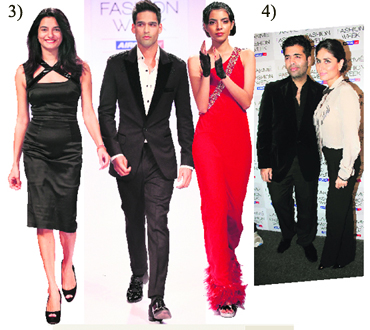 1) Red hot: Dancer-cum-actress -cum-teacher Isha Sharwani looked gorgeous in a red creation by designer Sonakshi Raaj. Classic and glamourous!
2) Black Beauty: Mandira Bedi was the show-stopper for Sapna Bhavnani and S. Grover. Everyone was in black! And we noticed that Mandira has returned to her slim figure.
3) Blast from the past: Siddharth Mallaya is connected to Bollywood mainly because of Deepika Padukone. While his former flame is not walking the
ramp, he made his LFW ramp debut for designer Komal Sood. He sure looks good!
4) Miss fit: Kareena Kapoor was the show-stopper for the grand finale as she is the Lakme ambassador. She attended Anushka Khanna's show with Karan Johar. We rarely see her in a shirt paired with pants. We wish the pants fitted better and the shoes weren't pointed. —HRM
it's rocking
Irish flavour
Finally the sizzling couple, Salman Khan and Katrina Kaif, is all set for the release of Ek Tha Tiger. The songs of the movie are good to the ears, especially the track Banjaara, which has an Irish folk touch. The melody of the instrumentals, which is based on Irish folk dance beats, is the hallmark of the song. Glorified with sounds of bagpipes, bouzouki (sort of mandolin), darbuka (hand-drum); it delivers a marching-troop sort of feel with peppy Irish chorus giving it a strong base. We love the video where Katrina dons Scottish attire!
Heart of a king
Superstar Shah Rukh Khan is spending more time with family these days. The actor has been watching Olympics regularly with his family and even celebrated Friendship's Day with them. His daughter Suhana tied him a bright orange friendship band. Cute, isn't it?
A gift of words
Soha Ali Khan, who recently finished the shoot of Deepa Mehta's Winds of Change in Sri Lanka, is back in India with two copies of Midnight's Children autographed by Salman Rushdie. It was a going-away present by Rushdie to the entire cast of Midnight's Children and Soha couldn't help acting like a star-struck fan. She has even read the book twice!
Fond memories
Col Shamsher Singh and actress Gul Panag's grandfather passed away on Monday afternoon. Upon hearing the sad news, Gul immediately flew from Mumbai to Chandigarh to be with her family. "One makes plans. And life has other plans. Grandad just passed away. Less than a month ago we celebrated his 97th birthday with zest," she wrote on her Twitter page.
From singers to actors


It seems that the acting bug has bitten singer Mika Singh and Shaan, as the two have joined the league of singers including Sonu Nigam, Babul Supriyo and Himesh Reshamiya, who have tried their luck in front of the camera earlier with moderate successes. The film is titled Balwinder Singh Famous Ho Gayee and will release next year. Mika Singh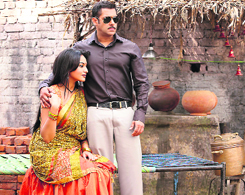 Big bang on X-mas
The shooting for Salman Khan and Sonakshi Sinha starrer Dabangg 2 is halfway through. Director Arbaaz Khan updated: 'Well for all the Chulbul Pandey fans.. DABANGG 2 is almost 60% complete, we resume shoot after the promotion and release of EK THA TIGER !!!' And the film will hit the theatres on December 21. 'DABANGG 2 is slated for an end of the year Christmas release,' he added. Dabangg 2 also stars Vinod Khanna and Prakash Raj.
Sonakshi Sinha & Salman Khan
PZ's final test
Preity Zinta is excited as well nervous for her comeback film Ishq in Paris.

The actress even skipped a heartbeat after she saw the first trailer of the film. Zinta, who is acting in the film, has even co-written the script. She also said that it's the toughest film of her career so far. While the trailer of the film will be out this week, Ishq in Paris releases on October 5 worldwide. Honestly, we can't wait to see the trailer and give you a feedback! Cold feet: Preity Zinta

What's brewing?
Last Saturday, Ranbir Kapoor went out with director Imitiaz Ali, Anushkha Sharma, ex-girlfriend Deepika Padukone and a few others, to watch a private screening of the sequel of Gangs of Wasseypur at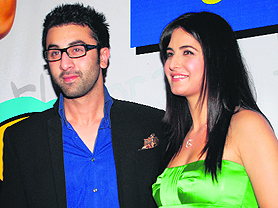 Ketnav Studio in Bandra, Mumbai. But as the screening got over, Ranbir rushed to his nearby Pali Hill home. Barely had he reached his home that a familiar Audi slid stealthily into the gates of his building and within seconds reversed and zoomed away, minus the car owner, Katrina Kaif. The driver dashed away in the SUV and parked the vehicle at Katrina's house. Katrina had entered in her car but never exited her car on reaching her home. Mysterious, isn't it? Well, we wonder what's cooking between them!
Behind closed doors: Ranbir Kapoor and Katrina Kaif