Badal leaves for US, to visit affected families
Chandigarh, August 7
Chief Minister Parkash Singh Badal, who left for the US early this morning, will visit the Oak Creek gurdwara in Wisconsin as soon as he lands there and commiserate with the family members of those who lost their dear ones in the gurdwara shootout.
Patiala family awaits justice
Patiala, August 7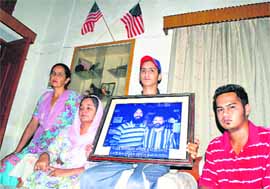 On December 27, 2007, the Kalsis living in Model Town here received news that their two sons in the US had been shot dead. Five years after the tragic incident, the family is waiting for justice.The killers of the Kalsi brothers are still at large. With the US Administration promising a high-level probe, the family is hopeful that the culprits will be caught some day.

The Kalsi family with a picture of the victims at their house in Patiala. Tribune photo: Rajesh Sachar

Install CCTV cameras at Bhakra: HC
Chandigarh, August 7
Just about six months after a news item appeared in these columns on one Shingara Singh camping along the Bhakra mainline in search of his 20-year-old niece's body, the Punjab and Haryana High Court today directed the installation of two close circuit television (CCTV) cameras on either side of the mainline. One camera on each side will remain submerged for keeping taps on the movement of bodies through the mainline.
Monsoon woes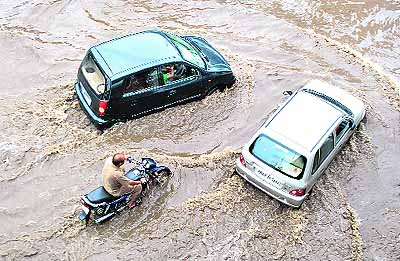 Motorists wade through a waterlogged road after heavy showers in Patiala on Tuesday. Tribune photo: Rajesh Sachar
Sukhbir's Muktsar visit today
Admn expedites work on road long delayed
Muktsar, August 7
The district administration today hastened the construction work of the road leading to the District Administrative Complex (DAC) and Mukt-e-Minar (a Sikh monument) ahead of the visit of Deputy Chief Minister Sukhbir Singh Badal tomorrow.
Dy CM to open bridge to Badal village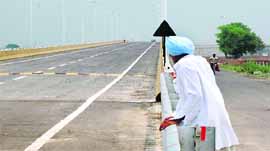 Badal (Muktsar) August 7
After boasting of several state-of-the-art facilities, including a shooting range and a stadium, the native village of Chief Minister Parkash Singh Badal has now got a 1.2 km four-laned overbridge.


The recently constructed overbridge near Badal village in Muktsar. Tribune photo: Pawan Sharma

Ahluwalia challenges suspension orders
Chandigarh, August 7
About a week after the services of Sri Guru Granth Sahib World University's Vice Chancellor Jasbir Singh Ahluwalia were placed under suspension, he moved the High Court this morning.
SSP's transfer
Gurdaspur observes bandh
Gurdaspur, August 7
The one-day near complete bandh observed here today in protest against the transfer of Senior Superintendent of Police (SSP) Ravcharan Singh Brar went off peacefully.
Centre refuses to pay enhanced VAT, cess on procured grain
Chandigarh, August 7
Central Government, which has been pressing the Punjab government to slash various taxes levied on foodgrain procured for the central pool, has refused to pay the additional 1 per cent VAT and 1 per cent infrastructure development cess on foodgrain.
I-Day spirit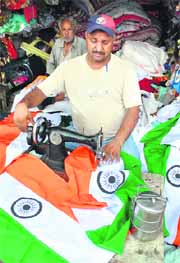 A tailor in Patiala stitches National Flags ahead of Independence Day. Tribune photo: Rajesh Sachar
Industrial plots to come with lock-in period
Chandigarh, August 7
Industrial plots in Punjab are set to become non-transferable for a period of six years after units established on them start production under a new policy aimed at taking them out of reach of real estate deals.
Fate of city buses hangs in balance
Ludhiana, August 7
The fate of more than 250 city buses, which were to ply in Ludhiana and Amritsar, hangs in the balance as the Punjab and Haryana High Court has asked the Ludhiana City Bus Corporation the time it will take to convert diesel buses (which are to be added) into CNG and to provide the routes for plying these buses. The next date of hearing in the case is on August 29.
Teenager claims to be newborn's mother
Patiala, August 7
After a newborn male child was found dead in a bathroom of Government Rajindra Hospital in the city yesterday, a 19-year-old unmarried girl from Bassi Pathana today claimed that she delivered the child. The girl has been admitted to the Gynaecology Department.
Health dept puts its house in order to check cholera
Ludhiana, August 7
In order to check the rising number of cholera cases at the earliest, the state health department has tied up with other departments and streamlined its functioning. Dr Deepak Bhatia, State Nodal Officer for Integrated Disease Surveillance Project, Punjab said, "This year the state witnessed more cholera cases as compared to diarrhoea.
No bus passes, students protest against PRTC
Patiala, August 7
Punjabi Students Union held a protest dharna outside the Pepsu Road Transport Corporation (PRTC) head office in the city today as students were not issued PRTC bus passes even though their academic sessions has already begun.
Varsity teachers to hold protest today
Patiala, August 7
Punjabi University teachers under the banner of Punjabi University Teachers' Coordination Committee (PUTCC) will hold a protest in front of the Vice Chancellor's office tomorrow against the non-release of salary arrears.
Brar wants Parliament to observe two-minute silence
Chandigarh, August 7
Former MP and Congress Working Committee member Jagmeet Singh Brar wants Parliament to observe a two-minute silence at the start of the monsoon session of Parliament tomorrow to pay homage to those killed in the attack on the Sikh Temple at Milwaukee.
Patiala jail official seeks time to file reply
Chandigarh, August 7
Patiala Central Jail superintendent LS Jhakhar is yet to respond to the contempt notice issued to him. He was issued the show-cause notice by a Division Bench of the Punjab and Haryana High Court for not executing the death warrants issued against Balwant Singh in the Beant Singh assassination case.
Riot victims wrangle for flats, move High Court
Chandigarh, August 7
Nearly three decades after the anti-Sikh massacre, the victims are wrangling with one another for accommodation. A section of victims have moved the Punjab and Haryana High Court, alleging that some other victims had forcibly occupied the LIG flats allotted to them in Ludhiana.
One more held in contract killing case
Sangrur, August 7
The Dhuri police today arrested Gurmeet Singh, the alleged lover of Manpreet Kaur of Kanjhla village who was arrested yesterday along with five contract killers for the murder of 20-year-old Jarnail Singh (a servant at the house of Manpreet).
Amritsar trader shot dead, Rs 10 lakh looted
Amritsar, August 7
A city-based trader was shot dead by robbers near his house at Rishi Vihar late last night. The robbers reportedly took away Rs 10-12 lakh, which the trader, identified as Munish Khanna, was carrying in his bag. The 32-year-old victim dealt in clothes business.
15 kg opium seized, two arrested
Sangrur, August 7
The district police has arrested two persons and seized 15 kg opium from their possession during checking at a naka. Senior Superintendent of Police (SSP) Harcharan Singh Bhullar said the Chhajli police, led by its Station House Officer (SHO) Kuldip Singh, set up a naka on the Lehra-Sunam T-point, Chhajli, yesterday.