This college has only walls to boast
Furniture, almirahs, water coolers shifted to a college in Sukhbir Badal's constituency
Anirudh Gupta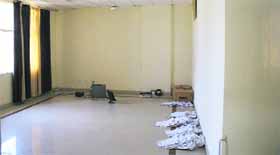 The principal's room without any furniture. Photos by writer
Ferozepur, July 28
While Deputy Chief Minister Sukhbir Singh Badal announced a host of projects worth Rs 64 crore in the neighbouring Fazilka yesterday, just a few kilometers away in Guruharsahai, Shaheed Udham Singh Government College continues to function in deplorable condition.
Belying claims of the state government of transforming the higher education, the college, which has been rechristened as Punjab University Constituent College, has nothing in the name of infrastructure. Even the principal has to sit on the floor as there is no furniture in his office. Piles of bricks topped with blackboards are being used as computer tables by the college staff.
The dilapidated college campus speaks volumes of callous attitude of the authorities concerned. There is a library, but it has no books. Similar is the case with the laboratory which has no apparatus. The college has a generator, but it has no funds for fuel. There is no provision for potable water. The list is endless.
The college building, which was constructed at a cost of Rs 8 crore, has started crumbling. A large part of the boundary wall is lying damaged. There is no canteen on the campus.
The college requires 23 faculty members, but there are only seven staff members on its rolls. There is no lecturer for subjects like mathematics, economics and political science.
Dr Hira Singh, officiating principal, said the college furniture and other items like almirahs and water coolers, had been shifted to Government College, Jalalabad, the constituency represented by the Deputy Chief Minister. He said he had sent several requests to the government and the university in this regard, but in vain. He said the college was initially set up under a UGC's scheme where model degree colleges were established in all educationally backward districts of the country. "Later, our institution became a constituent college under Punjab University following which the UGC stopped funding the college," he added.
In the absence of any other college in the area, the college witnessed a huge surge in the number of admission seekers. The college administration recently refused to admit more than 600 students this year. Perturbed over the denial of admission, students from several neighbouring villages had resorted to a relay hunger strike. The students relented after ADC Gurmail Singh took a representation from them regarding increase in the number of seats besides provision of basic facilities in the college. "We have forwarded the representation along with our recommendation to the Chief Secretary for further action," the ADC said. Education Minister Sikander Singh Maluka said he was not aware of the problems being faced by the college, but hastened to add: "Since you have brought it in my notice, I will now look into the matter".
An apology in the name of college

The principal has to sit on the floor as there is no furniture in his office. Piles of bricks topped with blackboards are being used as computer tables

There is a library, but it has no books. The laboratory has no apparatus

The college has a generator, but it has no funds for fuel. There is no provision for potable water

The college building, which was constructed at a cost of Rs 8 crore, has started crumbling

There is no canteen on the campus

The college requires 23 faculty members, but there are only seven. No lecturer for mathematics, economics and political science