Transfer scam gets bigger
Chandigarh, July 25
In a new twist to the findings in the fake transfer scam of panchayat secretaries, the fact-finding report compiled by the office of the SSP, Mohali, has found that at least 247 fake transfers were made by the office concerned and not merely 33 as was eported earlier.
Batala small-scale industry gasping for life
Batala, July 25
The town's industrial units catered to the needs of nearby cities of Sialkot and Lahore before Partition. These units, which are dying, require help in the form of freight equalisation policy (FEP), good roads, better rail connectivity and quality electricity supply, if these are to be saved.




BJP leaders skip Vinod Khanna's functions
Pathankot/Gurdaspur, July 25
Vinod Khanna, a three-time MP from Gurdaspur, who is on a four-day tour of the constituency, has been given the cold shoulder by top BJP leaders of the state, leaving the film star flummoxed.



Vinod Khanna

Amritsar gets air connectivity to Europe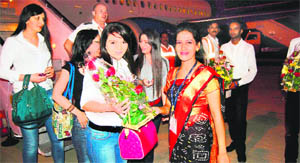 Amritsar, July 25
Armenian airline Armavia's maiden Yerevan-Amritsar-Yerevan flight with 10 passengers on board landed at Sri Guru Ramdas Jee International Airport at 2 am today.


Passengers of the maiden Yerevan-Amritsar flight being welcomed at Sri Guru Ramdas Jee International Airport in Amritsar. Tribune photo

150 absentee doctors, nurses face the axe
Chandigarh, July 25
The Punjab Government has decided to terminate the services of government doctors and nurses who are absent from duty for long. There are about 150 doctors and nurses who had gone abroad on ex-India leave for a limited period, but did not return.
Education Dept gets Rs 326 crore in cess
Chandigarh, July 25
The Punjab Government has finally transferred Rs 326 crore, collected as education cess over the past 14 years, to the Education Department. The amount was transferred by the Finance Department yesterday.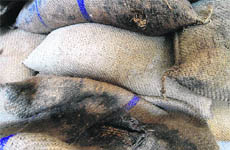 Ration depots supplied rotten wheat
Muktsar, July 25
District Punsup officials have been accused of supplying rotten wheat for distribution among weaker sections under the public distribution system (PDS) and atta dal scheme.


Wheat bags infested with fungus at a godown of Punsup in Doda village of Muktsar district. Tribune photo


50% quota for state students
Thapar varsity bound to follow rule: CM
Chandigarh, July 24
Chief Minister Parkash Singh Badal has told the management of Thapar University to continue with 50 per cent reservation for students hailing from Punjab. He said any departure from the rule would not be tolerated.
Parkash Singh Badal

Health centre nurse slaps doctor, transferred
Patiala, July 25
The Health Department today transferred a nursing staff for allegedly slapping a lady doctor on duty at the Community Health Centre (CHC) at Kalo Majra in the district. In her complaint to Patiala Civil Surgeon Dr Virinder Singh Mohi, Dr Vidhi Kaur alleged that Sudesh Kumari slapped her in the OPD in full public view.

Teachers demand RO systems
Patiala, July 25
In the wake of recent outbreak of gastroenteritis in Patiala in which more than 150 persons were hospitalised, teachers in government schools demanded that the government should install water purifiers in schools in order to curtail the outbreak of any vector-borne disease amongst students in future.
Ropar thermal plant unit develops snag
Patiala, July 25
The unit number 3 of the Gobind Singh Super Thermal Plant (GGSSTP), Ropar, was shut down again after it developed a technical snag.
Govt schools in rural areas face staff crunch
Patiala, July 25
With shortage of staff in government schools, particularly in rural areas, education providers are running the show in many schools in the district. In some elementary schools, there are no regular teachers and the entire onus is on the shoulders of these education providers, who are getting Rs 6,250 to Rs 8,000, based on their qualification.
More arrests likely in imported weapons case
Patiala, July 25
Almost 10 days after registration of a case against a Ferozepur-based arms dealer for selling imported weapons in Punjab on forged documents, the police has now tightened its noose around many Ghaziabad-based arms dealers and an arms supplier, who is said to be having close connection with several persons holding high positions in various departments of the Central Government. A police team that arrived after conducting raids in Uttar Pradesh is all set to widen the scope of the investigations, as the case seems too be a major nexus.


Fanfare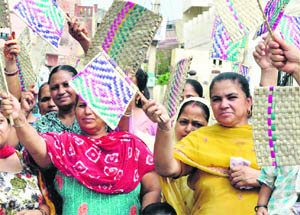 Women hold a protest against power cuts in Patiala on Wednesday. Tribune photo: Rajesh Sachar
Two cancer deaths in Abohar
Abohar, July 25
Two more women have died of breast cancer in Dangarkhera village near here during the past two days.
Child care centre opened in Patiala Jail
Patiala, July 25
The Punjab Government has decided to open child care centres-cum-schools for children, who are lodged in various jails with their mothers, for their proper upbringing. A similar facility was today inaugurated inside the Central Jail here in association with Sarbat Da Bhala Charitable Trust.
Freeze arhtiyas' commission, says Mandi Board
Chandigarh, July 25
The Punjab Mandi Board has asked the government to freeze the commission of arhtiyas (commission agents) at the present level, said board chairman Ajmer Singh Lakhowal today.



Missing Children
DDR is not enough, says High Court
Chandigarh, July 25
The Punjab and Haryana High Court has made it clear to the police authorities that a daily dairy report (DDR) is not enough when children go missing and an FIR has to be registered.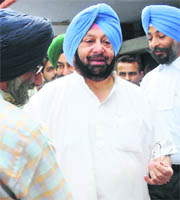 Amritsar Improvement Trust land scam
Foreign trip: Court refuses to hear Capt's plea
Mohali, July 25
Additional District and Sessions Judge Jaswinder Sheemar today refused to entertain PCC president Capt Amarinder Singh's plea seeking permission to fly abroad on July 28.





PCC chief Amarinder Singh in Chandigarh. Tribune photo: Vicky Gharu

'Vendetta' case: High Court notice to Punjab
Chandigarh, July 25
Iqbal Singh was present at two different places simultaneously. On June 12, 2007, a case was registered against him for the theft of a scooter at the Police Station City in Tarn Taran. At the time of the alleged occurrence, the young Congress party worker was already in judicial custody in some other case - at least this is what he is claiming to build up a case of implication at the behest of SAD's former minister Ranjit Singh Brahmpura.
Govt directed to pay sugarcane arrears by Aug
Chandigarh, July 25
Taking cognisance of the failure of around eight sugar mills in Punjab to pay approximately Rs 100 crore to farmers for the sugarcane received, the Punjab and Haryana High Court has directed the Cooperative Department Secretary to ensure the balance amount is paid by August.
Adhere to anti-copying steps, school board told
Chandigarh, July 25
Opening a chapter of fairness in academic history, the Punjab and Haryana High Court has directed the Punjab School Education Board to adhere to measures suggested by the government for dealing with the menace of mass copying in exams.



Graft: civil surgeon, VB Inspector held
Chandigarh, July 25
The Punjab Vigilance Bureau today nabbed Fatehgarh Sahib Civil Surgeon and a Vigilance Bureau Sub-Inspector along with his three agents for allegedly accepting bribe in two different cases.